January 3 thru 8, 1978 - (The Shoe, Muskegon) -


Tricks' Final Week with Michael VanDyke and Tom Baird. We record Saturday Night, with the usual packed-house crowd. Michael's voice is tired, and he sounds pretty rough on tape. By Sunday night, Michael's voice is completely gone and he only sings a couple songs. Rick tries his best to fill in singing lead, but some of the songs are turned into instrumentals and most songs that we manage to do okay we end up repeating during last set. No matter, there's nobody in the bar anyway. Tricks goes through a very painful last night. What a perfect anti-climactic ending to our two-year-long roller coaster ride.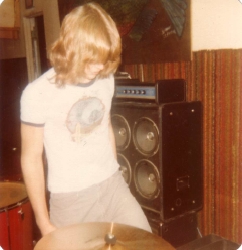 Last night with Tricks, major Sunday night boredom . . . Last night packing up the big Ludwig drums . . Last night packing up the Tapco Sound Board
As far as we know, there will be no more Tricks after this week. Steve and Rick are planning on putting a more progressive-rock type of band, with less work and more fun.
AMEN! HALLELUJAH! AMEN!
---
January, 1978 - (New Beginnings, Steve's Hopkins House) -


Rick and Steve do some work with Steve Foster singing lead. We might not want a lead singer in our next band.
We audition a couple bass players. Bill wants to play keyboards in our new band, but he needs some new equipment. Steve and Rick are working on their own equipment with repairs and upgrades.
Most of all, we take a break from the hectic band routine of the past two years. Things can be more leisurely now. We want to take our time and have a really high-quality, non-party professional band. We want a noticeable improvement over the "Tricks with Michael" band.
March, 1978 - (Gary Niemchick, Hopkins House) -
Rick and Steve start rehearsing with Gary Niemchick, an excellent bass player who used to jam with Steve when Steve was 16.
April, 1978 - (Trials and Trails) -
Rick and Steve are doing lots of individual work on guitars and drums. There never was much time in between gigs to work on personal practice during 1976 and 1977. Rick and Steve do some work on writing songs, but it's mostly show-off instrumental material. No real "songs", just fun patterns to play around with.
June, 1978 - (Tricks Reunion for Luke Lain's Graduation Party) -


Michael, Tom, Rick and Steve play at Garnie and Lucy's for Luke's outdoor graduation Tricks party. Bill and Dave are there to help run sound. Close friends and family only. We forget lots of parts and screw up a lot. But it sure is fun!!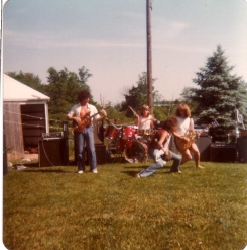 Tricks Reunion Party for Luke's grad party . . . . . . . . . . Tricks is on the Grass . . . . . . . . . Recalling songs from 6 long months ago
July 3, 1978 - Tricks Reunion at Silver Dollar, Hilliards
(Later renamed "Royal Knight" and then "Hiliards Corner Lounge" -


Michael, Rick, Steve, Bill, Tom, and Dave get back together in 2 days notice for a party on Sunday night, Independence Day weekend. Since the 4th is on Monday, there was talk on Friday night about what kind of party we could plan for Sunday night. Sherry suggests that we have a Tricks Reunion at the Silver Dollar Bar. We spend all day Saturday gathering up people and equipment, and set it up on Sunday. It is the first time a rock band ever plays at the Silver Dollar, normally they have country bands. Unlike at Luke's party, everything turned out very well. Tricks was more at home with the big bar scene and all the old Tricks friends. Louie and Carol, the owners, said it was their biggest night ever. Lots of Dorr, Wayland, and Hopkins old Tricks crowd.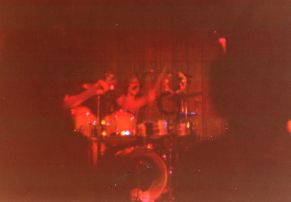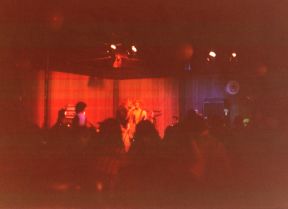 We all surprise ourselves with our performance this night. Steve kicks ass right from the very first song. His drum practicing is paying off; he really is shining on the drums. We even try "Won't Get Fooled Again" with Bill, and it's about the best ever. Rick sings "Wish You Were Here" and the Tom show-off song "Nantucket Sleighride". People went crazy nuts over the Tricks reunion party in Hilliards.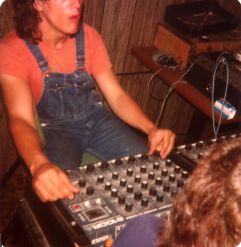 |
|
August, 1978 - (Making Plans) -
Steve is toying with the idea of being a fulltime musician. Steve, Rick, and Bill are doing some work on songs. Bill can't go full time with a new baby Aaron. Rick is thinking about going along with Steve's idea of a fulltime band.
November 12, 1978 - (Vico and Romiro in the Attic)


Tonight is our first practice with Vico and Romiro (the brothers who go on to form "The Quarter Band", "Bad Neighbors", and more recently "All In".)
We all are surprised how well we click together. We intend to make this Tricks 2. We need money to get some good equipment. Rick plans on borrowing about $10k so we can have a great sound system.
December 12, 1978 - (Vico and Romiro in the Attic)
We are working on some great material for the new band. We've got "Hotel California" by The Eagles, "The Cowboy Song" by Thin Lizzy, and lots of other popular songs, mixed in with some more difficult songs that will be very, very fun. By the end of December, we have about 3 hours of material down pretty well. Vico is playing bass, with Steve on drums and Rick and Romiro on dueling lead guitars. Everyone sings and we have lots of good harmonies, double-leads on the guitars, and all kinds of fun stuff going on. Hopes are very high.
But, . . .
On to 1979
Back to 1977