Read this Tricks Newsletter

from early 2009, with comments from Steve, Krystal, & Bassbeast
---
Blog / News from TRICKS - April 2009
Apr 17 & 18 - Sidetrack Bar & Grill, Fennville -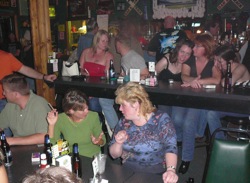 Tricks spent one more weekend with the Sidetrack gang. Wow, what a great bunch of party people at Sue's Sidetrack. First set Friday, there were maybe a dozen people in there. Then the crowd just grew and grew, until we had pretty much a full house by last set. And lots of dance-floor action. We had the wild Fennville girls dancing up a storm - check out the Friday pics.
And then came Saturday! Like Tricks always says, "we like to save the best 'til last".
And, man-oh-man, was it a good one on Saturday night.
First of all, the Sidetrack had a special Catfish Fry dinner special starting at 4pm. It must have been good, because most of their 90 lbs. of Catfish was gone by the time Tricks started in with the musical entertainment. There were a bunch of Krystal's friend from Perrigo there, and another bunch of Rick's friends from Trendway. Plus, lots of regular Tricks family and friends. And, let's not forget the Sidetrack regulars; they like their rock and roll out there in the countryside. Yeeee-Haaaaa!!!! Check out the Saturday pics to get an idea of the mob scene we had on Saturday night. We also had a bunch from Wayland who took advantage of the Tricks Magic Bus Ride offer. And a big "Thank You" goes out to Roger for devoting so much energy to the Tricks cause. Thanks as well to Terrie for helping with the Magic Bus ride.
We had several birthdays. Our friend Patty Bykirk brought a whole big gang of family and friends from Hudsonville to party with Tricks at the Tracks. Plus, we had brother Larry bring a carload from Grand Haven. And, I almost forgot, we also have to give a big thanks to Krys and Rick's neighbors from Indian Shores, as well as our friends from Allegan who came out to hang and bang with Tricks. Dang, did I forget to thank anyone? Thanks to Debbie for helping with cameras, and for bringing your own share of party friends. Thanks to Roger for helping with video and still pictures.
It looks like this Tricks Party thing is a Group Effort. And what it boils down to is this: We Couldn't Do It Without You! Tricks works hard to keep adding songs to our repertoire, keeping equipment in good repair, buying new gear almost constantly (did I mention that Steve has new Gretsch drums?), and trying to stay friends with each other with a band work-load that tends to weigh heavily on our physical and mental health, not to mention our families and day jobs. But you party people make it all worthwhile. Just seeing all those smiling faces in these pictures tells me that we gotta Keep On Rockin'!
Fri

|Sat

|

* * * Sign up - Tricks e-mail News * * *
Tricks News Only! - No Spam!


E-mail Address:




First Name (optional):

Last Name (optional):

Subscribe - Unsubscribe
---
Apr 10 & 11 - Sidetrack Bar & Grill, Fennville -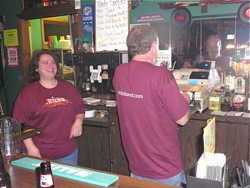 Tricks loves playing way out in the country, with all those hippy / biker / party-animal / rockers at Sue's Sidetrack Bar. They really know how to party. First of all, they have great food - you might even want to check out their Taco Monday, with dollar tacos that will fill you up. The Sidetrack is also serving up late-night munchies like Chips & Cheese, Jalapeno Poppers, Fries, Cheese Sticks, and all that good stuff. They also have the biggest Dance Floor I've ever seen, and a great sounding room for bangin' out those Rock and Roll tunes. Very, very friendly staff and just plain cool people.
This was our first weekend back at the Tracks with Tricks for 2009. And what a couple of huge party-nights. If you were there, it was a night to remember. If not, sorry for you. But we have one more weekend, and we'll be back in July for a couple weekends and the Sidetrack's big "Cops for Kids" Charity Bike Run (July 11).
The crowd on Friday was pretty impressive, and they had it really going on. But then came Saturday, and that was a night to write home about. The place was packed to the walls with party people. Once we got everyone dancing in the 2nd set, they just wouldn't quit. Tricks had to play a half-hour overtime, because the fun just wasn't going to stop. Those folks out at the Sidetrack really appreciated our new Tricks tunes, you know, the 24 songs we added over Winter break. All of those songs went over like gang-busters; AC/DC "Rock & Roll Train", The Cult "Wild Flower", Theory of a Dead Man "Bad Bad Girlfriend", the Blues Block songs, the slow Little River Band song "Lady" - everyone loves our new Tricks songs. We love them too! Check out the pictures; it was nothing but smiles and head-banging All Night Long!.
Thanks so much to Sue and her wait-staff for having Tricks at your Party Place. Special Thanks to our bartenders Don and Doug for pouring a ton of drinks. Thanks to Roger and Debbie for handling the camera work. Thanks to our regular Tricks friends for coming out to support. Most of all, thanks to the new people - there were lots of new faces in the crowd on Saturday night. Hope y'all come back now, y'hear? THANK YOU DANCERS - THAT'S WHAT TRICKS IS ALL ABOUT - WE WANT YOU TO DANCE AND SING ALONG WITH THE ROCKIN TUNES. We appreciate everyone's enthusiasm and energy!
Tricks Loves You!
Fri

|Sat

---
Blog / News from TRICKS - March 2009
Mar 27 & 28 - Wayland Hotel Bar & Grill, Wayland -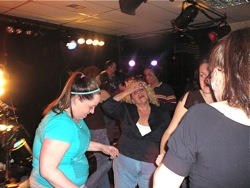 Tricks rocked the Wayland Hotel for the 3rd weekend in a row. This was our first set of gigs for the new Tricks "fiscal year" 2009. It was a chance to get our 24 new songs up and running in front of people. A little tweaking still going on with the new songs.
The dancers seem to love most of the new songs - "Ah Leah" seems to be the biggest new favorite on the dance floor. "Slide it In", "Ain't Goin' Down", "Bad Girlfriend", "If You're Gonna Love Me", and "Boom, Boom" are some of the other new dance floor packers. Our newly added "Lady" from the Little River Band is a Huuuuge fan favorite - everyone wants to dance and sing along to this old hippy love song. But, I think everyone loves all the new Tricks songs. I know I love all of them - such a nice variety of styles.
Oh, and speaking of style; EVERYONE really digs the new blues songs that we are putting into a little blues mini-set at the end of our 2nd set. Tricks plays 3 of our best blues songs right, bam-bam-bam, in a row. (Friday's blues songs are always different from Saturday's blues songs.) The band dons a touch of "blues wardrobe"; shades and hats and such, just to make the blues time a special time of the Tricks night. We were gonna give this blues threesome a name ("Blues O'clock", or "Blues Break" or something), but we'll just let it "grow" its own name. Wait and see!
Both Friday and Saturday were less than a packed house, for a change. But it was a very warm crowd; plenty of dancing friends, fanatics, hippies, and headbangin' rockers. We had the greatest time, as my tired limbs and eyes will attest to. The new t-shirts just got finished this week, so we sold a couple dozen of those over the weekend.
We had one friendly dancing couple on Friday night who were Tricks newbies from Grand Rapids. They were searching the internet and found the Tricks website, and they said "we read the whole website, the history and all". (Somehow I doubt that they read the whole thing; that's almost 2.5GB of reading.) Sorry we forgot names, but these folks said they were so intrigued by what they saw on the Tricks website, they just had to come out to the Wayland Hotel and see for themselves. They said they liked the band a lot, and they're gonna bring some friends along when they come back to see Tricks at the Hotel in late May or June. I believe they weren't just talking nice, because they stayed all night long and danced a lot (the guy was playing the tambourine on the dance floor, Friday).
Friday's party crowd had a couple birthday parties mixed in for fun. Saturday's party crowd was dominated by the noise and revelry from Dave & Debbies friends from way up north in Wyoming thereabouts. Thanks for coming out to hang and bang with Tricks for the evening! We appreciate your drive time.
Thanks to Mary Kay and her staff for a wonderful job keeping the party going. Thanks to Debbie, Julie, and Roger for moral support, photography, and asssorted odd chores.
We'll be BAA-ACK!!
---
Mar 20 & 21 - Wayland Hotel Bar & Grill, Wayland -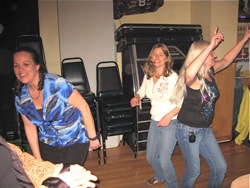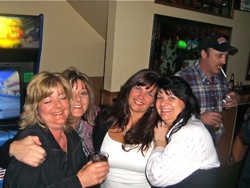 Tricks had a packed dance-floor on both Friday and Saturday at the Wayland Hotel - That's what we like to see. At one point, drummer Steve said "this is a better party than St. Patty's night". Now, that's just crazy talk, but I think I know what he meant. We had a Tricks crowd; The band and the crowd were in sync, and the crowd was kicking our proverbial ass - especially on Saturday, but Friday was decent as well.
The band takes special care in chosing songs that are good fun songs for the dancers. We know that there are thousands of good songs out there that people would like to hear Tricks play. We pick songs with three criteria in mind: 1. It's gotta be a song that people have heard before. 2. It's gotta be a song that is a good dance song. 3. It's gotta be a song that is interesting enough that the band doesn't get sick of playing it after a few weeks. With all that in mind, this weekend proved that our Tricks setlist has "the right stuff". People were bustin' a move out on the dance floor, as Joe Walsh would say, "All Night Long".
The new Tricks "Blues O'clock" songs (including proper band attire; hats & shades and such) really get everybody shakin' their thang out there. Wow! You had to be there. Tricks has 24 new songs, including slow love songs, young country boogie, hard rock head-bangers, classic rock & roll, and "real" blues . . . and I know I'm being annoyingly repetitive & redundant, but all those new songs had the dance floor packed. And it's a big dance floor at the Wayland Hotel.
Bunches of birthdays on both nights had Tricks doing the Beatles "Birthday" song (which we just learned this winter at Roger's). Thanks to all the birthday kids for bringing your party to the Wayland Hotel. With Tricks in charge of the festivities, you know we're all gonna have a real good time. See those pictures just to make sure.
Thanks so much to Debbie, Roger & Deb for helping with pictures and stuff. Thanks to Mary Kay and her excellent wait-staff for serving up a great abundance of drinks & food. We couldn't do it without you.
Thanks to our regular Tricks friends, you know who you are!
Tricks loves you!
Thanks to all the new friends who came out to party with Tricks this weekend. Sign up for our Tricks newsletter below.
Check out the pics, and notice Steve's pretty new Gretsch drums - those things sound as good as they look! -
Fri

| Sat

|Debbie Pics

---
Mar 13 & 14 - Wayland Hotel Bar & Grill, Wayland -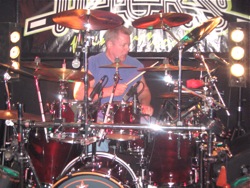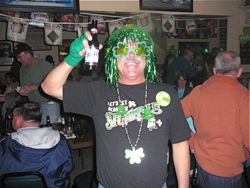 It's time to get back to the bars and have fun with Tricks. Friday we had a decent crowd, and the band was pretty dang good despite "first night jitters". Not that the Wayland Hotel makes us nervous; but Tricks has to be a bit concerned whether all of our gear was going to work okay after being somewhat unused over winter break. Tricks also has to contend with our 24 new songs, as well as dozens of other songs that have been neglected for the past 10 weeks or so. That's a LOT of song information to remember on the fly. But, Friday was an outstanding first night for Tricks. The gear held up for the most part, and the new and old song material provided a jammin' good time for all.
Saturday was owned by the St. Patty's crowd. The dance floor was packed with crazy people All Night Long! See my pictures if you have any doubts about that. I wouldn't lie to ya, honey! There sure was lots of greenery all over the place on Saturday night. There was fun in the air, and the crowd was louder than the band. What a great time for all the Irish folk (and honorary Irish-for-a-day folk).
Tricks was especially pleased to see the Wolowicz family out at the Hotel (I don't think that's an Irish name), with their daughter Megan home on a much-deserved break from the US Naval Academy. I guess they don't party too much at the Academy; they're too busy working their butts off. We're glad Megan got the chance to let her hair down a bit with the Tricks crowd - good to see you! Thanks for coming!
Thanks to all the new friends who came out to party with Tricks this weekend. Sign up for our Tricks newsletter.
Thanks to Deb and Roger and Debbie for helping take pictures; our hands are kinda full so we need help with that. Thanks to Mary Kay and her staff for the hard work, trying to keep that green beer flowing.
Here's the pictures:
Fri

|Sat (St.Patty's)

---
Mar 7 - Tricks Coming Out Party at Roger's House, Byron Center -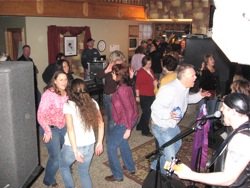 You know how they say "you're not getting older, you're getting better"? Well, these Coming Out parties are getting better each year.
About 12 years ago, Tricks got the big idea that we should take January and February off for winter break. The Tricks winter break serves a triple purpose; We don't have to hurt ourselves or damage our equipment by loading gear in the snow and ice, we don't get gigs cancelled because of winter weather, and we have an opportunity for extensive rehearsals in order to add to our Tricks song repertoire.
Tricks spent our first winter breaks in Steve and Tammy's basement in Dorr, much to the chagrin of Steve's daughters who had to put up with our loud noise 2 or 3 evenings per week. (We would come upstairs when we were finished for the night, and we would find the 3 girls huddled within a few feet of the TV, with the volume turned way up. We'd say, "Okay, we're done, you can turn the TV down now".)
Tricks needed to have a "dress rehearsal" for our new songs, since most years we were adding over 20 new and often difficult songs. At the end of winter rehearsals, Tricks would throw a small "open rehearsal" party for our closest friends and family. That way, we could get some audience feedback for our new songs. The first few years, we had some "Coming Out" parties at Steve & Tammy's in Dorr, at Richies in Wayland, and at Rodney's in Holland.
Nowadays, Tricks has the extremely good fortune to have Roger Schrag as a major band supporter, so we've been able to spend the last 3 winters rehearsing in Roger's comfortable living room at his beautiful house north of Byron Center. So, that's where the party has been for the past 3 years.
This year's party was a stellar event. We had great food and drinks, a great bunch of music-loving friends, and we kicked out those winter doldrums. Tricks got to try out our 2 dozen new song additions, as well as some of our more challenging songs from '08. I have to say, the new songs went very, very well. Many of these songs have been getting kicked around and rearranged every which way, but Tricks managed to hack through the new stuff quite effectively. A few of the old songs were actually more troublesome than the new songs, since we haven't been concentrating on the old songs. It was good to kick out those cobwebs in front of an empathetic (and non-paying) crowd of fans. We'll be that much more polished when we get back to the bars, starting next week in Wayland.
Everyone got loose and tried out their dance moves with those new and old Tricks tunes. What a great time. Did I mention that this was the first that everyone got to hear Steve's new Gretsch drums.
Thanks so much to everyone for coming out to help us work on our new improved repertoire. Thanks so much to Krystal and Debbie for helping with cleaning and cooking. Thanks to Fred and Denny for taking pictures. Thanks to everyone who brought food. Happy Birthday to Tammy, Sherry, and Roger.
Roger, thanks for everything. We can never repay your kindness and generosity, but we'll do our best to rock your world whenever you need it most. We know that you do it all for the love of music, and that's why we do what we do. Thanks for being part of our team.
---
Feb 14 - Steve's New Gretsch Drum Kit Adventure: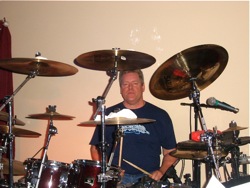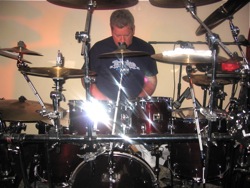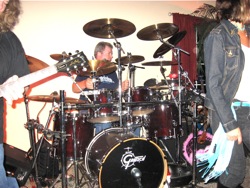 Every year around this time the band upgrades equipment, spending money like drunken sailors. I usually buy a new cymbal, drumheads, a dozen pair of sticks, etc. There is always that itch that comes when I'm looking at that stuff to get a new set of drums, but I've been so happy with my maple Mapex kit that I've always said "maybe next year".

While shopping around online this year, I came across a drum set that seemed to be an amazing value for a maple kit! I wondered could they possibly sound better than my Mapex set? This guy (reviewer) thinks so. He wrote an online review which struck a chord with me in the opening statement:
REVIEW EXCERPT- "I just bought this set of Gretsch and I also own a maple set of Mapex drums. This Gretsch set is so much better as far as sound and quality goes that there really is no comparison. I have been drumming for over 30 years and this is by far the best kit I have ever owned. In fact I've played more expensive sets that don't sound this good. I didn't know exactly what to expect from this limited edition set. Pleasant surprise!"

So the next day I walked into Firehouse Music Grandville with the intent of just getting a mount for the drums that I was planning to order online. To my amazement, there was the same kit at the same price on the showroom floor.
I played them a few moments and was quite impressed, even with the stock heads on them. I was sold and so were the drums. I picked them up the next day after the drum tech put new Remo heads on them. After setting them up at Roger's I tuned them and had my first go at my new Dark Cherry Drums. I was a bit nervous that I would find them to be not as good as my old kit. I was immediately astounded at the drums BIG sound. Wow!

The toms are so responsive I'll probably change my style of playing our songs hard & heavy, (just kidding). What I really am stunned at is the snare drum quality. I will definitely be using this snare for 2009. My distinctive Yamaha Signature snare you are so used to hearing as "the voice" of Tricks will be put away for another time. Overall I agree with the reviewer above, I'm pleasantly surprised!

I never had played a Gretsch kit, though I knew of the great tradition they have. Many legendary players have endorsed Gretsch - from the great Louie Bellson and Vinnie Colaiuta, (Jeff Beck, Zappa, etc.) to the new hot players like Steve Morse drummer Van Romaine or Rob Bourdon (Linkin Park). Of course, it didn't hurt that my all time main man Phil Collins plays Gretsch in Genesis and his solo career.

Everybody keeps asking me, "what are you going to do with your old drums?" Reluctantly, I have decided to sell them as a "shell only" kit. For $400.00 - and yes, it includes the green Tricks Logo head on the front of the bass drum.
---
Blog / News from TRICKS - February 2009
Feb 14 - Rick & Krys "unplugged" at Bittersweet Ski Resort, Otsego -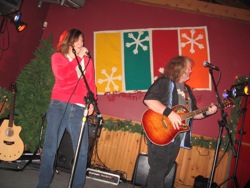 Once again we invade the slopes with lots of grinding acoustic guitar and plenty of singing along with Rick and Krys. We made lots of new friends, too bad most of them are from Chicago and Indiana - we'd love to show these people what the "real" Tricks is all about. Anyhow, we had the best time at the lodge at Bittersweet, even though the weather was less than perfect this time around. There was nowhere near the crowd that we had last time, but there were still about 50 people sitting around and singing along with our unplugged rockers and other folk songs and such. Once again, "Radar Love" was the hit of the night. A couple drunk people told Rick afterwards, "the acoustic version of Radar Love is way better". Okay, whatever!
Thanks so much to our party-lovin', music-lovin' friends and neighbors who made up our "rent-a-crowd" cheering section. Thanks to Roger for taking pictures, and for bringing the Ovation Guitar, since we forgot and left it at his house Friday night. Doh!
Thanks to Lori for helping us get this gig. Thanks to our boss, Amy - we had a great time at your place! Thanks! See you all next year!


---
Feb 8 - Tricks Winter "Break" at Roger's, Byron Center -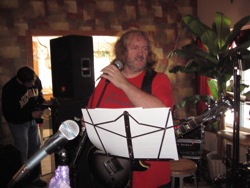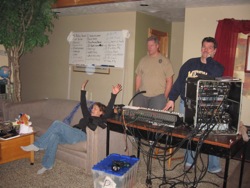 Tricks is in the process of rehearsing 24 additions to our repertoire. We are hitting it hard in Roger's living room, somewhere north of Byron Center. Lots of stressful, adrenalized, frustrating, rewarding, tedious, fun moments at these rehearsals. It's a roller-coaster of emotions when we're all trying to cram so many new songs into our brains and bodies . . . something to do with Tricks and Old Dogs!? We have 4 new songs for each of 4 singers, plus 4 great new slow songs with lots of harmonies, and 4 songs dug up from the Tricks Graveyard. You do the math. See here

for all the details about our song lists, new and old. Rumor has it that Steve is looking at a new set of drums any day now. Can't wait!!


---
Blog / News from TRICKS - January 2009
Jan 17 - Rick & Krys Acoustic gig at Bittersweet Ski Resort, Otsego -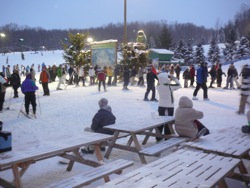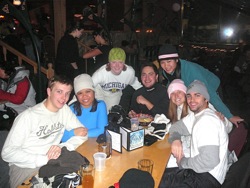 Krystal's sister-in-law, Lori works the kitchen at Bittersweet's Lodge. Lori has been asking us for a while if we would want to play a gig at the Lounge at Bittersweet, so we finally tried it out last night. We played 3 Acoustic sets from 4pm until a bit past 7pm. I have to say, it was fantastic fun, and very different.
It was a picture-perfect day for skiing ... as they said at the Bittersweet Web Site; "Base: 47+ Snow condition: Groomed, Powder, Packed Powder, Conditions are great! 100% open." There were all kinds of skiers; die-hards, beginners, school buses full of kids, lots of girls, lots of snowboard guys.
As we were driving into the packed parking lot with hundreds of cars, I said to Krys, "if only 1 out of 10 skiers decides to stop in to the lodge for a drink, we'll have a heck of a crowd". It turns out that the lodge is split up quite a bit. The section we were in was by the bar and the food, and the room held about 150. But there were probably 400 people hanging around the hallways and the bigger picnic room, and the open ceilings let our sound travel all over the area.
Lots of people coming and going. Lots of people getting warmed up, and checking out the Rick & Krys Show. We had lots of folks asking where we were from, and we told them to check out the website and come out to see the big Tricks band. I think we made some new friends. We also had support from our good friend Dylan, our neighbors Lex & Pete, and Krystal's brother Bob & family, and Jen & Mark.
We'll for sure be back at Bittersweet for Valentine's Day, Saturday, Feb 14! It's a busy place when the snow is right.
See our pics from our fun "Unplugged" gig at Bittersweet:


---
* * * Tricks at the Movies - Blast from the Past * * *
"My Sharona" by The Knack, Saturday, March 20, 1999
Tricks performs a rousing version of "My Sharona" at Stan's in Dorr, Michigan.

See more YouTube stuff from Tricks - click here: