TricksBlog - April 2014
Apr 26 - Private Double Birthday party in Holland - Kim & Linda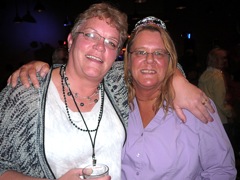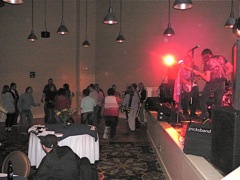 Talk about dancing the night away! Linda and Kim's friends and family show us how to party.
Rick worked with Linda and Kim at Trendway for many years. Linda and Kim have been celebrating their birthdays together since they were tiny. The connection with Tricks is via Irons, Michigan. Kim and husband Duane have a place in Irons and Linda spends at least a week there with Kim every summer. Back in 2007 Rick & Krys were playing at another party in Irons on the same weekend that Linda was staying with Kim. So Rick invited Kim & Linda to their rock-around-the-campfire party just east of Irons. And each year Kim & Linda brought more friends along to the annual party in the woods. Always livening up the party with lots of dancing action - this group likes to dance. Eventually, starting in 2010, Kim & Linda's group started hiring Rick & Krys for their own annual Irons parties.
After playing for 4 parties in Irons, this is the first time that the entire Tricks band got hired for this party group. Kim's husband Duane deserves all the credit, because he initially planned a surprise party for Kim in Irons, with just the acoustic Krys & Rick show for music. When Duane decided that the party would work better in Holland, Rick mentioned that the entire Tricks band would be available. So, that's what we ended up with. And that means plenty of great songs for dancing. See the pics. It was a strange stage, very high above the dance floor, but thankfully the dance floor had plenty of room for boogying. Thanks to Duane, Kim, Linda, and everyone else who made this party happen.
Linda & Kim Party

---
Apr 18 & 19 - M89 Sportsbar, Otsego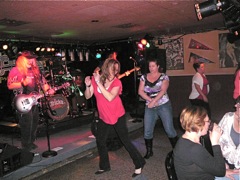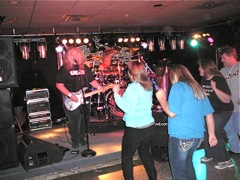 Friday was the busier night . . . Birthday parties & Line-Dancing . . . Tricks scrambled to keep up with it all
Tricks is back in downtown Otsego at M89. This must be our third weekend there with Tricks, and we haven't had a slow night yet. Those Otsego people really know how to party, and we are also close enough to Allegan for bringing over some of our Allegan friends and fans. Friday was surprisingly packed when we showed up at 9pm. There were big birthday parties happening for three people; Joey, Keith, and Karen. So, Tricks did our best to keep everyone happy with the classic rockers as well as a few new country tunes for the line dancers.
M89 Sports Bar & Grill is one of the few places where Tricks can expect some Line Dancing when we play a country rocker. You see, the Bresa del Rio ranch had a very big and popular "new country" bar. And they had regular line dancing instruction nights. The Bresa bar burned to the ground in 2007, and M89 picked up those country fans. As a result, M89 is one of the few places that can successful mix Country and Rock bands on their stage.
Saturday was more of the same, only a bit less crowded. We had another Keith with a birthday party on Saturday. That room really sounds good, and we had plenty of dancers for nearly every single song, just like on Friday.
Thanks to the owners, Tim & Linda, for doing the hard work to keep live rock music alive in Allegan County. Thanks to the M89 staff for keeping the party going. We know it's not easy work. Thanks to the birthday kids for bringing your party to M89 with Tricks in charge of music. Thanks to Tricks friends who drove all the way from parts unknown to spend a few hours hanging and banging with the band. Thanks to the new friends and fans who gave us lots of great compliments; hope to see you again soon. We put in lots of long hours of work to keep our song repertoire interesting and our playing tight. It's nice to hear some positive feedback from newbies. See you again soon. We love ya, man!
Fri

| Sat

|
---
Apr 11 & 12 - Hilliards Corner Lounge


Extremes: Extremely slow on Friday . . . Extremely busy on Saturday
Tricks returns for two nights at the Corner. We finally had some spring-like weather, and lots of people had backyard campfires and porch parties. Friday was super low turn-out. A busload of bachelorettes came in for a pee stop, and they didn't even stay for one drink, because the place was so deserted and "un-fun" looking. We had a few hard-core Tricks friends to keep us company until the wee hours. But it was just Tricks and two waitresses as we did our last two songs. That really drains the energy out of the band when there aren't very many people feeding us their energy.
To make up for Friday, we arrived to a packed parking lot on Saturday night. There was a big "going away" party and a birthday party in progress. Now it was our job to keep the poeple around for some late-night drinking and dancing. Mission Accomplished! Great fun packed dancefloor for all 4 sets. Honorable mention guests included a table from Allegan, the aftermath of a long day at the Art Council's "Art In The Garden". Thanks to everyone for a great weekend of extremes. Thanks to the Corner Staff and Eric the Owner. Happy Birthday Eric.
Fri

|Sat

---
TricksBlog - March 2014
Mar 28 & 29 - River City Rocks


Plenty of dancing & head-banging on Friday . . . Even more on Saturday . . . And Tammy's Birthday party
This was our one single Tricks appearance at River City for the first half of 2014. So, we wanted to make the most of it. We brought our A game, dispensing with the usual slow start. We redesigned our set-list for the sake of the dancers who wanted to get out there and mirror-dance from start to finish. River City has this wall of mirrors along one side of the dance floor, so everyone gets double the action. The dancers didn't disapoint: Friday we had a good crowd, not packed but a nice crowd. The dancefloor was busy all night long. After midnight, the crowd thinned a little bit, but then we had a big surge of dancefloor action for our final set. It took all of our Tricks "Bring It" power to keep up with the dancers. On Saturday we had a packed house from start to finish, with matching dancefloor action. Tammy the birthday girl was there celebrating with her friends, so Tricks did our Beatles "Birthday" song for her. Very fun!
Several of our Tricks fans from Allegan County came all the way up to Leonard Street to party with Tricks at River City. We certainly appreciate you for that. We also had some Grand Haven friends and family come over from the lakeshore. Thanks to everyone who drove the distance to give Tricks support at this relatively new venue for us. We hope Bob the owner will get us in there on a more regular basis. As of now, we have no future bookings there. But we sure seemed to make the crowd happy on both Friday and Saturday nights of this weekend. We hope Bob gets the message. Tricks likes playing at River City because it's that good west-side rocking crowd. It's it bit of a drive for Rick & Krys from Allegan, but it's nice to play for the GR crowds up here. We appreciate the friendly and hard-working staff, and the work that Bob has done over the years to make River City one of the premiere Rock and Roll clubs in Grand Rapids.
Fri

|Sat

---
Mar 7 & 8 - Hilliards Corner Lounge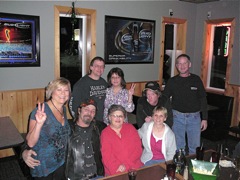 Rick's buddy Rodney from Holland... Lone Wolf and our Sidetrack friends... Kris also is a Sidetrack friend
It seems like Hilliards is a good central location for all our long-lost buddies to come and meet up with us for some hangin' and bangin'. We had friends from far and wide, as far away as Pullman, Hudonville, Holland, Fennville, and Allegan. Friday had a small crowd, but the few people there wanted to dance with us, and that makes all the difference. We've had huge crowds where the big bar is full, but hardly anyone seems to care much about the live music. When we have dancers, we know at least someone is paying attention to our work. So, we're happy to have a small crowd with 3 or 4 couples constantly dancing. We also had some very good friends show up on Friday, as well as some new fans.
Rick's pals and longtime Tricks fans, Rodney & Maribel came over from Holland. And our buddy Kris from our Sidetrack days showed up, and then came back on Saturday as well. Saturday's crowd was more like the usual Hilliards party blast crowd. Our best Tricks friends from Hudsonville, Grandville, and Dorr showed up. The highlight of Saturday's crowd was our friend LoneWolf who is moving to Georgia in a few days. He brought a table-full of friends from our old Sidetrack days. Always a pleasure to see our dear friends from Sue's Sidetrack.
Tricks is getting our 20 new songs up to speed. These songs are really falling into place, and that's no accident. We work hard memorizing song parts and getting all those parts to gel together into a nice tight groove. And it's the best feeling in the world to feel those songs getting tighter and tighter, with dynamics and little fun tricks showing up along the way. I think Steve's "Mississippi Queen" song was the best ever on Friday, and just as good on Saturday. That was one song I had my doubts about because Mountain is a better-than-average rock band, but it's really starting to work for us. Same thing with Joe Walsh "Life's Been Good". We didn't know if we could pull that off without any keyboards, but it's really coming together very well.
Thanks so much to Eric and the entire staff at Hilliards Corner Lounge. You have excellent food, good drink prices, a nice party atmosphere, and a great central location for everyone to meet up. Thanks for helping to keep live music alive in Allegan County.
Fri

|Sat

---
TricksBlog - February 2014
Feb 28 & Mar 1 - AJ's Grill, Dorr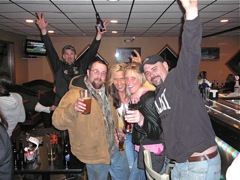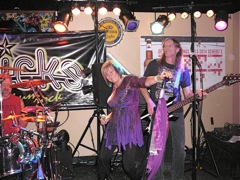 Comfy crowd on Friday . . . . . . . . . Wildness on Saturday . . . . . . . . Our hometown rock & roll bar
Tricks came home to roost in downtown Dorr. We've been holed up in Dorr for the past two months in Steve's basement, just a mile north of here. So, we might as well call this "Tricks International Headquarters". We can't fool this Dorr crowd because they know us too well. We have to give them the real deal. So, we had to bring it, both Friday and Saturday. Friday was the smaller crowd, and a smaller crowd doesn't provide many distractions to hide our imperfections. So, we gotta be good and tight, and above all, FUN! A smaller crowd makes the band focus inwardly, so it takes more energy to play for a small crowd - because we're playing more to ourselves. And we are our own worst critics. The big Saturday crowd provided lots of fun distractions. A big lively crowd gives the band energy, but also takes it away because of all those distractions.
I have to say the highlight of this weekend was the Saturday night birthday. We had a group of friends come over from Borculo. And they brought along Donna, who was celebrating her 75th birthday. And she wanted to dance, and she hung out with us until way past midnight. What a gal! We should all be motivated by Donna's "use it or lose it" attitude. We all complain about our old aches and pains, but the only way to get rid of those aches and pains is to keep moving. That's where Tricks comes in. We're here to keep you moving and grooving. It was a blast coming to AJ's for our 2nd weekend out of the basement this year. Our new songs are really starting to feel right. It's always an entirely different feeling to play a new song onstage, rather than crammed into a small room in the basement.
Thanks to friends and fans who came to hang and bang with us in Dorr this weekend, especially those who had to drive far on icy roads. Thanks to Amanda and Ernie for keeping live music alive in Dorr. Thanks to the AJ's staff for putting up with our loud sound and wild crowd.
Fri

|Sat

---
Feb 21 & 22 - Woody's at Spectrum Lanes, Wyoming, Mi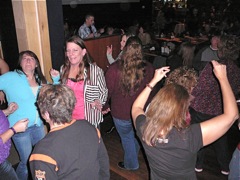 What a great Fri & Sat . . . The crowd was great . . . The band was great . . . Life is Good
Tricks came outta the basement like gang-busters. We have 20 new songs in our repertoire that we need to give some serious repetitions to get them tight. We also want to see what the crowd response is to these new additions. Woody's turned out to be a great place to perform these songs in front of an audience for the first time ever. The crowd was very friendly land receptive, even though this is only our 2nd time at Woody's. We discovered some new fans and had plenty of our Tricks inner circle come out to support our "Coming Out" party weekend. The songs that seemed to get the best response, at least as far as dancers, were Joe Walsh's "Life's Been Good", Escape Club's "Wild Wild West", and Joan Jett's "I Love Rock And Roll".
Although the weather was super cold, the roads were not very bad, so we had a very good turn out on both nights. It helps that the winter bowling leagues are happening, so we get the overflow from that action. We're still new at Woody's, so we're learning how to get these people revved up. For the most part, the crowd was revving us up, and showing us how to party. Thanks so much to Woody's management and staff for making Tricks feel welcome. It's a very professional atmosphere, with the bowling alley, the restaurant, and the bar business. It's a pretty big place, with a bigger staff than we're used to. Tricks is happy to be part of the Woody's team. We know how to take care of business on the stage and dance floor.
Fri

| Sat

---
TricksBlog - January 2014
Jan 25 - Bassbeast Benefit Bash, Lincoln Country Club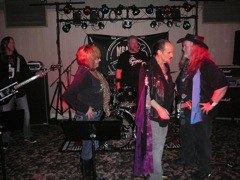 Scott did a great job as soundman ...Tricks making a plan with Bassbeast ... Bassbeast with Foolish Plezyer

Tricks joined with 3 other bands to honor our good friend and former bassman, Dave "Bassbeast" Trierweiler.
The weather was super cold, icy, and snowy, but we still had a great crowd of about 300 people. The love for Dave and Debbie was in the air. Lots of hugging and kissing going around the room. What we ended up with for a crowd was the "inner circle" friends and fans of the four Bassbeast-related bands who played a one good hour set each. We started with the lighter Classic Rock bands, Shovel and Tricks, and then got into the heavier music with Foolish Plezyer and finally Skip Herrema's brand new band "Raker" gave their debut performance. There was also a short appearance by a 5th band, Meanstreak - including Bassbeast, Skip Herrema, and Mark Clay from the original Meanstreak line-up.
At midnight, our super-star Emcee / host Michelle McKormick of LAV-FM worked with Tami Clay to do the drawings for the all the donated raffle items. The Grand Prize was Bassbeast's rare Paul Reed Smith bass, which was his main axe for many years. The winner of the PRS was Jon Sturgis, a friend of Tricks from Allegan. Follow up info on the PRS bass - a few weeks after the Bassbeast Bash, Dean Hodges, the original owner of Dave's PRS offered to buy back the PRS from Jon, with an additional $100 from that sale going to Dave & Debbie.
More info and thank-yous at the Bassbeast Bash website. We'll keep that site active, and will be adding more photos and video from the party and the Bassbeast video archive from way back. Some Tricks videos are there now, but we will soon add some Meanstreak videos from January, 2000.
Bash Pics

| Bookmark the Bassbeast Bash Website

---
TricksBlog - December 2013
Dec 31 - Tricks New Year's Eve Party, Hilliards Corner Lounge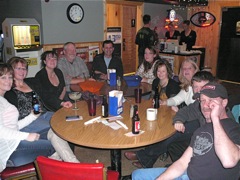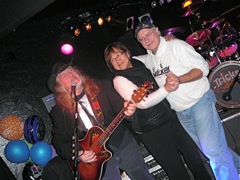 Wolowicz NYE tradition (missing Megan) . . . Cold icy weather kept the crowd thin, but we made it warm & cozy
Tricks did our 4th annual Hilliards New Year's Eve party, or was it the 5th? This was the first time that we had a half-full bar (not half-empty). We heard that lots of NYE parties had low attendance in SW Mich this year, with record-breaking low temps. Even the big Grand Rapids event had about one fourth as many people as they expected. We made the best of it. We had some great Tricks friends with us and some local party people, so it was a good enough "regular" night for Hilliards. Just not the mob scene that we've seen at past NYE bashes.
We were glad to have dancers for most every song; that always makes Tricks feel the love. We gotta see some head-banging and shaking out there to make it feel worthwhile. Thanks so much to those who drove from Grandville or Pullman to join us, you know who you are.
At midnight, Rick sang "Auld Lang Syne", with the reminder that we carry the good and bad, happy and sad memories of 2013 in our minds, but what gets carried forward into 2014 is the love in our hearts for our friends and family. With that in mind, Rick sang "What A Wonderful World" by Louis Armstrong, for those who wanted a first slow-dance of 2014. Fran & Tom took the chance to get up onstage and dance with Rick. Since Fran & Tom get the prize for "Best New Tricks Fans" of 2013, we also closed out the night with our first Tricks attempt at Willie Nelson's "On The Road Again", in honor of Fran & Tom who are huge Willie fans.
The Wolowicz family was there at Hilliards for Tricks NYE, fourth year in a row. But this time we were missing the smiling face of their daughter Megan, who is with the Navy in the Mideast right now. We send Megan our love. Hopefully we'll have some kind of Tricks party for Megan when she gets back home after graduating Naval Academy next September.
Thanks to Eric, thanks to the staff, thanks to everyone who came out to bring in 2014 with Tricks. Thank you dancers!
Now Tricks goes into the basement to beef up our repertoire by learning new classics and by bringing back some faves from the Tricks Graveyard.
New Year's "2014" Eve,