Tricks History 1982
January 7, 8, 9 1982 - Tricks at the Pine Keg in Gobles
Formerly "Homer's", the old stomping grounds of Dale and Tom's band "Opus".
It's a Thursday, Friday, Saturday gig. Lots of old Opus songs are mixed into the setlist: "She Caught The Katy", "Gimme Three Steps", "Mr. Skin" . . . plenty of ZZ Top, Joe Walsh, Skynyrd, Dire Straits, and other southern-style rock, mixed with Steve and Rick's picks: Rolling Stones, Todd Rundgren, . . .
January 21, 22, 23 1982 - Tricks at the Pine Keg in Gobles


January 28, 29, 30 1982 - Tricks at the Pine Keg in Gobles
February 4, 5, 6 1982 - Tricks at the Pine Keg in Gobles
Such great crowds those first 3 nights, Tricks gets booked for 3 more weekends at the Pine Keg.
February 22, 1982 - King Crimson concert at Second Chance
Loads of musical excitement, with the reunion of King Crimson and the new line-up, including Adrian Belew and Tony Levin. Rick and Steve Favorite.
March 5, 1982 - Tricks at Wayland High School dance
With left-over bad memories of Tricks Mk.I getting barred from these local high schools, mostly because of Michael's antics, Tricks Mk.II doesn't seem like a good fit for the high school scene. Plus, the onslaught of "DISCO" has begun. Many high school dances no longer have live bands - it's cheaper to hire a Dee-Jay.
There are new security rules that say no kid can go outside and re-enter the dance. During the band's break we start to go outside and get threatened by a school employee, saying "if you go outside, I'm calling the cops". We go outside anyway. There aren't too many high school gigs in Tricks Mk.II's future.
Tricks likes to drink their beer, so Dale brings in beer and we put beer in cups for the band only.
(Steve later gets a report that some teachers found our beer cans in the trash, so naturally the band was an evil influence on the innocent kids and won't be allowed to play at Wayland High School ever again.)
April 2, 1982 - Tricks at the Royal Knight in Hilliards
Remember the Tricks reunion party at the Royal Knight back in 1978?
The owners didn't want rock bands when they first started out. But, after the smashing success of the Tricks rock and roll reunion, they had rock bands from then on. So now, the new Tricks has to play a single Friday night - there are new owners again, after all. I wonder if we'll pass the audition??!!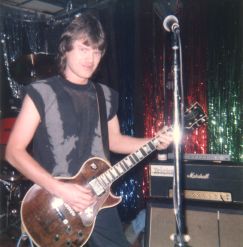 |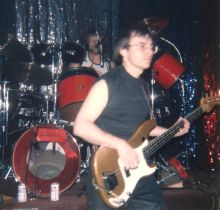 |
April 9, 10, 11, 1982 - Tricks at the Royal Knight in Hilliards
April 16, 17, 18, 1982 - Tricks at the Royal Knight in Hilliards
April 23, 24, 25, 1982 - Tricks at the Royal Knight in Hilliards
Tricks must have passed the audition; I guess they like Tricks at the Royal Knight after all.
This bar ends up being nearly our home-base for the next decade.
April 28, 29, 30, May 1, 1982 - Tricks at the Left Bank in Saugatuck
The Left Bank changes owners shortly after this Tricks gig, so this is the only time we play at this bar.
It's Thursday, Friday, Saturday, Sunday. Too many nights for working boys. Rick's ex-sister-in-law Melanie works here, so that's how we got the gig. This is the first time that Tricks started using Krystal's Tricks logo.
(Origin of TRICKS logo and sign)
Krystal works in the Perrigo graphics department. She is the camera operator. Her job is working in the darkroom with the great big camera that blows up and shrinks down artwork for the paste-up artists. She also does some paste-up work in her spare time. Sooooo, it seems only natural that Rick is going to ask Krys to make some kind of sign for the band. She can paste some letters (yes, dude, this is way before computer graphics) and then blow them up real big with her magic camera. Krys decides to make a star for the dot of the " i ", and a magic wand passing through the letters. It's much easier said than done: It takes Krys many weeks of work to get it "just so". After final approval from the boys in the band, Krys blows up the logo onto the biggest card stock that the art Department has. About one letter fits on each individual piece of paper, so she has to fit and paste the pieces of paper together. The sign is thick white paper with black letters, about 2 feet high and 5 feet wide.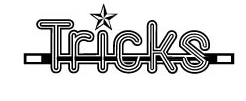 RICK COMMENTS: "The TRICKS sign/logo was used for the first time at the Left Bank gig. The paper sign didn't last long, so within a few months Krystal had to do the work of transferring the design (traced by hand from the paper sign) onto some black fabric. Krys decided to add glue and glitter to the center lines of the letters, for better visibility under spotlights. Years later, the fabric got a stiff piece of HPL laminating for back support. Finally, the original logo's "camera ready" artwork was loaded into Krystal's graphics . After many hours of "cleaning up" the original lines, the Tricks logo was ready to be manipulated into the shape and color that you see at the top of this page (In 2006, Krys added the curve to our logo, using an Apple computer). And that file was sent to a sign printing company to make the vinyl sign that Tricks bought in 2006. Everything has roots, baby, roots!"

May 20, 21, 22, 23, 1982 - Tricks in South Haven

May 29, 1982 - Tricks at Wayland Senior Class party
Rick and Krys sing at a wedding at 2 in the afternoon.
Immediately after the wedding, Tricks meets in a field north of Wayland to set up for a kegger party for Wayland's Senior class. The party is in a freshly mowed hayfield owned by an uncle of one of the Seniors. They have 2 kegs of beer in a horse trough full of ice in the middle of the field. Around 5 o'clock, Tricks is almost finished setting up on their haywagon stage, and ready to rock in the great outdoors. Fun!
Wait a minute, . . . here comes 2 Wayland State Police cars. Drinking age is 21 now, so that makes everyone illegal except the band members. The 50 kids who are there all put down their beer cups on the tops and hoods of all the cars, and move far away from the horse trough full of ice and beer. The police walk into the middle of all these cars with red party cups on them, they stroll up to the kegs, look around at all the empty-handed kids, and loudly ask "who owns this beer"? . . . No answer, just a bunch of kids moving farther away from their beer cups. Then the cops say, "who owns this property"? One kid comes forward and says that it's his uncle's property.
While the cops are talking to this kid, the band is taking a break from setting up. We figure that this is a party that isn't going to happen. Bass player Tom says, "i'm thristy, I'm gonna get a beer". Rick says, "Tom, they won't let you have a beer now". Tom says, "Why not? I'm legal age". Dale and Tom go up and the cops actually let them have a beer. With the tension deflated, and with things looking like no one will get busted, someone gets the nerve to shout, "how did you find our party". One cop chuckled and answered, "you people flyers all over town - we just followed the map on the flyer". The cops send one car over and talk to the uncle, and pretty soon the cops and the kegs are gone. The property owner gets off with a warning, after all, these cops are all neighbors and relatives of the Wayland kids.
Tricks starts to tear down and pack up their equipment. The kids are huddled and brainstorming a new party plan. One kid's dad has a big polebarn where he keeps his oil delivery trucks. With help from the kids, Tricks moves all of their band equipment to this polebarn right inside the City of Wayland. In fact, the new party location is about 5 blocks from the Wayland State Police Post. Ironic, no? Tricks jammed on into the night with a bunch of wild kids drinking and dancing. And the party turns out to be a huge success, with no trouble from cops or complaints from neighbors.
The bond with Wayland High School alumni:
Steve says: "Because of this and many other amazingly fun parties over the years, there is an everlasting bond between Tricks and Wayland high school alumni. Many years later, Tricks will play regularly at the Wayland Hotel Bar. Many party memories will be re-lived with great old party friends who show up at the Tricks show. And we keep on making new memories of great party nights."
Follow up from 2018:
While making plans for their 2018 Tricks party in their backyard, Susie Boyd clarified a few things when we brought up the memory of this 1982 Skip Day. Susie says the party was put together by her and few friends. She had "someone" buy the kegs; she didn't remember when the cops asked her back then, and she doesn't remember now. Although, ... she says she paid at least a couple fines for her trouble, one for minor in possession and another for charging money for admission (The law considers you to be "selling beer without a license".)
Keyboards in Tricks
Rick says: "Another interesting thing about this party at the Garage in Wayland - I'm pretty sure this was the first time that I played keyboards at a gig. I played a bit of keyboards, but only little bits of a few songs, never a whole song. The songs I especially remember doing at this party with the Mini-Korg was Sammy Hagar's 'Your Love Is Driving Me Crazy', "I'll Fall In Love Again" and J Geil's Band 'Flamethrower'. I had a used Mini-Korg synthesizer, but I don't recall where or who I got it from. I didn't have a stand for it, I just set it on top of my VT guitar amplifier."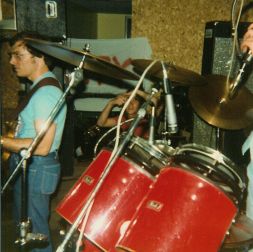 June 5, 1982 - More Rick & Krys Wedding gigs
Rick and Krys sing at a Wedding in Holland
June 19, 1982 - Tricks at Wayland Class reunion
Five Year Reunion / Tricks Party for the class of 1977. Remember that bond I was talking about? (if not, see May 29 above)
June 30, 1982 - Scorpions at Wings Stadium
Besides seeing a great concert by one of Germany's coolest guitar rock bands, Rick and Krys see the Scorpions rehearse on the night before the show. It's the Scorpions' first night of their first headline tour of the U.S. Some of the Scorpions equipment needs a technician to switch the power supplies for American voltages. Tricks bassist Tom Hudson is the man called for the job. Tom calls Rick and says, "how about coming along to help me with the Scorpions rehearsal"? Rick and Krys don't help Tom very much, but they sure have a great time watching the rehearsal for a couple hours. Tom ends up staying longer than the rehearsal, but he gets the job done. As a bonus, Tom is now on the Scorpions' Christmas card list. Literally, I mean, Tom gets Christmas cards from the Scorpions for several years after this job.
July 13, 14, 15, 1982 - Tricks at Royal Knight, Hilliards
July 20, 21, 22, 1982 - Tricks at Royal Knight, Hilliards
The Royal Knight is quickly becoming the Tricks "home base". The location helps: 2 miles from Wayland, 3 miles from Dorr, and right in between Kalamazoo and Grand Rapids.
August 28, 1982 - More Rick & Krys Wedding gigs
Rick and Krys sing at Gary & Linda's Wedding in Hastings

August 13, 14, 15, 1982 - Tricks at Royal Knight, Hilliards
August 20, 21, 22, 1982 - Tricks at Royal Knight, Hilliards
August 27, 28, 29, 1982 - Tricks at Royal Knight, Hilliards
The Royal Knight rocks with Tricks and the Tricks crowd, mostly 20-somethings from Dorr, Hopkins, and Wayland area.
September 4, 1982 - Larry and Ali's Wedding
Rick and Krys sing at brother Larry's wedding; outdoors at Ali's parent's house, just north of Dorr.
September 10, 11, 1982 - Tricks at The Avalon, Gun Lake
Tricks does a couple nights at the Avalon. A restaurant / bar on the East side of Gun Lake. A little far from the fan base.
October 8, 1982 - Tricks at Mid-Villa Lanes, Middleville
Tricks does a gig for an afternoon high school bowling party. An ill-conceived idea sponsored by Wayland High School - not well attended, to put it mildly.
October 29, 30 1982 - Tricks at Jolly Bar, Wayland - Halloween
Now this is more like it! A costume party at the Jolly Bar, in the heart of Wayland. It's the 2nd annual Tricks Halloween bash at Jolly's.
November 22, 1982 - Peter Gabriel Concert
Most of the Tricks gang shows up at the Peter Gabriel concert. Awesome show! Inspirational!
November 26, 1982 - Friday night Tricks Party
2 Days before Steve's 25th birthday, Tricks hosts a big party.
December 9, 10, 11, 1982 - Tricks at Pine Keg, Gobles
December 16, 17, 18, 1982 - Tricks at Pine Keg, Gobles
More great nights at the Pine Keg in Gobles
On to 1983

Back to 1981
Back to Timeline