August

August 27 & 28, 2004 -Wayland Hotel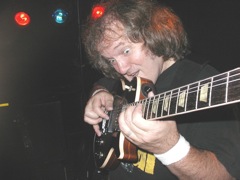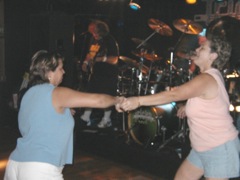 Muggy and rainy weather might be the reason why lots of people didn't come out to play with Tricks this weekend. Several birthday girls on Saturday night - Anna, Jackie, and Shannon - Our Best Tricks Birthday wishes to you - thanks for partying with Tricks.
Tricks always has a fun playing, you know, but we have a whole lot more fun when there are a bunch of dancing, jumping, sweating, screaming, crazy people in front of us.

---
August 20 & 21, 2004 -Wayland Hotel


After 4 weekends off, Tricks is back to the bars. The Wayland Hotel Bar and Grill was a great place to start the second half of our 2004 schedule of gigs. Both Friday and Saturday had excellent crowds and everyone had a great time. Note - Tricks has added one night at the Wayland Hotel to our schedule: September 3, Friday night of Labor Day weekend Tricks will play one-night-only at the Wayland Hotel.

July 17, 2004 -Ugly Muthers Harley Rodeo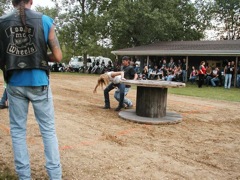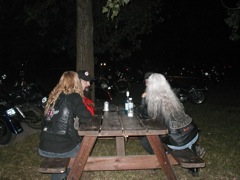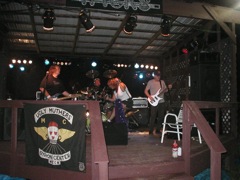 The 20th annual Ugly Muthers Harley Rodeo was our last Tricks gig before our summer recess. We had a good set-up party on Friday night, with a little rain. Saturday's weather was better, but the scattered showers kept the crowd to a little over a hundred people. But, no matter, this was a great all-day-long party. The motorcycle contests are always fun to watch. Food, fun and drink in good supply. It was fun for Tricks to play good and loud in the great outdoors.

---
July 9 & 10, 2004 -Stan's in Dorr


The Tricks crowd was showing their stuff at Stan's on our last big blow-out night, kissing goodbye the first half of the 2004 Tricks tour. Lots of hot July fun, lots of special friends, lots of new and old fans and the bachelorette party girls were hangin' and bangin' with Tricks from start to finish. You go girls!!

July 2 & 3, 2004 -Stan's - Independence Day Weekend, Dorr

Tricks is back home at Stan's to wind up the first half of the 2004 schedule.
Friday was the start of Independence Day weekend, and the crowd was on fire.
Crowd 10 / Tricks 6.

Saturday was very rainy and wet, and everyone who braved the storms had a fun time at Stan's - like usual. The band had an extra good night.
Crowd 8 / Tricks 10

---
June
June 26, 2004 - Carly's Party - Tricks Lite - Rick, Krys, & Richie, South Haven
Our friend Carly graduated from Michigan State.
So we all got together for a pool party in Carly's honor.
Tricks Lite was there to provide some music to go with the festivities.
---
June 19, 2004 - Craig & Jane Party - Tricks with Richie, Hudsonville

Our good friends & fans Craig and Jane Bykerk have hired Tricks to play for several great parties at their place in Hudsonville. It's always a surprise party for one of their friends. This was the 5th time Tricks has done a Craig and Jane party. What a great time! (We also had fun at the "pre-party" when we set up on Friday night.) This time it was an "Over The Hill" party for Rich and Laurie. I can't imagine a funner way to spend a Saturday night. As an added bonus, Tricks played the party with Richie on bass. We played lots and lots of songs from our Richie repertoire, which goes back to playing with Rich since . . . hmm, long long ago. Besides the pig roast, kegs of beer, and dancing with Tricks, the big attraction was the famous "Mouse Game"; a mouse roulette game using actual field mice. It was a riot!

---
June 11 & 12, 2004 - Daisy Mae's, Gun Lake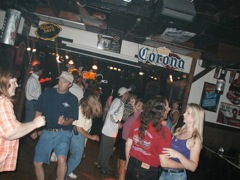 Daisy Mae's is a great holiday spot for weekenders who come "up north" to Gun Lake. There are also lots of great local party maniacs. Good food. Big dance floor. Pool tables and arcade games. Cold drinks. Hot band. What more do you need to pack the house with good-time rock 'n' roll fun?
Fun Hot Weekend with Tricks at Daisy Mae's

June 4 & 5, 2004 - Daisy Mae's, Gun Lake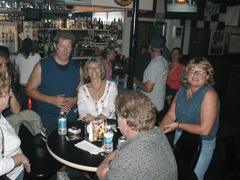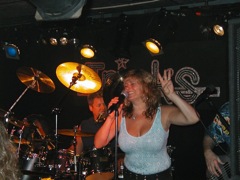 Awesome Friday night crowd at Daisy Mae's in Gun Lake. The place was hoppin'.
I can't describe what a great time everyone was having - you had to be there.
One of those nights when the crowd is really good and the band is really good.
Kick-ass dancers! Lotta good looking babes! It's true!
Saturday Night was another fun night at Daisy Mae's. Lots of dancers again. Daisy Mae's has a nice big dance floor where you can stretch out and try your fancy moves. Thanks to our special friends, you know who you are. Did I mention that the band was extra TIGHT tonight? That's what I'm talkin' about!
Wish we had more pictures of the crowd, it was a wild bunch last night. See the pictures

---
May
May 28 & 29, 2004 - - Ye Old Woodshed, Douglas
Memorial Day Weekend. Holiday weekends aren't always the best bar weekends. People are camping, partying on the back deck, having a bonfire in the back yard. But Tricks managed to pull in good crowds for Friday and Saturday at the Woodshed. People were in a dancing mood and the band rose to the occasion. The band was hot and the crowd was rockin' hard.
Thanks for the hospitality from our Douglas friends. Special thanks to the staff at Y.O.W.
May 21 & 22, 2004 - - Ye Old Woodshed, Douglas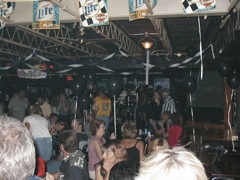 Ye Old Woodshed ROCKS!!
Y.O.W.
It was Jeanette's 30th and Randy's 40th.
Many, many well-wishers showed up to celebrate the Birthdays.
Stormy weather outside, but hot fun inside.
Hope to see everyone next weekend for more of the same.

---
April
Ready to Introduce Tim to the Stan's / Tricks Crowd in Dorr! Tricks set up last night at Stan's in Dorr and we're home tonight saving strength for a rousing two weekends at Stan's.
Bring your party to Stan's.
April 16 & 17 - Stan's in Dorr


April 23 & 24 - Stan's in Dorr


Sat, April 3 - Morning Star Cafe - - Rick & Krys with WFB in Grand Haven
While drummer/brother Steve is vacationing down south, Rick and Krys took time off from music . . .
not really! That's just plain silly talk.
Rick and Krys got up early Saturday morning, cleared the cobwebs out of their throats, and headed for Grand Haven. We played along with our cousins, the Weideman Family Band, at the Morning Star Cafe. This place has awesome breakfasts of every type, from cajun to traditional, whatever you're hungry for in the morning. Along with the great food, the Morning Star features occasional live music.
The Weideman Family Band features Laura on Fiddle, Steve on guitar & mandolin, Tom on bass, and dad Bill on everything else; banjo, squeezebox, spoons, triangle, ... Add Rick and Krys to the mix, and you've got a great breakfast party. Thanks to all the friends who showed up.
---
March
Mar 19 & 20 - Wayland Hotel
March 26 & 27 - Wayland Hotel
Our second and third weekends with Tim on bass. All that hard work in the basement is paying off, with all the Tricks tunes starting to jell very nicely. Thanks to everyone for your support. We love ya! See y'all in April at Stan's in Dorr.
"I had a great time these three weekends and I'm looking forward to many more. 
Please tell the Fans of the Band thank you for making me feel welcome."
Tim

---
Mar 12 & 13 - Wayland Hotel
Tricks played our first weekend of the 2004 Spring season.
We had 2 great nights at the Wayland Hotel.
Great crowd, great dancers, great drinks, great food, . . . Get it? . . . Great!
As most everyone knows, this was TRICKS' first gig with Tim Clifford on bass. Thanks Tim!
Tim's hard work is paying off now. We give Tim high grades for his first 2 nights driving the bass for TRICKS.
(Joining the Tricks Pantheon, Tim is bass player number 9 in the TRICKS 27 year history.)
Jan - Mar - Workin' in the basement with Tim Clifford
Tricks has been working hard rehearsing with Tim during the coldest weeks of winter.
We thank Steve's family for putting up with our noise in their basement.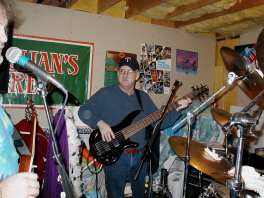 "I have to learn 53 songs in 7 rehearsals?"
Tim bought a brand new Ibanez 5-string bass. Tim's had his black Ibanez 6-String bass for a few years, and that bass will remain "old faithful" for a while yet. But Tim says he'll be able to move his fingers around a lot faster on the 5-String, since there isn't such a tight space between strings. Okay Tim, we'll be watching.
---
Feb 14, Sat - Valentine's Day -
Rod & Kendra basement party - with Rick & Krys

For the 3rd year in a row, Rodney threw a Tricks party in his basement.
Only this year, Tricks was too busy working with Tim at Steve's house.
So Rodney made do with Tricks X-tra Lite - a.k.a., The Rick & Krys Show
This was a very fun little party - lots of eating, drinking, and singing along with Rick & Krys.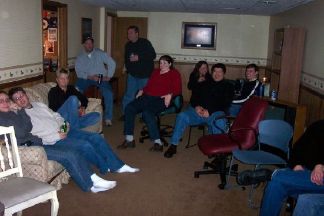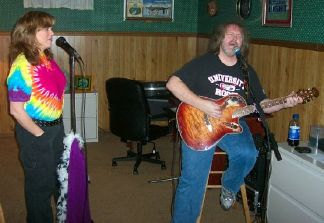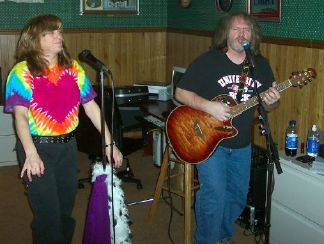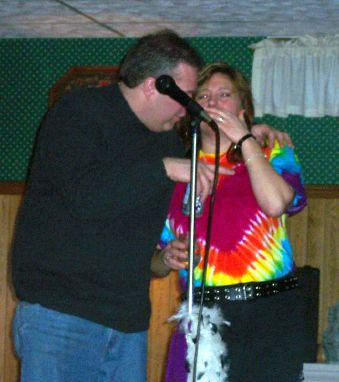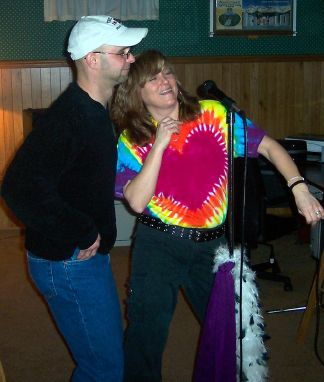 ---
Tricksband.com website was started in March 2004.
Rick is webmaster, with graphics help from Krystal.

If you'd like to be informed of updates to the site, as well as any upcoming party information.
Sign up for Tricks e-mail News - No Spam, we promise.

Comments? Clichés? Conversation? Chatter? Cr-r-r-riticism?
Send Tricks an E-mail


Tricks is on - Be a fan!
Share comments, messages, or pictures with the entire Tricks family.

Remember, Tricks loves you!
" There's Good Rockin' Tonight "