TRICKS - October 2008
Oct 3 & 4 - Wayland Hotel Bar & Grill, Wayland - Saturday cancelled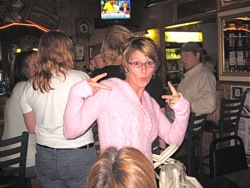 Tricks had a very good Friday night for our "blow-out" last weekend of 3 at the Wayland Hotel. Pictures are coming because the camera got left at the bar.
Tricks had to cancel our Saturday night show because Dave Bassbeast's doctor sent him for overnight tests at the hospital to take care of some intestinal troubles. Good luck to Dave with all of that. We'll keep everyone posted.
Mary Kay was very understanding and very concerned. I guess they had a decent crowd even with no band, and people were dancing to the jukebox. Krystal went down to the Hotel around band time, because some of her Perrigo work-friends were coming out for a Tricks party night. Krys says that almost everyone in the bar was jonesin' for a big wild Tricks Blow-Out final night, and she had to explain the situation to everyone. And everyone was very understanding. We all know about family medical problems; Especially for old farts like the Tricks band-mates.
Sorry we missed you all.
Tricks will be back at the Wayland Hotel very soon - Mary Kay always hires Tricks for the big Thanksgiving Eve Wednesday night bash that is supposedly the biggest bar night of the year. So Tricks is back at the Hotel for the last 2 weekends of November and the first weekend of December. Come hell or high water, ... See ya then!!
Fri

| Saturday Cancelled
---
TRICKS - September 2008
Sep 26 & 27 - Wayland Hotel Bar & Grill, Wayland


Tricks takes that second Hotel weekend in stride, with a very tiny crowd on Friday and a very big crowd on Saturday. You see, there's some things you gots ta know about crowds: 1. You got yer basic big huge crowd that is so into itself that yer lucky if anyone notices that there's a dang band playing. 2. Then ya got yer small crowd that doesn't dance that much, but you can still see lots of foot-tapping and eyes lighting up, and you see nothing but smiling faces watching the band do their Tricks thing - (that's what we had on Friday). 3. You got yer big huge crowd that is in the mood for head-banging and rocking hard with the band (that's basically what we had on Saturday). Tricks is very well-experienced with all 3 of yer basic crowd types, and we've learned to love them all. As long as everyone's having fun, that's fine with us.
Saturday was a festive night because we had a big batch of birthdays: Kaitlyn, Leah, Channon, ... those that I can remember. Happy birthday and thanks for bringing your B-Day Party to the Wayland Hotel. And then, we got a bar-hopping, bus-load of beautiful Bachelorette party-girls. OMG!! That got the wait-staff hopping and the dance floor bouncing. Thanks, you girls, for coming to party with Tricks on your special occasion. Best wishes to the Bachelorette and the groom-to-be, whoever that lucky guy is. He's got a rock and roll woman! Cool!
Did I mention that the 2 birthday girls, Kaitlyn & Leah were both celebrating their 21st birthday??!! Excellent! Now, Tricks expects to see you here at the Hotel every now and then, because it's the party time of your life. These are your "good old days", so make the best of them.
Speaking of good old days, we were happy to see our buddy Steve Raab again, it's like old times, but now we're all old-timers. And it was lovely to see our Tricks-friend, Nicky, who was a bartender at the Wayland Hotel for several years. We miss you, Nicky! You're too cool!
Thanks again to the hard-working staff and to Mary Kay for having Tricks on such a regular basis.
Thanks to Richie Dekker from The Circuit Shop in Grand Rapids for helping soundman Dave with some professional speaker cabinet work, to get our bottom-end sounding better and better. Tricks appreciates the technical help.
Okay, here's that quiz. - What type of crowd does Tricks love best?
Quiz Answer: - Silly rabbit, Tricks loves them all! As long as a good time is had by all.
---
Sep 19 & 20 - Wayland Hotel Bar & Grill, Wayland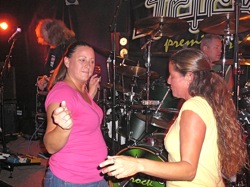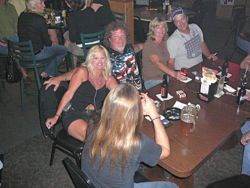 Tricks keeps coming back to the Wayland Hotel for more punishment: Wild head-banging crowds, great sounding room, the best food and drinks, nice big stage and dance-floor, friendly wait-staff girls, . . . they got it all happening at the Wayland Hotel. If you haven't been here in a while, I highly recommend that you come out early for a great dinner at great prices, and then hang out with Tricks for a few sets of Premium Rock & Roll music for your dancing and drinking pleasure.
Friday night's crowd included a bunch of Dave & Debbie's friends - including former band-mates, as well as friends from the National Guard. Always glad to party with you service guys, thanks for coming out!
This weekend we had some birthday parties at the Hotel. Happy birthday to Linda and her crew! Friday night was a special night because we had a visit from our long-time Tricks lightshow man, Steve Raab. Steve was there with his family and friends to celebrate his daughter Eva's birthday. Happy birthday from the Tricks band, Eva! You can read about the Steve Raab years if you want; go to the Tricks History pages from 1976 to 1989 - there's just too many stories to tell. We had many a fun time with Steve Raab running our lightshow.
Last but not least, we had Tammy D there with family and friends to celebrate her birthday. Steve always drums a little fancier when his wife is watching over him. What a show-off! The band was pretty dang tight this weekend, despite being away from the bar scene for many weeks. You gotta love it!
Thanks as always, to Roger for being our glorified Go-Fer Show-fur. Thanks to Willie for set-up help with installing the new 15" speakers in the Carvins. Boom, Boom!
I'm sure that I'm missing a few things, because there's always so much happening at the Wayland Hotel. Good to see y'all, and thanks for all the good times. You dancers are pretty wild and crazy - see the pictures and you'll know what I mean. Thanks to owner Mary Kay for always bringing Tricks back to the Hotel. We sure do love it, and we appreciate having such a decent venue like the Wayland Hotel.
---
Sep 13 - Wedding Reception at St. Mary's / Visitation Hall, New Salem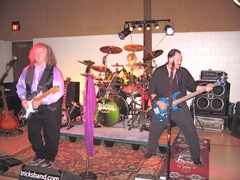 Tricks rocked out at at Deana & Cliff's wedding reception. What a great honor for us - we really appreciate being part of your special day. We had a fantastic fun time with all of Deana & Cliff's friends and family. It was an honor to be chosen to entertain at this great wedding reception party. Everyone was primed for a rockin' good time, dancing and singing along with Tricks. Tricks also sang a big "Happy Birthday" and played "Wipe Out" for Grandma Sandy because her Birthday is Sunday.
This weddding reception was a Tricks Party Extraordinaire! We had people from 3 different Tricks party groups: First of all, The St. Mary's / Visitation Hall is the site of many classic Tricks parties of yesteryear; St. Patty's Day Parties, New Year's Eve Parties, and Wedding Parties like this one for Deana & Cliff. Secondly, lots of the folks at this wedding were Dorr American Legion members; a group who has hired Tricks for many of their annual Fall Benefit Dinner / Dance (See ya this year on November 8th). Thirdly, some of the party people at this bash were also involved with the Dorr Business Association who hired Tricks for their big 2008 End-Of-Year Holiday Bash at this same hall, as well as hiring Tricks to play their Independence Day Celebration Concert for 2 years in a row. Moral of the Story: Tricks was right at home for this night of dancing, singing, drinking, laughing, and all-around good times!
We thank all the people who made this party happen: Deana and Cliff, the parents; Randy & Marge, Bob & Mary. the families, the wedding party attendants, Val's beautiful balloon decorations, the cooks, the bartenders, the set-up and clean-up people. Romie & Mary Ann Belka did a good job as master/mistress of ceremonies. Thanks to Krystal and Gilbert for taking pics:


|

---
Sep 5 & 6 - Log Cabin Bar, Grand Rapids?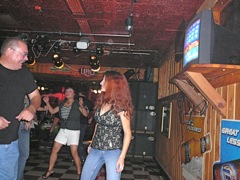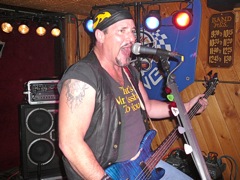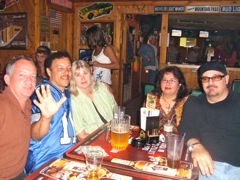 As we like to say, it's "Back To The Bars" (the title of an old Todd Rundgren Live album). Tricks has had 8 weekends off because we normally take some weeks off during summer. But this year we took off a few more than usual, due to drummer Steve's busy-ness with his huge project of building, moving in, and managing a new grocery store in Dorr. Check out the pics of the new store.


Better yet, why not stop in and do some shopping at the beautiful new "Dick's Market" in Dorr
Rick built a little website for Steve's store -

.
Anyhow, enough talk about Steve's day-job; How's Tricks?
Tricks jumped right back into the driver's seat and took control at the Log Cabin. Both Friday and Saturday had decent crowds, but Saturday wins the prize for biggest, rowdiest crowd. After 8 weeks of summer party gigs on the side, it was good to finally get back to the hard rockin', dancin', drinkin', hangin', bangin' Tricks business-as-usual. Lots of people comment on the good-sounding room at the Log Cabin. What a fun time we had, but we're sad that Tricks can only do single weekends at the Log Cabin. It seems like we just were getting warmed up, and now we're outta there. Oh well, that's the way Matt the owner likes it, because he needs the stage empty for his Wednesday Karaoke and his Thursday "jam night". The boss has his priorities, and who are Tricks to argue? But the single weekend thing is the reason that Tricks only did 2 weekends this year at the Log Cabin. So what do we do about that? - We make the most of it and give it all we got! That's the rock 'n' roll attitude, baby!
Thanks to Matt for being a super nice boss, and for giving Tricks a chance to play closer to our Grand Rapids area fans and friends. The Log Cabin is a very nice bar, and Matt puts a lot of work into the place to make it so nice. Check out the pictures to see what a good-looking bar this is.
Almost every night we play at the LC, we get a couple people coming up and saying, "I saw 'Tricks' on the Marquee, and I just had to drop in and see if it was the same Tricks that I used to go see all the time, long ago". Sometimes "long ago" means back in the 90's, sometimes it means way back in the 80's, and sometimes it means way-way back in the 70's. In fact, the only time Tricks played a lot in Grand Rapids bars was the mid 70's. You can check out all of this history at the Tricks History pages ( a work in process)
.
Check out the fun pictures from our weekend at the Log Cabin...
Thanks to Roger and Debbie for photography and other odd chores:
Fri

| Sat

| Debbie

---
TRICKS - August 2008
Aug 30 - Bi-annual Party on the Patio, Lake Allegan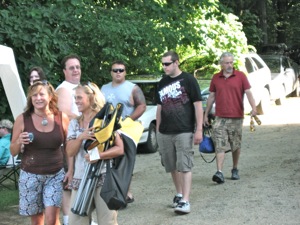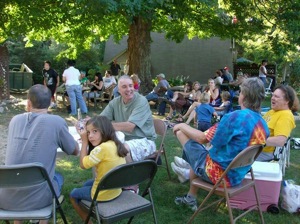 Our 7th and final summer Un-Tricks gig; Another great party at Indian Shores, the beautiful Lake Allegan community where Rick & Krys live.
We spent the early part of Saturday setting up sound gear and getting food ready. Big thanks to our neighbors, Steve & Julie, who always help us co-host this big party. Steve & Julie provided the great big turkey and cooked the roast pork. Lots of other neighbors stopped by for the pre-party set-up activities. We tapped the keg around 2 o'clock. Thanks to everyone who brought food - there was lots of good food! Thanks to brother Bob for all the campfire wood, and thanks to brother Mark for cutting up campfire wood.
Thanks to Dan and Tom for helping with setting up the band equipment. Thanks to Roger for an extra power amp. Huge thanks to Bill Roelofs for the use of his beautiful Ayotte
drums. Thanks to Tom Hudson for the Conga set. Thanks to Bassbeast for the bass amp rig.
The Common Good took the stage a little after 5. Being the youngest of our musician friends, we let Chris, Toman, and Jeremy bravely test out the sound system. They served up a great long set for us.
Thankfully, we had our soundman Dave keeping things sounding good. Dave Lopez worked his butt off running sound all day long, and did a remarkable job mixing an eclectic bunch of musical sounds. Thanks, Dave!
After The Common Good, we talked Bill Roelofs into playing some of his jazzy numbers with Darl on guitar and Shaun on bass. They only did 3 songs, but it was good to hear these guys doing their thing. This was the only chance Bill got to play his drums, and we appreciate that he let everyone else play on his awesome drum kit. Thanks Bill!
Next came the highlight of the day. Allegan's favorite sons from the 1970's rock scene, back when the drinking age was 18 and America's southern states were dishing up their own style of rock, laced with tons of double-guitar-leads and bluesy hammond organ. I'm talking about the Opus band, famous in these parts for covering songs from The Allman Brothers, ZZ Top, Doobie Brothers, Lynyrd Skynyrd, and so on. Darl Lane & Dale Boysen on guitars, Dan Hitchcock on keyboards, and Tom Hudson on bass. Steve Dutkiewicz sat in on drums. Of course, Opus is more than just Southern Rock; they dip into all kinds of great music styles. Tom, Dale, Dan, and Steve get together regularly at Tom's "Barn Fly" studio to write and record songs together. They were kind enough to share a couple of their self-penned songs with us at the Patio Party.
It was getting dark by the time Opus was finishing up, so the pictures get kinda dark. But this is what happened then - The 1980's version of Tricks (Dale, Tom, Rick, Steve) played "Midnight Rambler" by the Stones. A nice long, dramatic song.
Then we finally got Bassbeast up there, injured hand and all, and it was Tricks-Time. Rick, Krys, Steve, Bassbeast - The current Tricks line-up played a nice long set, with help from Dale on guitar and Toman on Congas. (Part of the day's festivities was a dual "Happy Birthday" for Dave our Tricks Bassman and Dave our Tricks Soundman, both of whom have August 17 for a birthday!) Tricks cranked out the AC/DC and other rousing rockers to wake everyone up.
Our entire sound system was actually shooting out across Lake Allegan, and we had reports that you could hear the music over 3 miles away - but it's all about Labor Day weekend and the last big blow-out party of the summer. We had no complaints, no visits from the PO-lice.
Tricks took us past 11pm, and then we did a miscellaneous jam until a little past 1am. Steve was wiped out from all that drumming, so we did several songs drum-free. Most notably, an acoustic version of "Sultans of Swing". And we ended with a long jam-version of Jimi Hendrix "Hey Joe". Thanks for some impromptu drumming from Bill Staton and Dylan Witt at the drunken end-of-night.
Thanks much to the photographers. Roger ran video cam; we'll see how that turned out and maybe we'll get a couple YouTube-worthy clips.
Fred Patchett also took pictures - Thanks Fred!
Our professional photographer friend Denny brought his good SLR camera, so be sure to check out Denny's quality pictures. Thanks Denny!
Here are pictures from our day-long party.
R&K

|Fred

|Denny

---
Aug 23 - Penny 40th Birthday Block Party, Indian Shores, Lake Allegan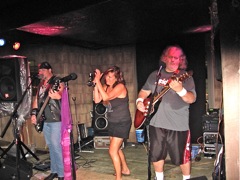 Rick, Krys, & Bassbeast played music for an old-fashioned Block Party at Lake Allegan's Indian Shores. All the party people from Krys & Rick's neighborhood came together for a big bash in honor or Penny Bishop's 40th Birthday. 3 years ago, Penny's husband John asked Tricks to reserve a weekend in August 2008 for his wife Penny's 40th. - That goes in the Tricks Band record books for "Longest Advance Booking Ever". Thanks to John for getting the cool idea for this great party in honor of Penny. Thanks Penny, for being a great neighbor and a fun-tastic friend, mom, and wife. (BTW, Rick & Krys had the honor of singing at John & Penny's wedding ceremony, about 11 years ago.)
Speaking of "Thanks", let's try to name a few special people. Pretty much the entire neighborhood helped with this party, because we all kept the secret from Penny, and most people brought a dish to pass. But we have to give a special "thank you" to Pete & Lex, who hosted the party in their beautiful front yard. So Pete and Lex had a lot to do with setting up the party, the pig, the food, the fire, and on and on... Pat & Michelle were also instrumental in getting everything ready and set up. Rick & Sandy provided the tent. Debbie helped take lots of the pictures for our Tricks website. Thanks so much to everyone. It was a team effort. I know that I'm missing several key names, but you know who you are - Thanks for a great party. What a great spread of food - check out the pictures! Everyone was well-behaved, including the kids and dogs. This is the kind of event that brings the community together in a spirit of fun and camaraderie.
It was a lot of work and a lot of fun for everyone. Thanks to all our neighbors for partying with the "mini-Tricks" band. Hope you can come out to the SideTrack when the big, full-blown Tricks band is there for the last 2 weeekends in October. See ya!
Best Regards,
Rick, Krys, Dave
---
Aug 16 - Marcus & Amy's Wedding Reception, Plainwell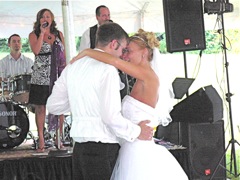 Tricks was honored to be the entertainment for the wedding reception of Amy & Marcus Anderson. Marcus is Krys & Rick's nephew, so it was a big family affair. Krys & Rick sang at the church ceremony and helped with the rehearsal dinner and put in extra hours for set-up / tear down at the reception hall, the Gun River Conservation Club. just north of Plainwell. Loads of thanks goes to Jeremy Dutkiewicz, who helped out with setting up the stage and who was our Guest Drummer. Steve couldn't commit to this gig because of his new store

, so we lined up JD as a stand-in drummer. And Jeremy did an outstanding job at standing in. Steve actually showed up to play last set, so that was great fun, of course.
After all the Tricks music was done, the wedding party couldn't stop dancing. Rick kept the sound system running while we were tearing down and packing up the stage. Marcus had his computer Jukebox hooked up to the big loud speakers, so everyone kept dancing and laughing and going a bit crazy (this means you, Clark) until midnight, when the chauffeur-service arrived to take Amy & Marcus back to their home in Kalamazoo.
The entire day was magically perfect. The weather was amazing. All of the preparations and plans seemed to fall into place with barely a wrinkle. You know when that happens that you have a load of people to thank:
Let's start with the parents of the bride and groom. Terri & Brian provided the tent, the stage, the hall, the food and booze. Jen & Mark for all the rehearsal dinner fun and finding the band. Pastor Barry for doing the ceremony. And the bridal party, Melissa, Tommy, Heather, Jennifer, Ron, Clark, Kristin, Dan.
Rehearse

|Church

|Party

---
Aug 9 - 2nd Annual Elegant Pet Open House / Party, Hamilton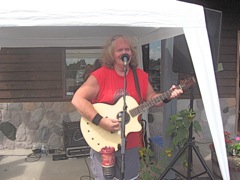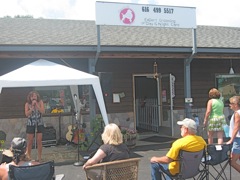 This is the second time we did this for our dog Toby's groomer, Barb. Her cool little grooming shop in Hamilton has a yearly party in the parking lot. And there was a little flea market going on as well.
It was very hot, and we didn't get huge crowds. But we had huge fun. There was a steady trickle of people stopping by, usually with pets and kids in tow. Several stores were participating in the Open House. The Health Therapy lady was giving free chair massages. The Hamilton Food Center provide free watermelon and free pop. There were free pony rides and some raffles. The City Brew coffee / snack shop was giving away free hot dogs.
There were these cool "exotic bird" guys right next to where we were set up with our music. Honestly, this guy was holding a very cool-looking owl in his gloved hand, and the owl was dancing while we played. Mr. Owl was bouncing gently while slowing turning his head back and forth - seemingly in rhythm with the songs. That was a trip. Whoah! Scary-strange looking (see pics).
Grandpa Rick is super tired, but I figured I should get back into the habit of posting pictures, since Tricks is going to be back in action VERY SOON! Yeah Baby!! I'm ready to rock-out! You'll notice that my picture pages have a new layout, a new look (thank Apple for that change).
The music never stops for Rick and Krys. We got blasted sitting in the front row at the King Crimson concert at the Park West theater in Chicago on Thursday. Then on Friday night, we met up with Dave Bassbeast and rehearsed for a couple hours with Jeremy D in JD's Michigan basement in Allegan (for next Saturday's Marcus & Amy wedding reception in Plainwell). Then Rick & Krys got up early on Saturday to go set up our speakers in the parking lot in Hamilton - right in front of Elegant Pet. And we sang our best songs for 3 hours in the hot, wilting sun.
Thanks to Barb and everyone who worked on the Open House. We'll see you again next year.
It was a party in the parking lot - See what I mean:

---
Aug 2 - Campfire Party, Tommy & Tara Phelps, Irons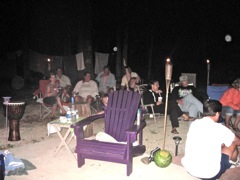 "It was summertime in Northern Michigan"! The Traditional annual Phelps Family & Friends Party in honor of Tommy's birthday, and just for the fun of it all!
We started this tradition several years ago, playing at Tommy & Tara's Pool Party at their home in South Haven. After a few more annual pool parties, Tommy & Tara bought a cabin out in the woods, up near Irons. So, starting last year, we are going to have the annual summertime party up in the woods. That way, we don't have to worry about disturbing the neighbors in South Haven. This was the 2nd annual party in Irons. Last year we had about 20 people, and this year there were more like 30. This is a "friends and family" party for Tommy & Tara, so we're not looking for a huge crowd, just a FUN crowd.
There were several campers set up around the cabin, for the weekend. A whole bunch of people from the Phelps camp went for a canoe adventure on the Pere Marquette River early on Saturday. Everyone got back to camp around 4, and that's when Rick got there and started setting up, with help from Dylan Witt. Dave and Debbie showed up around 6, and we started jamming soon after that. Dylan helped us out by pounding rhythm on his Djembe drum. We played, with only a couple breaks, until past midnight, and we were nearly running out of songs by then.
A big highlight for everyone, especially our hosts Tommy & Tara, was the new Kid Rock song "All Summer Long". Tommy casually mentioned that this would be a cool song to hear around the campfire, so Rick put his heart into it, and learned and memorized the song in just a few days of intense repetition. Rick, Dave, Krys, and Dylan did Tommy's song for him - we did it acoustic style early on, and later we did it electric style.
Thanks to the Phelps and all their family and friends for letting us sing for you "all night long". We really feel honored to be a part of this annual event. We are still hoping to get Steve to come and play his e-drums around the campfire next year - that would be very cool indeed!


|

Video from Phelpstock 2008: Krys, Rick, & Dave perform "Message In A Bottle".

---
TRICKS - July 2008
July 19 - Allegan High, Class of 78 Reunion, Allegan


It was a good turn-out for a 25th class reunion. The party people from back then are still the party people nowadays. The food was great, which is unusual for these kinds of events. All around, a surprisingly good time. Of course, what would you expect? This class was cool enough to have Tricks play for several of their special events, home-comings, and such, back in those good ol' school days.
In fact, it was at an Allegan High School Tricks dance back in '77 that Krystal got her first taste of Tricks, and Krys was an instant fan. Little did she know then that she would eventually be singing her heart out in the Tricks spotlight. But I digress . . .
What a fun party we had at Eagle Creek Country Club. Thanks so much to Dawn and Kim for their hard work bringing this whole thing together! Thank you, thank you! We all had a blast! After drinks, dinner, and a group picture out on the patio, we switched to the live entertainment. Rick & Krys sang a bunch of songs, and everyone was dancing and singing along. Then we got Kathy Koops husband Dave to get up and sing some. Then Rick got up there with Dave and we faked our way through several songs. Dave has an excellent voice and sang some very cool songs. He has an acoustic band that plays at the New Holland Brewery quite often. We'll have to get over there and catch the show one of these nights. I'll have to find the name and post it here.

Check out these Reunion Pictures:

---
July 12 - Rodney's Backyard Party in Holland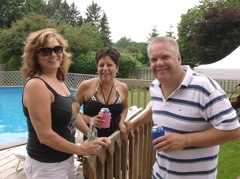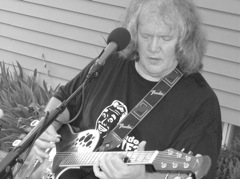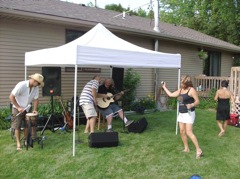 Rick & Krys sang and played while a few dozen people lounged around, eating, drinking, chatting, and basically having a great time at Rodney's place in Holland. Krys sang until her voice was just about gone, and Rick is feeling plenty of guitar-finger pain trying to type this morning. We started playing around 5:30, with about 10 people sitting around getting cock-tailed. Around 8, when we were just starting our last set, we had a big influx of people, so that last set wasn't allowed to end. We finished our 4th set and kept pushing on through the song suggestions. People were singing along and we had help on the Djemba drum, mostly from Rod, and B.O.B., and Frank. We finally finished up a little after midnight. I think we played almost every song we know; at least every song that we can plow through without drums and bass. Rick (a.k.a. "Doogie" for you Trendway folks) played the Babicz for the first couple sets of songs, but that precious guitar has a 2-drink limit. So, we switched to the Ovation for the more drunken part of the night. Several people inquired about Rick's cool-looking Babicz Guitar, so you might wanna check out the Babicz Guitars website.


Although there were dire predictions of thunderstorms in the weather forecast, everything cleared up for our evening of frolicking fun in Rodney's backyard. There was plenty of good food, drinks, lawn games, pool splashing, campfire, singing, laughing, drinking, dancing, and all-around good times.
Thanks to Rodney and MaryBelle for putting on this Summertime Fun Fest! Thanks to all the family, friends, neighbors, and Trend-Rats who showed up for our little bash. Thanks to everyone who brought food or other party supplies. Thanks to neighbor Craig for the long power cord. And thanks to Fred for taking all these pictures to help preserve the memory of this event - I'm sure some people were a little foggy about the details. For anyone with a fuzzy memory of this party, I'm telling ya; "Yes, you had a good time".
The Proof is in these two photo albums. Check it out, Yeah baby!
---
4th of July - Annual Independence Day Celebration in Dorr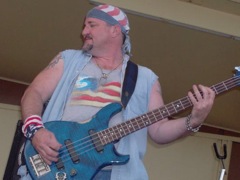 Tricks provided their sound system for all the Stage Events at the South Park in Dorr for their 4th of July Celebration. Tons of fun! After the parade, everyone lined up for the one-of-a-kind Ox-Roast Sandwiches. There was also plenty Chicken Barbecue and lots of other "fair food" from favorite vendors; you know - Elephant Ears, Cotton Candy, Hot Dogs, French Fries,... all that good stuff!
There were carnival rides for the kids, bingo, horseshoe tournament, chainsaw carving demonstration, balloon sculptures, and lots of other fun things going on.
Just when everyone was sitting down to get filled up with festive food, we started the show at the Sound-Stage:
First up was Dorr Dance Academy. I'm tellin' ya, those kids were having the time of their lives up there. Boys and girls of various ages just having a blast showing off their dance moves to the crowd of family and friends.
Have a look at the pictures from Dorr Dance Academy's 4th of July Show -

Next was the "Not So Newlywed Game", a spin-off from the Newlywed Game, but our version had older couples. We had 4 married couples trying to predict how their spouses would answer questions relating to their marriage. Next up, it was "Family Feud". We had 4 families compete by matching their answers with polled questions... You know how it goes. What a hoot! I'm laughing just thinking about it. It was loads of excitement and laughs; everyone had a great time with these games. The winners walked away with "fabulous prizes" donated from Dorr area businesses - lots of great gifts, as well as front-row seats for Saturday's country Concert with Bomshel and Crystal Shawanda. And there were consolation prizes for everyone for entering the games.
Next we had the "Beautiful Baby and Terrific Toddler Contest", and you've never seen so many cuties gathered in one place. There were different age categories, from 1 to 36 months. This was a little slow-going with all those babes and small children-in-arms, but it was fantastic fun for anyone who loves little babies and toddlers. CUTE!!
The final event of the afternoon was the "Dorr Has Talent" contest. We had several youngsters get up onstage and show off their talents. First was a contortionist kid who freaked everyone out. Then we had a very funny and unique puppet show (you had to be there for this one - it was so funny I forgot to take any pictures). And we had a couple very talented singers. - Check out the Games & Contests pictures -

And Now! Riiiight Heeeere!
Right here is where we went into the Rockin' Good Times. It was just past 6pm when The Common Good took the stage, showing off their original post-punk grunge rock
Pictures from The Common Good -

At around 7:30 it was Tricks time. Tricks rocked the crowd as hard as we could, while everyone was arriving to find their spot for the fireworks. What a great day! Great weather. Great afternoon fun onstage. Great job from The Common Good band - Thanks to Jeremy, Toman, and Chris for opening for us. Thanks to Roger Schrag for the huge sound system and camera work. Thanks to Fred and Debbie for their camera work - we appreciate your "good eye". Thanks to Marsha, Melodie, Elise, Mark, and all the workers, volunteers, and donaters from Dorr Recreation Association and Dorr Business Owners who make this thing happen each year - it's nothing that anyone whould take for granted; it's a heavy burden. But nothing worthwhile is ever easy, is it? Thanks so much to Josh Schafer for fixing up our electrical needs, it wouldn't be the same without you, Josh. Special thanks also to our photographer / blues-lovin' friend Denny; thanks for being here for pictures and pack-up fun. Denny took some of the best fireworks pictures I've ever seen - Check out Denny's pics. Last, but not least, THANKS to our families, friends, and fans who braved the beautiful weather to come out to do some screamin' and jumpin' and head-bangin' with Tricks and The Common Good on this best of all holidays.
Fred Pics (both bands) -


Denny Pics (Tricks & Fireworks)


Debbie Pics (Festival fun & Tricks) -

Tricksband.com website was started in March 2004.
If you'd like to be informed of updates to the site, as well as any upcoming party information.



Sign up for Tricks e-mail News - No Spam, we promise.
Share comments, messages, or pictures with the entire Tricks family.