TricksBlog - April 2013
April 12 & 13 - Tricks at AJ's Grill in Dorr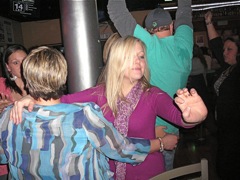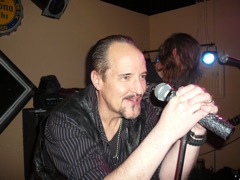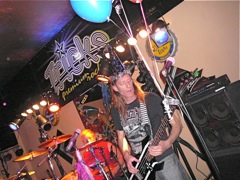 Saturday was "OMG" crazy wild fun . . . Bassbeast got everyone head-banging . . . We celebrated Ozzy's 50th B-day.
Tricks showed up at their home base in Dorr, the heart of Tricks country (drummer Steve & guitar-man Rick grew up just a block away from AJ's, back when it was Stan's Tavern). Tricks has lots of die-hard fans here in Dorr; people who were there when we played at Wayland, Hopkins, and Byron Center high schools back when they had "real bands" for dances after football or basketball games; people who helped us drink many kegs of beer in the halls and pole-barns around Allegan County; people who were at the outdoor keggers with Tricks in the backwoods or cornfield with just a rented generator for power. I tell ya, kids these days might have cool electronic toys to play with, but they don't know how much Live Rock Music was a part of every weekend back in the good ol' days. Teenagers were starting bands and practicing their music in basements and garages. Live Music was all over the place. And there's nothing like live music. And that's what this place now called "AJ's" has always been about; Stan's had country bands when we were little kids riding our bikes around Dorr - sometimes if we were out late on a Friday or Saturday we would peek in the windows and see the people dancing to the live country music. Then rock and roll came to Dorr in the 80's when Stan's started having Rock bands. Then Stan's closed it's doors a few years ago, with seemingly no hope for any resuscitation. Then Amanda and Ernie stepped in to save the day, with a ton of hard work and money invested into creating AJ's Grill & Cocktailz. They brought live rock music back to the heart of Tricks country in Dorr. Thank you Amanda and Ernie. And thanks to your hard-working wait-staff, cooks, and bartenders.
But, I digress, don't I? Friday night was a blast, with about a half-full crowd of drinkers and dancers. Lots of fun, with new and old faces. The crowd thinned out around midnight, but there was a big resurgence very soon after that. And we had dancers hanging and banging with us until the end of last set. And we thought that was cool. We hadn't seen anything yet. Reminiscent of the old Stan's crowds in the 80's and 90's, we had a packed house on Saturday night. Not only that, but lots of people came to dance and get wild with the band. Tricks was obliged to comply with the crowds wishes. We came right back at those wild dancers with a barrage of Boogie Woogie Rockin' and Rollin'. Steve was a drumming mad-man, and the band is always at its best when Steve is hot. And Steve was hot. He feeds off the crowd's energy, and the entire band does likewise. So, a BIG THANK YOU to the dancing girls and guys. You make it so much fun, and we literally can't do it without you. It's just not the same when the dance floor stays empty for more than one or two songs in a row. Lots of young folks dancing along with the Tricks insider regulars, destroying Steve's theory that "young people don't seem to want to dance". May I direct your attention to the pictures from Saturday night, and witness all the young girls sweating to the oldies with Tricks. Ha!
Speaking of oldies, this weekend we were celebrating bass-man Ozzy's 50th birthday. On Saturday Rick baked a German Chocolate cake in honor of Ozzy, and the cake was gone by the end of the night. A big highlight of Saturday night was the appearance of our good friend Bassbeast, who got up onstage and sang Scorpions and Metallica with us, creating a major surge of head-banging on the dance floor. Thanks so much, Dave. You are awesome We really appreciate you.
Fri

|Sat

---
TricksBlog - March 2013
Mar 22 & 23 - Tricks at Wayland Hotel (Weekend 2 of 2)


Dumonds on the dance floor ... Tricks Friends & Family are out on the town ...lots of drinkers and dancers
Tricks had four wonderful nights at Wayland Hotel. St. Patty's Weekend was very cool, and we thought our second weekend might be a little slow. But, although no nights were packed to the walls, we had very good crowds both Fri & Sat this weekend, almost as good as last weekend. We had a blast with all the dancers and rowdy friends who came out to hang and bang with Tricks. Our playing seems unusually tight for this early in the year. Just one Rick's opinion, but a fussy Rick I am. I also have to praise up our soundman Dave who is the unsung hero of Tricks. Dave keeps Tricks sounding great for you, and he has to put up with all of our nit-picking. When the crowd is wild, it gets harder to keep the band sounding good, because the loud people hooting and hollering can begin to drown out our fine sound. So, good job Dave. Thanks. Also, we need to thank everyone who help us out by grabbing the camera and taking pictures. We don't have Roger around as much, so we need help with those little errands and chores that Roger always tended to. Roger has been having some health issues, so he is taking it a lot more easy on those party nights with Tricks. We miss you, Roger. Krys raffled off Tricks t-shirts (funded by Roger) on Saturday night. It seemed fitting that three of our best Tricks dancing girls won t-shirts; Deb, Rhonda, and Linda.
As far as the new owner Josh; we think he's doing a great job. He's putting some money back into the place, painting, adding some new chairs, and adding a couple new big-screen TVs. He also has a big group of friends who come in as regulars, and we notice that as well. Josh is taking the excellence that Mary Kay always brought to the Hotel, and he's adding a bit of his youthful enthusiasm to the mix. That means Tricks will play there a bit less than before, because Josh is trying some new bands. And that's a good thing. The more downtown Wayland gets known as the place to go for great bands, great food, and great parties, the more Wayland will attract the bar-hopping crowds from Grand Rapids, Kazoo, Holland, and so on. Thanks Josh for picking up the torch and keeping the flame going. Great food, great party atmosphere, great bands, great place to meet up with friends and family, . . . watch the game, dance, drink, eat, play pool. It's a comfortable hometown feeling at the Hotel, the way a party venue should be.
Fri

|Sat

---
Mar 15 & 16 - Tricks at Wayland Hotel for St. Patrick's Day weekend (1 of 2)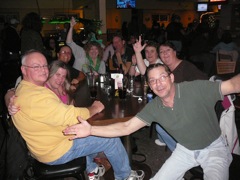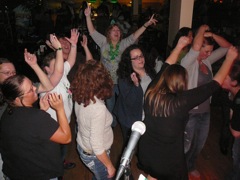 Everyone was getting their Irish on ... an attitude in the air, both Friday and Saturday ... the band was hot, the crowd hotter
It seems like ages since Tricks was at the Wayland Hotel last. But, it was just last Thanksgiving; a little over 3 months ago. But, we've been so busy with our musical adventures. Lots of interesting new Classic Tunes added over our too-short winter break. Then we rushed out of the basement to play a few parties, while Krystal & Rick kept their usual hectic pace doing gigs through the cold winter months. And here we are again in our most comfortble venue, the place with so many great Tricks memories. If these walls could talk! The energy level was heated from the very first set on Friday night. In fact, I thought both Fri & Sat first sets were over-the-top. Tricks was bringing it, and the crowd matched us note for note, beat for beat.
Truth be told, Krys and Rick both had some laryngitis problems, so our singing was not as strong as usual. The dancers didn't seem to mind. What we lacked in vocal energy, we made up for with our tight Rock-Trio - Guitar-Bass-Drums - kick-butt Rock and Roll sound. Loud and Proud! That's the name of the game. Let's not forget to thank our soundman Dave for doing a great job making Tricks sound good. Be sure to say a word to Dave now and then, he's got a difficult job juggling sound from the band, the room, the crowd, and making the sound pleasing to everyone's ear no matter what changes pop up throughout the night's festivities. Thanks Dave!
Speaking of Daves, It was great to have some help from BASSBEAST Dave on lead vocals Saturday night for two of our heaviest numbers; "The Zoo" and "Enter Sandman". Thanks so much, Bassbeast. You light up our life. Check out those photos of Dave onstage doing his thing jamming with the band. Very nice! Thanks to everyone for coming out this great St. Patty's Day weekend. Thanks to Josh the owner and his staff for doing it right. BTW, Thanks to Josh for the improvements, paint job, new TV's. We really appreciate seeing a bar owner put money into their place. See you again next week for more fun at the Wayland Hotel.
Fri

|Sat

---
Mar 9 - Birthday Party for Keith Dawson, with Tricks "Lite"


Tricks feeling the love, Lots of dancing fun ... Scot came up with "Keith Trivia Game" ... Sheila & Keith are the best
We're waiting to hear some comments from Keith the birthday boy and Scot Taylor the party organizer.
Until then, let me just say that the Tricks band feels honored to be the entertainment at such a cool event as this. We felt the intimate love in the room from all of Keith & Sheila's family and friends. And there were plenty of dancers to keep us happy while we jammed until past midnight. When we quit just part the midnight hour, Krystal took it upon herself to coax Allegan's most famous entertainer Jack Dailey into getting up and doing some of his guitar-picking butt-kicking tunes from the 4-Wheel Drive band.
Thanks so much to Keith, Sheila, and Scot for hiring Tricks to be your entertainment. We love you guys. Thanks to Sheila & Jack Dailey and their crew for providing some great food and drinks, and for keeping the party rolling along smoothly. And, most of all, thanks to the dancers. We love to see you dancing.


---
Mar 1 & 2 - Hilliards Corner Lounge - One weekend only.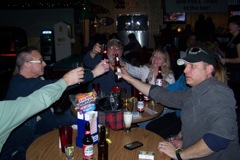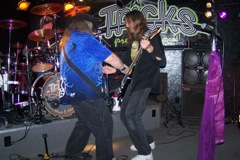 Tricks girls like to dance - All Night Long! . . . Beer Drinkers and Hell-Raisers . . . . . . Steve is a Dirty White Boy!
Great to be back at Hilliards. Our HIlliards debute for 2013. This time for one weekend only. We always do double weekends at HIlliards Corners. But, we had a scheduling snafu because Eric forgot that he promised the Williams Family that they could play the last weekend of every month during the Springtime. So, we got bumped by our friends The Williams Family. That's okay, because Krystal was planning a x-county ski weekend with her girlfriends that weekend anyway.
The Friday night crowd was very good for a Friday. Lots of dancers. Lots of friends from near and far. Rick's daughter Stacy was visiting from Atlanta, and she met up with friends at the Corner. And lots of other regular Tricks fans showed up for our first 2013 weekend at Hilliards. Thanks a lot for coming out, you know who you are. And then Saturday was not quite as busy as Friday, but we still had enough dancers, drinkers, and hell-raisers to keep us entertained while we jammed. Those new classic tunes we added over winter break are really starting to hit on 8 cylinders. "Burnin' For You", "Dirty White Boy", "I'm The Only One", "You May Be Right", "B-B-B-Bad To The Bone", "Paranoid", ... seems like we did a good job picking some good classic rock dance songs.
Fri

|Sat

---
TricksBlog - February 2013
Feb 9 - Mardi Gras Party, Griswold Auditorium, Allegan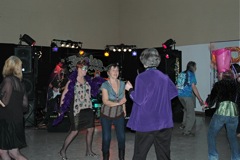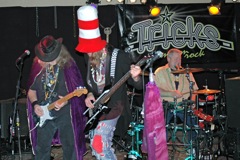 The costumes, the food, the rum drinks, the dancers, the beads, the music, the artists of Allegan, ... it all added up to a great party.
Tricks played at the Allegan Area Arts Council's 2nd annual Mardi Gras Celebration. We want to thank everyone who came out to party with their fellow artists, and to dance with the band. And thanks to the AAAC for hiring Tricks.
Here is the wrap-up report from Linda Clark, Chairperson of AAAC:
The Arts Council promised Mardi Gras Celebration attendees the good times would roll or, as they say in New Orleans, "Laissez les bons temps rouler", and they certainly delivered on Feb. 9. The classic rock band Tricks was on top of their game. Singer Krystal Dutkiewicz, dressed for the occasion in hot pants and flowing pink wig, rocked the house along with husband Rick. The music was so good; some dancers, like Ginjah Knuth and husband Dan, never even sat down. Others took a breather now and then to visit the bar, where hard-working volunteers Kim Caines, Sue Bombardt and friend Cindy took care of everyone's thirst. The Hurricane rum drinks were very popular. We need to send a big thank you to AAAC Secretary Cheryl Rozek and her family at the Mighty Midget on Western Avenue for assisting us with purchases for the bar.
Just about everyone got into the Mardi Gras spirit with a mask or some outrageous headgear – Bill Chaney in his rainbow-colored mohawk wig comes to mind – but some folks really went all out. Judith Gunther-Smalla took 3rd place and $100 cash in the costume contest as a sexy fortune teller while Dina-Ebeling Hestera (in spite of a frustrating costume entanglement) swirled into 2nd place along with nattily dressed husband Jon who collected their $150 prize money. First place and bills totaling $250 went to Jim & Marie Combs of Arnold St. in Allegan who went to great lengths to transform themselves into New Orleans street people. Thanks to everyone who dressed up. Your creativity truly added to the fun atmosphere. The Council is blessed to have secret sponsor Scott Taylor, who generously provided the $500 in prize money as incentive!
Special thanks to Scott & Karen Johnson who won $59 in the 50/50 raffle and donated it back to the AAAC. We appreciate your generosity.
And last, but not least, was the great food prepared by Tom and Linda Clark. The roast beef po'boys were messy, but yummy, and the gumbo overflowed with spicy Andouille (sausage), crab, shrimp and chicken. Tommy Sumner, dressed as a voodoo chief, warded off evil by baking up some delicious mini cornmeal muffins to add to the mix. All this was served up by tirelessly pleasant volunteers Ben Clark with friends Duane and Melissa who worked the kitchen the entire evening.
Thanks to everyone involved: Sue Buese, AAAC Treasurer, and husband Mike for watching the door; AAAC Vice Chair Diane Sumner for suggesting memberships and board member Joy Richmond for assembling the mask-making tables. The whole village got involved to get the good times rolling and the Arts Council was able to raise some funds because of your efforts – and that's what is was all about. Thank you all.


---
Feb 1 & 2- River City Saloon, Trick Debut weekend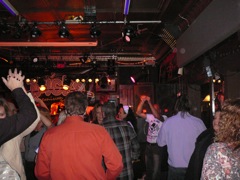 Rhonda was there for her b-day (both nights) . . . comfortable stage, good-sounding room . . . Nice big dance floor!
Tricks got this last-minute booking at River City Saloon when one of their bartender gals came to Hilliards for Wendy Griffin's b-day party on Dec 29. The bartender texted her boss from Hilliards Corners, "this Tricks band would be perfect for River City". And so we got our foot in the door, finally. Tricks has been eying River City for the last couple of years, because we know that all the Classic Rock GR bands play there. Our 2013 schedule was already pretty full, so we weren't planning on pursuing a River City gig. But, after Bob the owner called Steve with this first weekend of February gig, it would have been stupid to pass up the opportunity. We were already going to cut our winter break short for the Allegan Arts Mardi Gras party, the 2nd weekend of Feb. Why not just cut our break short one more weekend and take this River City gig, to get our foot in the door?
Mother Nature strongly reminded us of the reason why we don't like playing in Jan & Feb, and we usually stay snuggled in Steve's basement working on our Classic Rock repertoire. The weather forecast was so crappy, we took our trailer full of gear up to Ozzy's place in Hudsonville 4 days early, while the roads were relatively clear of ice and snow. Our set-up night on Thursday was so crappy that Rick even had difficulty driving the 15 miles from Ozzy's place to River City. And he got stuck in the parking lot trying to back up the trailer to the back door.
But, we got set up okay and after a 20 minute technical problem at the beginning of Friday night, we had a wonderful time. Our friends and fans came out to support us, despite the extra cold and snowy weather. The room has a very good sound, and the staff is very friendly. Nice stage and dance floor. The only possible complaint would be the parking situation, but you're in Grand Rapids after all. You can park up and down Leonard Street without much problem.
We had an okay Friday crowd; extra special with our friend Rhonda there with her birthday party. And then Saturday was an even better crowd. Not a packed house, but a decent party for the Dead of Winter. Bob the owner was there Saturday night, and he said, "we'll have to get you back in here when the weather isn't so bad". I'm not sure where we can fit another weekend in this year, because our calendar is very full. But, we'll be back. Thanks so much to the owners, Bob & Sandy, for giving Tricks a chance. We worked hard to live up to your expectations. Thanks to our Tricks friends and fans for braving the nasty cold weather to give us support at our River City debut weekend. Thanks to Mike the bartender for being so friendly and helpful. It was a fun weekend, worth the pain of winter driving and loading.
Fri

|Sat

---

to Late 2012

Tricksband.com website was started in March 2004.
Rick is webmaster, with graphics help from Krystal.

If you'd like to be informed of updates to the site, as well as any upcoming party information.


Tricks News Only! - No Spam!

Comments? Clichés? Conversation? Chatter? Cr-r-r-riticism?
Send Tricks an E-mail

Tricks is on

- Be a fan!
Share comments, messages, or pictures with the entire Tricks family.
Remember, Tricks loves you!
" There's Good Rockin' Tonight "