TricksBlog - December 2012
Dec 31 - New Year's Eve Tricks Party at Hilliards Corner Lounge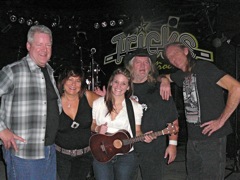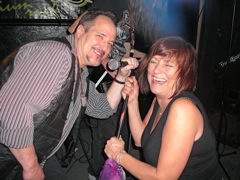 Megan was there for her birthday . . . The band was full of fun and finesse . . . A guest-star appearance from Bassbeast
Tricks had more than their share of action in 2012. "Work hard, Play hard" is our mantra. So, it was fitting that we finished up our year, and brought in 2013 at Hilliards Corner Lounge, in the heart of Tricks Country. Our closest Tricks friends and fans were there to drink and dance with us, raising a "cup of kindness" for Times Long Past. Tricks is here to remind you that our lives entangle with one another. We go through good and bad times, birth and death, wealth and poverty, building up and tearing down, planting and reaping, ... and there is one constant that carries us through it all: our relationships with our loving friends and family. (end of Rick sermon)
Our New Year's Eve party at the Corner was a great smash success. First of all, Eric decided to forego the $3 cover at the door, intended to pay for the midnight champagne toast and party favors. That was pretty cool of the boss. And, we decided at the last minute to do an early night of Tricks, starting in the with the live rocking tunes at 9pm. Lots of party groups showed up, the Dumonds, the Wolowicz's, lots of Dorr friends, our "Hudsonville" Tricks fan club, and Tricks friends from all over; too many to list. Have a look at the photos.
Both Rick & Krystal were losing their voices by the last set, since we just had Fri & Sat gigs at Hilliards where we sang our lungs out. To the rescue came Bassbeast to finish up our night by singing "The Zoo" and "Jailbreak". Dancers were still going strong at the end of night, well after the midnight count-down and champagne toast.
Thanks so much to Eric and the Corner Lounge staff for excellent service and support All Night Long. We'll see you again in March. (Anyone needing a Tricks Fix in the mean time, keep an eye for Rick playing acoustic solo every other Sunday at Hilliards Corners - good idea for Sunday dinner, keep your own kitchen clean and have dinner with Rick.)


---
Dec 28 & 29 - Tricks at Hilliards Corner Lounge


Friday was slow but fun . . . . . . . Saturday big party for Wendy . . . . . . . . . . . . Les Paul lover Doug and wife Darcy
Tricks' last weekend of 2012. Appropriately enough, at our old Tricks stompin' grounds in Hilliards. And appropriately enough, with a big Saturday night birthday party full of Tricks fans and friends from the Zeeland and Borculo area. Wendy Griffin brought her birthday bash over to the Tricks party at Hilliards, with a couple dozen friends hanging and banging with Tricks until the wee hours. Wendy had the big 5-0 b-day this year, so all her party friends got together for a big celebration in honor of Wendy. Wendy got to know Tricks through Rick's friends Doug & Darcy. In other Tricks trivia, Wendy hired Krys & Rick for a surprise birthday party for Darcy just a few months ago at the Vitales in Zeeland

. This time she didn't have to hire us, she just brought all of her friends to meet Tricks at the Corner.
Joe was also celebrating his birthday. And so was Rick. But we let Wendy and the girls have the spotlight, keeping the band entertained with all the action on the dance floor. It was cold outside, but there was plenty of hot rocking inside. Thanks so much for making the long drive to Hilliards to party with Tricks. We really appreciate the fun time.
But what about Friday? I was wondering the same thing. Friday was slow from the get-go. Even the dinner crowd was slow, and Fridays are the Corner's biggest dinner night. So, after first set with about 15 people there, we talked it over with Eric the owner and decided we would call it at midnight unless a bunch of people showed up. Well, who should walk in the door, but our blues buddy Tom (who hired Rick, Ozzy, & Skip for a Band X party last Spring

). Tom made us do all of our Tricks blues repertoire. Twisted our arms. Tricks doesn't have much of a blues repertoire, but the list includes "Too Rolling Stoned" by Robin Trower, "Rock Me Right" by Susan Tedeschi, "Suitcase Full Of Blues" by Tommy Castro, and "Crossroads" by Robert Johnson. We also threw in all of our ZZ Top, which is bluesy enough; "Waitin' for the Bus", "La Grange", "Jesus Just Left Chicago", "Cheap Sunglasses", and "My Head's In Mississippi". After all that, Steve remarked, "I didn't know I was in a blues band".
By midnight, it was the band, the staff, our friend Carol, and Tipsy Tom. So, we packed it up, threw Tom in the back seat, and headed home. We were happy to save our energy for Wendy's party on Saturday and New Year's Eve on Monday.
Thanks to Eric and the Hilliards Corner staff for making everyone feel at home here at the Corner Lounge. What a great Rock & Roll venue. Great food, Decent prices, Cold drinks. Nice big dance floor and stage. Just right for Tricks and friends. Life is good.
Fri

|Sat

---
Dec 21 & 22 - Debut Weekend Tricks at Roadhouse, Paw Paw


Festive fun with everyone in a ROCKING holiday mood . . . Lots of new fans
Tricks has been involved with the Roadhouse Bar Bike Night for the past couple years. Rick & Krys played acoustic shows several times for the Roadhouse's outdoor Wednesday motorcycle fest. One time Krys couldn't make it, so Rick & Ozzy did an acoustic show. And this past August 1st, we did a Rick, Steve, & Ozzy Tricks show at the Bike Night, but with no Krys.
Tricks was introduced to Rich the owner by his motorcycle pals from Sue's Sidetrack. The Roadhouse and the Sidetrack have been involved together in several bike runs over the years. So, the first "foot in the door" involved Rick & Krys doing some acoustic gigs. That first acoustic gig was in May, 2010. Now, here we are two and half years later, and we finally talked Rich into giving Tricks a trial gig on a weekend. Turns out, things couldn't have gone much better this weekend. Rich hired us back for a Bike Night July 17 & Weekend July 19 & 20, which was the only weekend that both the band and the bar had open. If the weather is nice in mid-July, Tricks will be playing out on the back deck all 3 nights. Awesome!
Friday was very nasty snowy windy cold weather, and it all got worse as we headed south to Paw Paw. While we had barely a dusting of snow in Allegan, there was about 3 or 4 inches of snow turning to slush on the ground in Paw Paw. There was just about a full house for dinner when we got there at 8:30 Friday, and only a few people left right away after their dinner. We had dancers for most every song, and lots of people were asking about the band, so we handed out lots of Tricks business cards, so they would remember to go to our website and look at the pictures from that night. We had a couple birthday girls. Sorry to forget the names. Most honorable mention guests for Friday night had to be our pal Matt and his friend James, who drove all the way from Grand Rapids to see us debut at the Roadhousem, ... and they hanged and banged with us All Night Long! A very satisfying night, and lots of great compliments from the rockers at the Roadhouse. Those people know how to rock. They remind me of the Sidetrack crowd quite a bit, especially because they were getting rowdy with us even during our Thursday sound check. Yee Haa! Matt said he heard someone up at the bar yell out during our ZZ Top songs, "we got ourselves a band"! I assume that's a good thing.
Saturday was a lot like Friday, only multiplied two or three times. Lots more people hung out until closing time, lots more people danced with us and got in our face, and lots more people gave us compliments. We sent compliments right back at the crowd, because I'd venture to say that the Saturday night crowd deserves the "fun crowd of the year" Tricks award. Most honorable mention guests for Saturday were our friends Sue and Tony from South Carolina. Thanks to the Roadhouse staff for being so cool to us. Thanks to Rich the owner for having such a great place, we know it takes a lot of work, patience, love, and tears to keep people happy when they're eating and drinking. Oh, and I almost forgot; Thank You Dancers - you were getting right in our face. And that's a good thing.
Fri

|Sat

---
Dec 15 - Dorr Business Owners Association Holiday Party, Dorr Moose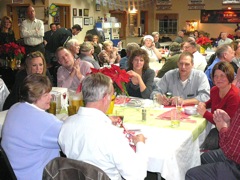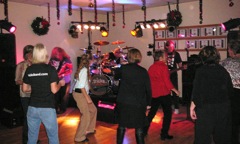 Fantastic Holiday Fun . . . . . You'd be smiling if you just won a 50" TV . . . . . Dorr Business people know how to party
Tricks had the privilege of providing entertainment for the annual Dorr Business Owners Association holiday party. We had a fantastic fun time. The room sounded great. Lots of dancers. DBA raffled off a bunch of prizes, including a 50" TV. Here is drummer Steve's wrap-up report (Steve is President of DBA):
Dorr's party of the year is back! For years everyone looked forward to the DBA Christmas Party. That was until a couple years ago. Most businesses in Dorr had very little to celebrate after being hit by the economic downturn and 2 years of road construction.
The DBA Party took a hiatus during my first two terms as President. I didn't want it to die-off during my watch so I bargained with the band to get low cost entertainment and the Moose stepped forward with an offer to have it at their Lodge. That allowed my committee to lower the admission price and get this party back on track.
Thanks to my fellow committee members Melodie Niemczyk and Pat Staley and also the cater crew of Bob Wagner's for getting it altogether.
Annette Dever and her bank teller ladies did a great job with ticket sales/drawings.
Thanks to everyone that came. It appears that not only are consumers helping Dorr businesses get back on track, but also the good old DBA Christmas Party is back!
Congratulations to the grand prize winner Shannon Bird of Bird Electric, LLC.


---
TricksBlog - November 2012
Nov 21 Turkey Eve & Fri 23 - Tricks at Wayland Hotel - Weekend 2 of 2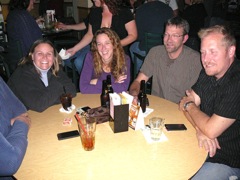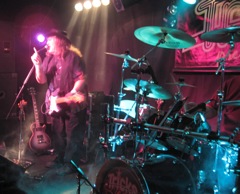 . . . . Good Socializing With Friends . . . . . . . . Good Dancing Action . . . . . . . . Good Rocking Onstage
Our last Tricks weekend at the Hotel for 2012.

Wednesday night, Thanksgiving Eve was a full house, but not packed. And the crowd slowly petered out as the night went on. Everyone has to get home to rest up for lots of turkey, pumpkin pie, and football on Thanksgiving Day with the family. Friday was also a good crowd that petered out to nothing after midnight. We checked out McDuff's and Hilliards Bar parking lots on the way home, and it was the same story all over. People must be out of energy and money after Turkey Day and Black Friday.
Tricks gave up their Saturday gig at the Hotel, so the band named Wayland could play for their hometown crowd. The guys from Wayland band were nice enough to stop in for a while on Wednesday and tell us "thanks" for moving our schedule around for them. Very gracious of them to go out of their way to be so polite. We appreciate the kindness.
Both of these Thanksgiving weekend nights had plenty of Tricks regulars from all over the map; Dorr of course, Grandville, Holland, Fennville, Hudsonville, Allegan. Thanks so much to those who put in some driving time so we could have a good Tricks party. We love you guys. You made our nights very fun.
Friday had a big party for Dave Dumond, Steve's son-in-law Mike's dad. Thanks for bringing your party to the Hotel with Tricks. That Dumond crowd was a bit on the wild side, with some crazy group dancing. They finally took off just after midnight and left us with a mostly empty bar.
At the end of 3rd set, about 12:30, we had exactly 3 people in the bar. The band knew that Josh the "almost" new owner needed us to clear out, to make way for the Wayland band's set-up at 11am Saturday. So we knew that Josh was going to send us home early when the crowd was gone at end of 3rd set. While the rest of the band went to discuss things with Josh, Rick grabbed the Ovation guitar and did his latest cover, Supertramp's "Even In The Quietest Moments". Carol and Mary had a private show. Rick keep going Energizer Bunny style, until Josh said to stop and go home. Krys joined in to sing Indigo Girls "Closer To Fine". Then some Neil Young songs, "Cowgirl In The Sand" and "Tell Me Why". Then it was Peter Gabriel's "In Your Eyes". After that one, it was nearly 1am, so Josh sent us home. We came back at 8 in the morning and loaded our gear outta there.
Thanks to Mary Kay, who is giving the bar over to Josh. We'll miss that fiesty lady. We've been playing for Mary Kay for about 12 years now, and things just won't be the same here at the Hotel without her. She always told us, "Tricks is like family, I love you guys. If I had my way, I'd have Tricks play here every weekend. I like the people who come to see you. You don't bring in a bunch of assholes like some other bands". Mary Kay wasn't ever one to mince words. But, she's tired of the restaurant / bar business, so the bar is changing hands. Hopefully, Josh will be able to keep the business going strong. It won't be easy in these trying economic times.
Happy Retirement to Mary Kay. And Good Luck to Josh the new owner. We'll be back here in the springtime.
Wed Turkey Eve

| Fri

---
Nov 16 & 17 - Tricks at Wayland Hotel - Weekend 1 of 2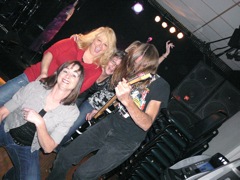 Kristi Arndt's Friday night Party . . . . . . Saturday's crowd was a bit on wild side . . . What's going on with Ozzy here?

Friday was a pretty slow night, but we had a great time with the 30 people who came to party with Tricks. Most notably, we had a group of party people from Allegan / Hopkins who haven't seen Tricks in many years. Thanks so much to Kristi Arndt who organized the whole gang. We tipped a few for our friend Linda Allen, who would have been there with the group if she wasn't living in California. Thanks for coming out, you party people. There wasn't a whole lot of dancing action, but that was okay because the band was just as hot as ever, if I do say so myself.
Saturday had much more going on. Our friend Amy brought a table-full of dancing girls, and they danced all night long. There was also a birthday party going on for a girl named Erin (not sure of spelling), so Tricks got a chance to sing their Beatles Birthday song for her. Special mention, although they might not recall many details, Rick's son Dan showed up with Kenny and Eric, and they got in the band's face, just the way we like it.
Our most special guest on Saturday was our friend Skip Herrema, who is the drummer of Shovel (he's also our drummer in "
Band X
" when Steve can't play for a gig). Skip sat played drums with us at beginning of 4th set on Thin Lizzy "Jailbreak". Thanks Skip. You can see Skip's band Shovel at AJ's in Dorr next Saturday night, Nov 24.
We very much missed our soundman Dave on Saturday. So, our sound might have suffered from the lack of Dave's tweaking. He stayed home sick, but should be back in action on Wednesday. Krystal had to keep an eye on the soundboard while she also kept up with running lights, singing, taking pictures, and socializing.
Tricks has 4 nights to finish up our Wayland Hotel action for 2013. Josh the new owner did some last-minute switching of dates, because he is friends with the Wayland band, and he wanted to have a Wayland concert at the Hotel on Thanksgiving weekend. So, that big Wayland concert is on Saturday Nov 24. Tricks plays 2 more nights; Thanksgiving Eve on Wednesday and then Friday and we're done with the Hotel for 2013.
Fri

|Sat

---
Nov 10 - Tricks at Holland VFW - Double 50/50 Birthday Party for Wax & Bev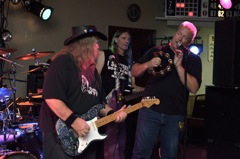 Fantastic fun again at the Holland VFW. The band was tight and tough. Lots of people drinking and dancing.
After Tricks played for Maribel's birthday party

back in January, Bev & Wax decided that they wanted to have a Tricks party for their shared 50th birthday party in November. The band agreed that it would be a GREAT idea! So, we found an empty date on the Tricks calendar and got this party planned. Lots of family and friends turned out to wish Bev & Wax a happy 50th birthday. Their birthdays are both in the month of November and they both turn the big Five Oh this year. What a great time. Some of the friends brought some party food, including Rick's famous spinach dip with bread and crackers (a double batch, and none left over the next day, sniff!). And Bev bought a keg of beer.
Wax & Bev worked with Rick (Doogie) for 20 years at Trendway, on the North side of Holland. They actually started dating many years ago because they knew each other from working together, and they finally got married several years ago. Tricks actually played for a barn party for Wax's 40th birthday party, but he wasn't married to Bev yet. But Bev was at that party and so were lots of the people who showed up this year at the VFW party. Maybe Bev will read this and set me straight on some of these details. It's all a lilttle foggy right now, maybe from too much keg beer last night. The Tricks band had a blast. It was cool partying with the usual Holland and Trendway bunch. We'll see you all again real soon. Next party?
Thanks to our man Hutch at the VFW who helped us with all our set-up needs. Thanks to Denny for taking pics and helping us pack up at night's end. Thanks to Wax & Bev for helping us set up, ... thanks for hiring us and including us in your special occasion. It was an honor and a pleasure.


---
Nov 3 - Tricks at Dorr American Legion 14th Annual Harvest Party


Everyone was having fun dancing . . . . Lots of close family and friends . . . Even Mr. & Mrs. Bassbeast showed up
It's an honor and a pleasure to play for this annual party. Drummer Steve and his wife Tammy are active members at the Dorr American Legion, so they do lots of work volunteering for various benefits and get-togethers throughout the year. Tricks plays for this Harvest Party every year, and it always feels like a happy family reunion. There are so many people who share their stories of Tricks parties from long ago. And we relive those fun times while creating our new memories.
The band was extra tight and "in the pocket" this night. Steve was really pumped and ready for action. So, when the drummer is extra tight and adventurous, that always translates to the entire band. It was a very good night. We sang Beatles "Happy Birthday" for Lynn. The Legion did drawings for a shotgun and for 50/50 raffle. Great food. Let's hear what Steve has to say about the party details:
Let's hear it for the Auxiliary Ladies who put their touch on this annual party. It wouldn't be nearly as nice without Lisa, Tammy, Deb, Sherry, and Bonnie making all the food and setting up the hall nicely.
We take Lyle for granted a lot, but he does all the footwork getting the approval signatures for the open bar license and the follow up on the tax return afterward, and more. Indeed, if it wasn't for Lyle stepping up to fill the Bar manager position after we lost Ron, I'm not sure what would have happened.
The Sons had their big moment with the shotgun raffle, even though it's Lisa that is the raffle chairperson. The S.A.L. sells most of the tickets and the winning ticket was sold by Biggie at the North Dorr bar to Brian TerMeer.
The 50/50 drawing for over $100 was won for the 2nd year in a row by Henry Steffes' group, this time his wife who promptly bought the band a round, thank you.
S.A.L. Commander Sam Lain commented, "it's a good thing so many Tricks fans came down since we can't seem to get our members out of the house for this party."
So, thanks for supporting our Veteran's Club and one more salute near this Veteran's Day to "Sailor John" Ozzy.


---
TricksBlog - October 2012
Oct 12 & 13 - Tricks at Hilliards Corner Lounge - Weekend 2 of 2


Birthday Party Time with Girlfriends. . . . . Tricks Rocks hard for the party crowd. . . . . . Party Friends from Lake Allegan
This weekend was really the tale of two nights. Friday's crowd was pretty thin, even though we had some die-hard Tricks fans and friends there for moral support. We really appreciate that, and we had a fun time only because of that small cheering section to keep us going. For the first couple sets we had a big table-full of Steve's relatives, and that was very fun. There even was a small birthday party, and a big table-full of bachelorette party girls. Sorry we didn't get names. But that was fun while it lasted. But, by last set there were only about a dozen people in that big barn to keep us going. When it gets that slow, we start hearing lots of whining from Eric the owner. And who can blame him, with the amount of $$ it must take to keep the lights on in that place. It's a big building, and Eric does a great job keeping things up and running.
Saturday was totally different. Krys & Rick managed to get a bunch of their neighbors from Lake Allegan to come way over to Hilliards to celebrate Jim's birthday. And those lake people really know how to party, they practice a lot over there at Indian Shores on Lake Allegan. Lots and lots of dancing and rounds of shots. See for yourself in the photos. Of course, we also had a bunch of our regular Tricks fans, and everyone was in a much better dancing mood than on Friday. Thanks to our Hudsonville and Grandville friends for driving down to see our Tricks show, as well as our best fans from Wayland and Dorr, etc. One more big thanks to Eric and his staff for doing lots of running to keep that Saturday party going strong. We'll see you in the end of December, for New Year's Eve at the Hilliards Corner Lounge.
Fri

|Sat

---
Oct 5 & 6 - Tricks at Hilliards Corner Lounge - Weekend 1 of 2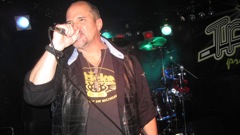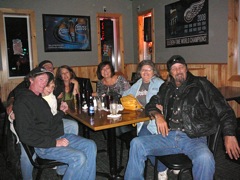 Bassbeast sings a couple with Tricks . . . Birthdays & Anniversary celebrations . . . special Tricks friends (from Sidetrack)
Tricks opens the fall "Live Music" season for the Hilliards Corner Lounge. Eric the owner cut back on bands (thanks to US economy and Mich smoking laws which hurt business in rural bars), so there were no live bands from June through September. We were a little scared that crowds would be thin on the first weekend, but not a problem. Yes, Friday was a bit slow, but not terrible. And our Friday party crowd included some special Tricks pals; good to see Liz get out for the first time after breaking her ankle several weeks ago. Good to see Jane and her bunch, and Carol brought a few people. Most notable party guests were Dave & Debbie and Rhonda & Todd. I say "most notable" because we finally got Bassbeast Dave up on stage to sing a couple. Dave was Tricks bassist / vocalist from 2008 to 2011. He and his wife Debbie have come to party with Tricks several times in the past two years since Dave retired from the band biz. But, we've never been able to cajole, coax, guillt, or beg Dave into getting up and jamming with the band for a song or two. Thankfully, Dave was in the mood this Friday night. We got him up to sing Metallica "Enter Sandman" and later he sang Scorpions "The Zoo". It was so cool to get some of that good Bassbeast action onstage once again. Very nice! Thanks, Dave. We love ya, man.
Saturday was much busier than Friday. There were several birthday tables, but the only close friend with a birthday celebration was our good buddy Rose, from Allegan. Rose has been Krystal's friend from "way back". She was the hair dresser for Krys & Rick's wedding way back in 1981 (yes, she talked Rick into getting a slight haircut for the first time in over 7 years.) Also, there were two Pasma couple celebrating anniversaries. Glad to have you guys partying with Tricks on this festive occasion. Another cool surprise was a table-full of Sidetrack pals, who braved the backroads from Fennville to Hilliards, and back again. Krys & Rick's neighbor's from Lake Allegan brought a table full over to hang and bang with Tricks. Many other Tricks friends, fans, and family too numerous to mention. Lots of times, I don't even know a particular friends was there at the Tricks show until I see the pictures the next morning.
Anyway, after the dust settles we have to thank everyone. We really appreciate our friends, fans, and family for supporting the band. We couldn't do this without you. Business in the bars is very shaky with the economy being bad. When people start cutting the budget to make ends meet, entertainment is one of the first things to get cut. So Tricks fully appreciates when people get off the couch and come out for dinner, drinks, and dancing with Tricks. Thanks so much to everyone, especially those who had to drive some to get to Hilliards. Thanks to the Birthday and Anniversary folkls for bringing your party to the Tricks show. Thanks to the wait staff for doing a great job, like usual. Thanks Eric for doing such a great job keeping this old place going. The remodel work has been going on ever since Eric bought Hilliards Corner Lounge about 5 years ago. The roof, siding, windows, bathroom, kitchen, bar, stage, carpet, dancefloor, ... everything is like new. The whole Tricks crowd appreciates having such a nice place to drink, eat, and dance.
Fri

|Sat

---
TricksBlog - September 2012

Sep 14 & 15 - Tricks at Wayland Hotel Bar & Grill - Weekend 2 of 2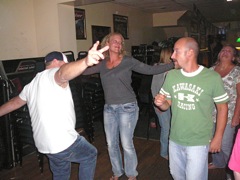 Friday Birthday Party action at the Hotel . . . Party People Bustin' a move with Tricks . . . And FREE Tricks T-shirts

Our 2nd weekend at Wayland was just as good as the first one. And our "blow-out" Saturday night was the best.
The weather was beautiful both nights, and that left us wondering if anyone would want to come out to drink and dance at the bar. You can never figure people. Friday was a great night and Saturday was greater-est.
We had a couple birthdays; one on each night. That always helps. But, the odd thing was that we seemed to be sharing the crowd with the bar across the street on both nights. People were wandering back and forth between the Hotel and McDuffs. We know because we asked how the crowd was across the street, and people would say, "we see the same people over there that we're seeing here". I guess that's kinda cool. Might as well put both bands in the street and take turns doing half-hour sets. Make it a street-dancing party. I doubt if the looking buzz-killing authorities would allow that though.
Thanks to the Wayland Hotel staff, Mary Kay, Josh, Christine, and all the other helpers who have to put up with our noise and mess. We really appreciate your hard work. Thanks to our Tricks friends who travel from far and wide to come out and hang with Tricks. Most notable this weekend was an appearance by drummer Skip Herrema of the band Shovel and Band X. Skip played drums with Krys, Ozzy, & Rick at a couple gigs in Band X (our side-band for when Steve is busy with store, family, township, and VFW work). Check out our Band X website here

. Skip lives way on the north side of G.R. It was good to see our friend Roger briefly on Saturday night, he's been very busy with work, health, and church business lately. Even so, we've been giving away the Tricks t-shirts that Roger helped finance. We're giving out tickets and doing two or three drawings each night. Good food, great drinks, good dancing music, and free t-shirts . . . Life Is Good!
Check out the pictures and see for yourself.
Fri

| Sat

---
Sep 7 & 8 - Tricks at Wayland Hotel Bar & Grill - Weekend 1 of 2


Lots of dancing action - we like that . . . Dancing girls hanging and banging with Tricks . . . And the guys too!
Tricks breaks the ice at Wayland Hotel, after a summer freeze on live bands. No bands for 3 months. So, we were a little scared that people would forget what a fun place the Hotel is, and what a great sounding room it is. We shouldn't have been so worried. We had great lively and boisterous crowds on both Friday and Saturday. Lots of friendly hecklers and head-bangers. And these people didn't fizzle out and turn into pumpkins at the midnight hour; most of them stayed to dance and party with Tricks until the closing song at 1:30. That's some impressive party-power.
What's new with Tricks right now? I'm glad you asked. We bought four new 18" sub-woofer speaker cabinets to help improve our sound. The results were immediately obvious to everyone who loves good live rock music. Steve's kick drum has a lot better "Thump" now, and ditto for Ozzy's bass guitar. Not only that, but the uncluttered low-midrange EQ spectrum now allows much more clear vocals and guitar in the overall sound mix. Thanks so much to Dave Lopez our soundman for spear-heading the efforts to make this improvement.
The other news is that we used a few of our days off to work on bringing back more great classic rock tunes. We added some favorites from the Tricks Graveyard, and we gave them a live trial-by-fire on Fri & Sat at the Hotel. "Ballroom Blitz" by Sweet, "Hush" by Deep Purple, "Jailbreak" by Thin Lizzy, and "Domino" by Kiss are all songs that we used to do in years gone by, but we had to relearn them and get Ozzy up to speed. Thanks to Ozzy for the hard work and the great musical memory. As long as your memory banks can hold out, we'll keep piling on the songs. Those 4 new songs were all big hits with the dance floor. "Now lemme tell ya my story, I got a man-sized predicament. And it's a big one, goes like this, yeah"
I'll try not to rant about the State Liquor Commission's bullcrap handling of the transfer of license from Mary Kay to Josh the New-Owner-In-Waiting. Suffice to say that the transfer was at first approved and then rescinded, because of BS technical regulations about Class C Hotel license. It's just too stupid for words. Our heartfelt sympathy goes out to Mary Kay who is trying to retire, and Josh who wants nothing more than to provide a quality service to the community by taking over ownership of the Wayland Hotel. Tricks is on your side, Josh. We wish you all the best. Keep the faith, man!
Fri

| Sat

---

to Mid 2012