Here's a flashback to one of Rachel's earliest Tricks parties, in 2008: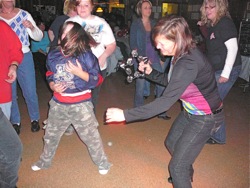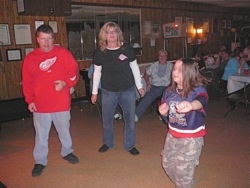 ---
June 5 & 6 - Wayland Hotel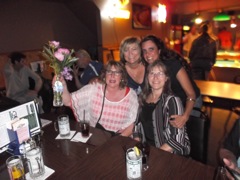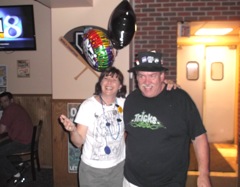 Marge from California in town ... Saturday Marly & Larry celebrated b-days ... And we danced the night away
Tricks returns to our well-worn spot at the Wayland Hotel. And we managed to have two decent nights. Friday's special treat was our friend Marge visiting from California, and that was a little reunion for Krystal. Saturday was a big birthday party for Mary "Marly" Green, who brought a bunch of friends from the Michigan movie industry, which is her passion. And Steve & Rick's brother Larry turned the big 6-0, so we had a great party for Larry. Seems like old times. We all just keep rocking as best we can. Aches and pains seem to pop up a little more often, but we still have that rock and roll attitude. Thanks to everyone for coming out to celebrate with Tricks at Wayland Hotel. Thanks to Josh the owner for having us. See you again soon.
Fri

| Sat

---
TricksBlog - May 2015
May 8 & 9 - Jake's in Dorr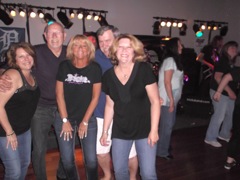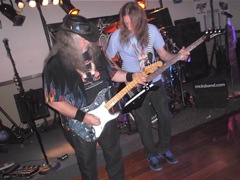 . . . Posing on the dancefloor . . . . . Lots of friends and family both nights . . . Doing the ZZ Top Shuffle
Tricks is on their home turf this weekend, right across the street from drummer Steve's day job, Dick's Food Market. The store is celebrating 60 years of service to the Dorr community, so Steve is extra busy planning and hosting various events honoring his family business and its supporters. But Steve still finds time to come here and bang on his drums, getting people dancing and head-banging to the Tricks tunes. The Jake's dancefloor was getting lots of action, with nearly every song. Both Friday and Saturday had special party crowds celebrating birthdays. Other groups came out to shake off the cabin fever, now that summer is nearly here. Krystal, Ozzy, and Rick have fun getting right down with the dancers to boogie on the dance floor. Steve is anchored to his drums, but people still have fun getting in Steve's face, to stir up and tease the drummer. What a great time!
Tricks appreciates the moral support from all our friends and fans, especially those who have to drive a little to get here. Thanks to all the great workers at Jake's; we get lots of positive comments about how friendly the staff is here at Jake's. Finally, we have to give a shout-out to our soundman Dave, who has been in and out of the hospital lately with some intestinal problems. We miss Dave a lot, in many ways. Tricks doesn't sound as good without Dave's hands on the mixing board. Here's to a speedy recovery for Dave.
Fri

| Sat

---
TricksBlog - April 2015
April 17 - Tricks at Hilliards Corner Lounge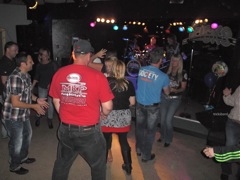 The big dance floor got a work-out . . . Lots of dancers both Fri & Sat . . . Happy B-day Ozzy
Tricks and friends meet at the Corner. That dance floor is really perfect for a crazy bunch of dancers. Lots of space to shake your money-maker. And the stage has lots of room in front for Krys, Ozzy, & Rick to dance the night away. Steve is sadly cramped in the corner, but that's to make up for all the times that the guitar players are cramped for space on most other stages. Both nights were beautiful weather, so we weren't expecting much of a party crowd. But, Friday we had about 30 people and they were in the mood for getting drunk, dancing, and rowdy as hell. What a riot! And then on Saturday the place was packed in the traditional Tricks style. Great all-ages crowd. Lots of old and young folks having a fun time rocking and rolling the night away. It sure makes it worthwhile when we see everyone smiling and dancing to our Tricks tunes. Those newly added songs are some of the big hits of the night. I know I'm repeating myself, but I gotta say it!
As always, thanks to Eric the owner and his hard-working staff of cooks, bartenders, and waiters. We appreciate your service! Thanks to family, friends, and fans for coming out to this first 2015 Tricks party at the Corner. Thanks for supporting local LIVE music.
Fri

| Sat

---
April 11 - Tricks at Grand Haven Eagles


Big party crowd, lots of dancers ... It was an all-ages good-time crowd ... Grand Haven people know how to party
Tricks doesn't get over to play on the Lake Michigan shoreline very often. We've played at a few parties in Holland and we used to play at the Douglas Woodshed before it burned down. But that's about it for the past couple decades. Thanks to our musical cousin Steve Weideman, we got our toe in the door at the Grand Haven Eagles. They had a band that was double booked, so they needed a fill-in band for one night. They said this would be a trial night, and Tricks would be booked again if all went well.
I'm here to testify. We all had a real good time. This crowd likes to rock and they like to dance. So, they were a perfect fit for our Tricks repertoire. Our new songs and our old standards all went over really well. Seems like we could do no wrong. The dance floor was packed nearly every song. See the pics for proof.
Thanks to Sean and Roger for your Eagle hospitality. We would love to play here again. We need some summer bookings for when our regular "inland" bars don't have bands, especially July & August. Thanks to our friends who traveled from afar to join in our debut night. Thanks to cousin Steve for helping with the booking. We miss our soundman Dave who has been sick lately. Hope to have Dave back onboard very soon.
Eagles

---
TricksBlog - March 2015
March 27 & 28 - Tricks weekend at Wayland Hotel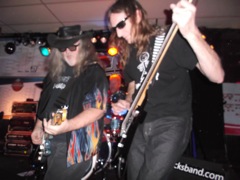 Our first Tricks weekend at the Hotel for 2015. And only our 2nd bar weekend after coming out of the basement with 15 new tunes. We had a decent crowd on Friday, with plenty of dancer. On Saturday, we had the biggest rowdiest crowd we've seen in a few years at the Hotel. A little too rowdy, but plenty of people had fun dancing - that's what we're here for. Thanks to Josh and the Hotel staff for your great work. Thanks to our friends and fans who came out to have a good time with the Tricks band.
I want to say a little about our new songs, which have been a wonderful surprise. I'll go through the list as we've been playing them in the nightly setlist. We're using "It's All For You" by Sister Hazel to start the night. We don't usually start with something so vocally challenging, but we want to hit people with a fun song that is light but not too whimpy. The next new song in first set, Steve sings "Lonely Ol Night" by John Cougar; it's a good lighter rock song, good to dance to, well known, and not too earth-shaking for the remaining dinner crowd during 1st set. We also have Krys singing a new song in the first set that is one of our most energetic new tunes; "Middle of the Road" by Pretenders. It shows that Tricks means business. We want to take it easy during first set, in case there are unsuspecting diners remaining, but we can't take it too easy. That Pretenders song is challenging and fun to play.
2nd set always needs to have very good "crowd keeper" songs, so we put six of our funnest new songs in 2nd set; Steve sings "Under Pressure" by ZZ Top, that seques with no pause right into Rick singing "Under My Wheels" by Alice Cooper. Then Krys sings "Burnin' Down The House" by Talking Heads, which again seques with no pause into "Unskinny Bop" by Poison. The new songs of 2nd set end with Rick singing "Jumpin Jack Flash" & "It's Only Rock & Roll" by Rolling Stones.
3rd set has to be hard and heavy, so the hardcore pariers know we mean business. This is around midnight, when people look at the clock and decide whether to bar-hop to another place down the street. So, Tricks knows we gotta bring it! We start the 3rd set with a great heavy dance song by Jackyl, "Down On Me". Rick can't screech it, but the song still rocks really well singing an octave down. The Jackyl song seques right into Krys singing "Backstreet Love" by Trapeze. That's one of our all-time favorites from the Tricks setlist in the 80s. The dancers love it, and the band is rocking it hard and heavy. We don't let up after those two, we hit 'em with two more. Steve does a great job singing "Back In Black" by AC/DC, then we seque with no pause into Krys singing "Paris (Ooh La La)" by Grace Potter
Last set is for the hardcore party people who are gonna stay until 1:30am or later. So, we start with our best new hard-rocker, Krys sings "Shook Me All Night Long" by AC/DC. Believe it or not, even Krys couldn't sing the final shrieking notes, so we cut the song a few seconds short and blast right into the drum intro for "American Band" by Grand Funk.
Now you know, "The Rest of the Story". (Paul Harvey, . . . Good Day!)
Fri

| Sat

---
March 6 & 7 - "Coming Out" at Jake's Goodtime Sportsbar in Dorr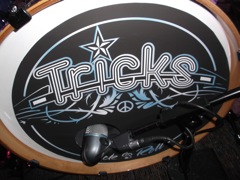 This was the trial by fire for all our 15 new songs that we just spent hundreds of man-hours working on during the past 8 weeks. The report is nothing but good news. We try to pick songs that are familiar to everyone, but not too overplayed by other bands. And we want songs that are instant dance-floor packers. Also, we want songs that are not simple and boring, but we also want to recognize our own strengths and weaknesses as a band and as individual musicians. So, with those guidelines, should we be surprised when ALL of our new songs are big hits on the dance floor? Yes, we are surprised, because so many times we have picked songs that the band loves more than the crowd. But, I gotta say, ... all 15 songs were very well received and we did a good job following our "plan of attack" for each song. Sure, we're a lowly "cover band", but we still have to figure out how to cover songs within the limits of our vocal range and the limits imposed by being a "one guitar" band. Some songs don't work well with one guitar. In fact, we dumped a couple of our song selections this year because they didn't go well during the first few trial runs in the basement. We also have to figure out how to end songs that have fade-out endings. We also spend lots of time talking about seque ideas, so we can double songs up to keep the show flowing and the dance-floor hopping. We also talk a lot about dynamics, so that the band is tight-sounding during transitions between louder and quieter parts of songs.
I'm here to report that our new songs don't seem to have a bad apple in the whole bunch. We'll know more after a couple more bar weekends. Two big surprise hits were the Grace Potter song and the Trapeze song. Both of those are relatively unknown songs in the general public. But, we needed a new Krystal kick-butt song. Grace Potter's "Paris Oo La La" was a bit of a risk, because for one thing it's a difficult song. All the dancers loved it on both Fri & Sat. The Trapeze song "Backstreet Love" is a Tricks favorite from waaaaayyyy back. (Here's a YouTube video of Tricks in our Hopkins living room in early 1981 doing "Backstreet Love" with Dale Boysen & Tom Hudson.
) Anyway, no one ever used to dance to our Trapeze song, but we always did it for our own musical pleasure. Fast forward to 2015; when we got the idea of having Krystal sing this song about ladies of the night, we decided to use one of our "tricks" to get dancers to recognize what a great dance song this is. So, we tacked it onto the back of a very popular head-banger from Jackyl "Down On Me". And guess what? It worked. We had dancers loving this Trapeze song on both Fri & Sat.
Thanks to the good folks at Jake's for making Tricks one of your regular bands. All of our friends were talking about how friendly and efficient the wait-staff was this weekend at Jake's. Tricks works hard to be professional, and we appreciate a venue with a professional staff to serve our fans' party needs. Thanks to our Tricks friends for coming out, especially those who drove from Allegan, Fennville, Holland, Hudsonville, Grand Rapids, and so on. You really made our "Coming Out" party a big success. Those new songs are only gonna get better - and more fun.
Fri

| Sat

---
TricksBlog - February 2015
All January & February - TRICKS winter "break" - 14 songs added to repertoire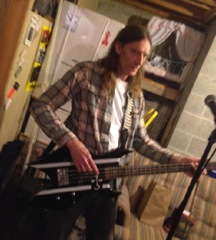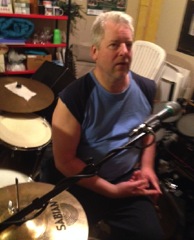 Here's what we added during 8 weeks of intense work in Steve's basement.
About half of these are brand new for Tricks.
The other half are songs from the graveyard that never got a very long lifetime in our setlist.
We have to give Ozzy a huge helping of kudos, since all of these songs were brand new to him.

Steve sings
Lonely Ol Night - John Cougar
Under Pressure - ZZ Top
Unskinny Bop - Poison
Back In Black - AC/DC
American Band - Grand Funk

Rick sings
It's All For You - Sister Hazel
Under My Wheels - Alice Cooper
Jumpin Jack Flash - Rollings Stones
It's Only Rock & Roll (I Like It!) - Rolling Stones
Down On Me - Jackyl

Krys sings
Middle of the Road - Pretenders
Shook Me All Night Long - AC/DC
Backstreet Love - Trapeze
Paris (Ooh La La) - Grace Potter
Burnin' Down The House - Talking Heads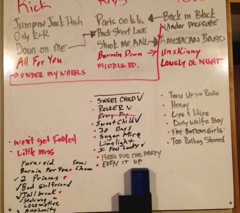 ---
TricksBlog - January 2015
Jan 2 & 3 - M89 Sportsbar & Grill, Otsego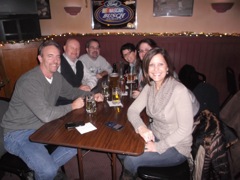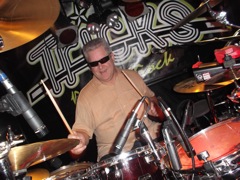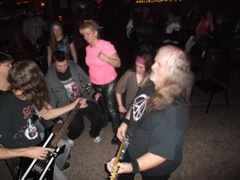 The Lake Allegan People are here ... Steve says, "great drum sound here" ... Dancing with guitars
Tricks final weekend of "fiscal 2014". We got a last-minute gig from Tim the owner. There was some doubt whether to have a band right after NYE. After the long holidays, there usually is a big let-down period when people decide to stay home and rest their bodies and wallets. But, M89 was pretty full on both Friday & Saturday. There also was plenty of enthusiasm as people continued with their New Year celebrations. Lots of great dancing action, which is normal for M89. The band sounded good in that room, which is also normal. A great way to end up our year before going into the basement to learn some new classic tunes. We were happy to have a group from Rick & Krystal's neighborhood on Lake Allegan. Thanks for coming out, Lake People! It was also cool to have Rick's young guitar student Patrick there with a couple of his buddies from college; it was their first Tricks show ever. We also had some regular Tricks friends who traveled far to give us support - we always appreciate that extra effort. Thanks for supporting Local Live Music - it can't happen without you. Thanks so much to owners Linda & Tim for a great venue. We know it's not easy doing what you do. Thanks to the staff for keeping the party going, and for doing a good job on your Facebook page - they always take pictures of the crowd and the band for their FB page.


M89 Fri

| Sat

---
TricksBlog - December 2014
Dec 31 - New Year's Eve Party at Hilliards Corner Lounge


Jane, Liz, & Deb - Always ready to dance ... Fran & Tom party all night ... Wolowicz family always there on NYE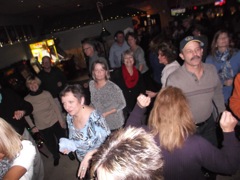 . . . . . Thank you Dancers!!! . . . . . . Family & Friends group hugs . . . . Tricks celebrates 4 years of Ozzy
Tricks and friends rocked into 2015 with a big party at the Corner. Tricks has been doing the New Year's Eve party at Hilliards Corner Lounge for several years in a row now. We used to have quite the mob scene, at least the first couple years we did this. But, the last couple years really slowed down. We even advised Eric the owner to get a "younger, better-looking" band to play for NYE, because people get tired of the same-ol', same-ol'. Eric said, "let's give Tricks one more go for NYE". So, there you have it. We brought our best for NYE, and we got the crowd to match. Not a crammed bar, but a full bar. Very few empty chairs. And dancers? We had a full dancefloor for nearly every song. What a blast. We sang Auld Lang Syne at midnight to bring in 2015, and there was plenty of hugs and kisses going around the room. What a great warm feeling Thanks to everyone for being there. Thanks to Eric and the staff. Tricks feels honored to preside over such heartfelt and uplifting events. This was one of those special nights. A good time was had by all. Tricks wishes everyone the best for 2015. Peace and Love to all!
NYE Party, Hilliards


The most special part of the band's night was our show of appreciation for our bass man, John "Ozzy" Bosscher. We couldn't let this NYE go past us without acknowleding our gratitude. We hired John exactly four years ago, in December of 2010. We've had a running joke about Tricks band being cursed with losing our bass player every four years. We love having Ozzy in the band, and wanted to say something in honor of passing the 4-year mark. The framed Certificate we presented says it all: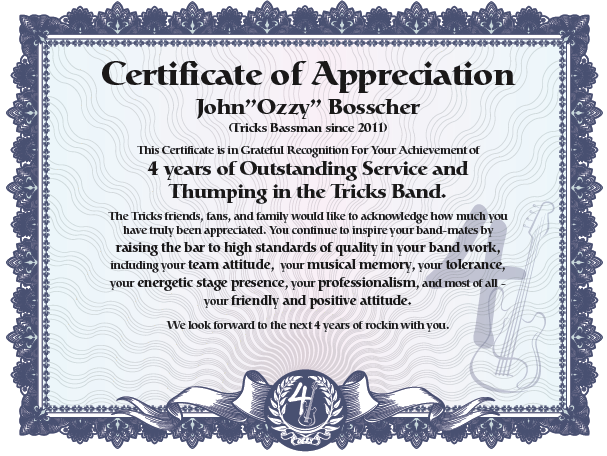 ---

to Late 2014

Tricksband.com website was started in March 2004.
Rick is webmaster, with graphics help from Krystal.

If you'd like to be informed of updates to the site, as well as any upcoming party information.


Tricks News Only! - No Spam!

Comments? Clichés? Conversation? Chatter? Cr-r-r-riticism?
Send Tricks an E-mail

Tricks is on

- Be a fan!
Share comments, messages, or pictures with the entire Tricks family.
Remember, Tricks loves you!
" There's Good Rockin' Tonight "