, and Keith & Sheila's basement party

. And thanks to Dorr Recreation for having Tricks at the Dorr 4th of July Festival

.
Last but not least, we have the warmest thanks to our friends, family, and fans. We appreciate the times you drove through crappy weather to come and party with Tricks. We need that lively support to give us the energy to do our best. Thank you dancers! We love you guys. We look forward to celebrating our 40th Tricks anniversary throughout 2016. Our schedule is filling up nicely and it looks like another year full of life's happy and sad moments. Nothing worthwhile is ever easy, so we'll take the ups and downs as they come along. Tricks is here whenever you need to get together with friends to celebrate, mourn, and toast "Auld Lang Syne", i.e., "Times Long Past".


---
Dec 18 & 19 - Tricks at AJ's in downtown Dorr - Final weekend of 2015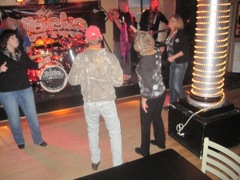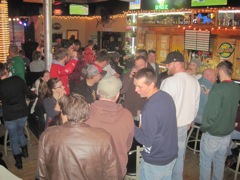 ... Friday's crowd was small but energetic ... Saturday action ... and a Birthday Party Bus Load
Holidays are unpredictable for the bar scene. People have lots of parties, traveling, shopping, kids home from college, ... all sorts of unusual situations. And then the weather. We expected Friday to be very slow because of the terrible icy roads. But, we actually had a nice little crowd, and everyone had ants in their pants. Lots of heckling, banter, and dancing, with a couple dozen hardcore party people who weren't gonna let a little ice scare them away. The last set ened up being the funnest, because people just wouldn't give up hanging and banging with the band. We were happy to meet new friends from Zeeland, and we hope to see you again soon. Watch the website for our schedule; we've got a lot going on already for 2016.
Saturday was even more wild than Friday, as you normally expect. One surprise was a big busload of 20-somethings, who stopped in to create a mob scene for about an hour. Steve always says, "young kids don't care much about dancing these days", and this busload proved him right. Only a couple people from the bus were interested in dancing with us. We did the Beatles "Birthday" song for the bus, and they just stood at the bar hooting and hollering and having plenty of fun.
Thanks to everyone who came out on this chilly icy weekend - we love to see you dance! Thanks to Amanda and Ernie again, for fixing up this old Stan's Tavern venue. Thanks for keeping live rock and roll alive in downtown Dorr.
Fri

| Sat

---
Dec 11 & 12 - Tricks at Jake's, DBA Holiday Party on Saturday night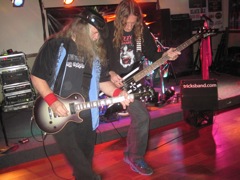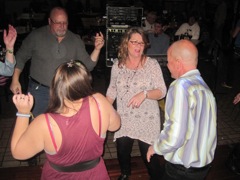 . . . . Friday playing footsies . . . . Saturday big crowd of party people . . . And Dancers . . . Plenty of dancers
This weekend was a late booking for 2015. The Dorr Business Owners Association asked Tricks to play for their annual Holiday Party. Steve is the president of the DBA, so it's an easy choice for them. Since the DBA party was Dec 12 Saturday night at Jake's, the management at Jake's decided that Tricks might as well play Friday night, since we'd be setting up anyway. So here we are back at Jake's. Friday had a decent dinner crowd and a few party people stayed to hang and bang with Tricks. We had a fun time. Thanks to our friends Doug and Darcy for driving over from Borculo - that's a special treat because Doug insists on hearing Rick play his Les Paul. So the Les Paul gets a better-than-usual workout and that's a good thing.
Saturday's DBA party delayed our band start time because they were giving away a whole bunch of door prizes. Of the 80 people who attentded the DBA dinner party, lots "Dorr's finest" stayed around for some Tricks fun. We had a full bar for most of the night. And plenty of dancers. The band was good and tight.
President Steve has some words to report on the DBA festivities. Steve says: "The Annual DBA Christmas Party has had it's ups & downs over the past 7 or 8 years. I'd definitely consider this one a success.
It was nice to see many faces at the dinner we haven't seen in some time.
The setting couldn't have been better here in Dorr. Seasons in Time Restaurant was decorated nicely with festive holiday centerpieces.
The dinner itself was highly praised by everyone I saw. Owners Jon & Lynda VanSingel have taken a more active role in running the businesses and it shows.
The biggest applause of the night went out to them as host & hostess and then Jon topped it off by making the announcement of the most highly anticipated business move of the year. He has secured a lease for the old Dick's Market space in Hillcrest by an Ace Hardware operator!
Prize drawings were spread out evenly this year which made it more fun than ever. Congratulations to the Grand Prize winners Russ Merren (iPad) & Pat Pustay (50" Smart HDTV).
Paul & Melodie won the fun "Snowman" contest.
My sincerest appreciation to Amber Snyder & Melodie Niemczyk. These two really did a great job organizing and running the entire event. Thanks Ladies!"
Fri

| Sat DBA Party

---
Dec 5 - Tricks Basement Party at Dawson's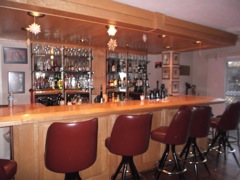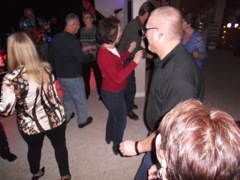 Nicest bar in Allegan County . . . . . We put that bar to good use . . . . And we did lots of dancing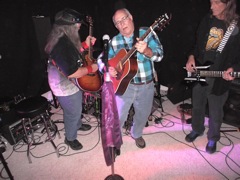 Allegan Picking Legend Jack Dailey ... Keith's friend John is top-notch . . John's son Keith has some great chops
Keith Dawson is a guitar student of Rick's, he is an Allegan Lake resident, he grew up in London in the 60s, and he is a building contractor. Put it all together and what do you get? A fantastic fun Tricks basement party and Jam Fest. Early this year, Keith did some drywall, tile,and trim work on Krys & Rick's house. Although he spent several hours with a couple helpers and the work was top-notch, Keith wouldn't take payment. He said that Rick always runs over on the guitar lesson hours, and that was enough payment. Rick said, "well, how 'bout we give you a Krys & Rick music show for a party some time?". Keith said, "I like doing that barter thing". As we fleshed out the party idea during the next few guitar lessons, Rick told Keith that maybe we could have the entire Tricks band play for the basement party he was thinking about. Keith would only have to pay drummer Steve and bass player Ozzy. It could be a Tricks basement party! Woot woot! Keith was apprehensive about having a big loud band in his basement (actually, it's his mom's basement). Rick explained that we would do what we call "Tricks Lite", with Steve on electronic drums and with minimal sound system. With that understanding, Keith got really excited. "I can have a holiday party for all my workers, along with some family and friends." And so the game plan was initiated.
Like any good idea, it grew as we put the game plan together. Keith works with Jack Dailey, one of Allegan's finest guitar pickers. And Keith also has a friend named John who plays guitar and sings, and John's son Keith is a very talented young guitarist. So, we decided that Tricks would play about two and half sets, and then we would get John, Keith, and Jack up to jam. It was a loose plan, and we thought we could figure the jam plan as the party progressed. I'm here to tell you that it was almost like we knew what we were doing. Tricks played some fine sets, with lots of drinkers and dancers, and we weren't too loud, although it got louder as the night progressed. Then a little after 11, we set young Keith up to jam along with a few Tricks songs. He did an excellent job playing lead guitar, most notably on two Robert Johnson songs; "Crossroads" and "Love In Vain". Then we ramped it up a notch by getting Jack Dailey up to play and sing a few. He is the master of country rock-a-billy songs like "Hot Rod Lincoln". After a few Jack songs, John grabbed his son's guitar and played and sang a few. We were surprised when he suggested Elvis Costello's "Pump It Up". We said, "how would you expect us to know such an obscure tune?". John said, "I looked at your website song list". Very cool. We shut down the band a little after midnight, but John and Jack kept kicking butt with acoustic guitars.There was a nice patio smoking area that Keith had set up with a heater, so most of the hardcore hangers-on moved out there with the acoustic show from John & Jack.
Thanks to Keith and Sheila for having us. Thanks to Keith's mom for letting us use her beautiful home. Thanks to Ozzy and Steve and especially Dave for coming out to Allegan for this last-minute gig which ended up becoming "Party of the Year 2015"! Thank you carpet dancers. Thanks to bartender Allan. Thanks to Lilly for set-up help. Thanks to everyone who brought food and special drinks.
As Krys & Rick were leaving around 2am, with live music still going on the patio, Rick said goodbye to Keith with, "we'll have to make this an annual thing". Keith answered, "I was thinking at least twice a year, once in summer, once in winter." I like his attitude. Did I mention that Keith is a huge Rolling Stones fan, so we did all our Stones repertoire and then some?
Basement Party

---
TricksBlog - November 2015
Nov 28 - Steve Birthday at Hilliards Corner Lounge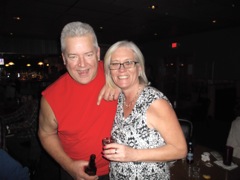 Birthday kids Steve and Char ...... Rick & Ozzy were riding the waves ... While the drummer got toasted
Tricks had our annual "Get the drummer drunk" party. Usually Steve tries to discourage all the shots getting sent up to the drum riser. But this year he seemed to be in the mood. And his drumming didn't suffer while he was having fun getting tipsy. We also had our good friend Char out for her birthday celebration. Great fun. We let Steve pick the setlist, but he was having fun playing drums to whatever! ZZ Top "Cheap Sunglasses". Nugent "Free For All". Pink "You And Your Hand". You name it, we had fun doing it. And the dancers had fun as well. Not a very big crowd, but our fun friends and family. We had to do all of our Stones songs for John & Peggy - that was a blast. Thanks to Eric the owner for having Tricks. Thanks to the Corner staff for good service. Thanks to all our friends who came out on this cold night. Thank you dancers!
Sat

---
Nov 25 - Thanksgiving Eve at Hilliards Corner Lounge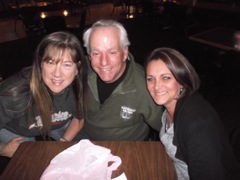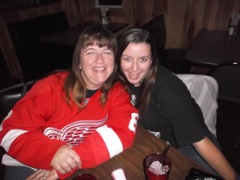 Tricks family and friends . . . . . . . . . Like mother, like daughter, . . . . . . Fast friendly service
Tricks did the Thanksgiving Eve thing at Hilliards Corners. It was pretty well filled with dinner crowd when we got there. By about midnight, we only had about a dozen people drinking and dancing with Tricks. There were a couple party buses that stopped by for a single drink hit-and-run. Shout out to Rick's buddy Verne Dreyer who was with one of the busloads. For the most part, we had a fun little evening with family and friends - just the way Thanksgiving ought to be. Thanks to our friends from Allegan, Fennville, and Hudsonville who had to drive on the rainy roads to get here tonight. At least it wasn't snowing. Thanks to Eric and the Corner Lounge staff - and Happy Holiday Season to everyone!
Thanksgiving, Hilliards

---
Nov 20 & 21 - Wayland Hotel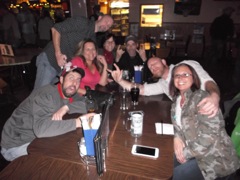 Holiday time with friends & family . . . Guess who? Past Tricks family . . . Current Tricks family, the Dawsons
Tricks had a surprising weekend at Wayland Hotel. Friday was surprisingly crammed with 20-something chit-chatters who were having a great social get-together around the bar and pool tables. these folks hung out all night long, but they weren't there to dance. We got a few compliments, "you guys are actually really good" one girl said. And there was a lot of toe-tapping and even some singing along. But no interest in dancing until the last handful of party people were buzzed enough that they danced for last set. It was good to see our long-time pal Kim from Tricks years gone by. Thanks also to Char for showing up and starting the dance floor spark. Fun party atmosphere all night long, but very draining with the band trying to get the spark going, ... pouring our energy out there with very little feedback. We missed our dancers.
And then there was Saturday, with the very first snow and ice accumulation on the roads. We all noticed on the drive to Wayland that there were very few cars on the road. Everyone was gun shy about getting out there with all the idiots who forget how to drive on winter roads - it takes a few weeks for drivers to realize that they can no longer fly along at 70mph, while tail-gaiting and following all the bad summer driving habits. So, we came into a surprisingly empty bar at 9pm. Usually there is a packed house of diners, and we watch them slowly disperse with the hope that rockers will show up to replace the vanishing dinner crowd. But this night, we had no dinner crowd. There were about 10 people in the bar when we started first set. So Rick said, Let's Bring it!!", and we skipped the usual acoustic numbers that we normally start the night with, in order to avoid startling the dinner crowd. We started right in doing songs that we normally save for the rowdy last half of night sets. That meant songs like "Radar Love" and "Rock You Like A Hurricane". We further entertained our lonely selves by delving into songs that we've been neglecting for a year or more. That meant songs like Kiss "Domino" and Rush "LimeLight". We were happy that Keith and Lil Dawson showed up from Allegan - they are hosting a Tricks party in the their basement in 2 weeks. So we had great fun pretending to audition for them.
Fri

| Sat

---
TricksBlog - October 2015
Oct 30 & 31 - Halloween Weekend at Jake's in Dorr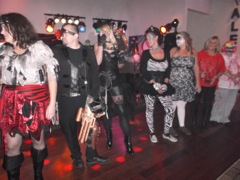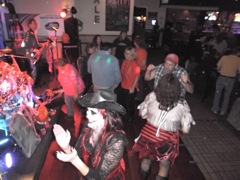 Tricks or Treats? Great fun on and off the dancefloor. Not sure who some of these poeple were.
Tricks has to live up to our name and so we make Halloween a big deal. We try to do a band theme, and this year Steve thought it would be fun to dress up as Country Music Stars. Ozzy was Porter Wagner, Krystal was Dolly Parton, Rick was Willie Nelson, and Steve was Blake Shelton I guess. It was good fun as we tried to country-a-size some of our Tricks songs. That was easier said than done, but it's the thought that counts. When it came time for the costume contest, they came out of the woodwork. Some really good costumes made it a hard decision. But, we had to move the show on, so we went by crowd response without too much deliberation. Everyone got a prize; we had Coors caps and openers, and a bunch of cooler cups. Congratulations Todd Clark on winning first place in the costume contest! Arrrrrr!
Steve says: "Can't say enough about those Tricks fans. It was a cold night outside but the group we had at Jake's both nights made me feel all warm inside like a shot of Tennessee Honey Jack. You guys keep-a-rockin' and we'll keep bringing it! See y'all at The Hotel in a few weeks."
Thanks to everyone for coming out and making this a blast. It looks like many people came early enough to have some food. I heard that Jake's has some awesome chicken strips that deserve some kind of award. Thanks to Jake's owners, managers, and staff - you are the best. You do a good job managing the needs of the crowd, and we appreciate the work that you do.
Fri

| Sat

---
Oct 16 & 17 - Hilliards Corner Lounge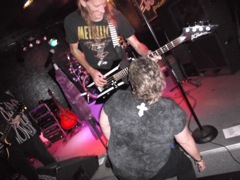 This weekend, dancers were dancing . . . . Girlfriends were socializing . . . and Tricks was rocking
Tricks had an unusual crowd situation at the Corner this weekend. Friday's crowd was very good, which is usually the slow night. Lots of dancers and head-bangers. And then Saturday's crowd was very thin, which is usually the big night. But guess what? We had fun both nights. Everyone seemed to be in a dancing mood, both Fri & Sat. The band was surprisingly tight-sounding after having 3 weekends off. We usually have lots of brain-farts when we go that long without jamming. But, it was smooth-sailing on the Corner stage. We challenged ourselves with our Tricks "no repeat" set lists, (Steve dubbed this the "Dual Quad" setlists, because there are 4 sets each night, for two nights, and no repeats at all.) except for a request or two on Saturday night. It's funny how it doesn't take many people to have a good party atmosphere. That's what we had on Saturday. And then at the end of the night Saturday, while we were packing up guitars, a party bus full of people showed up. We could have used those people an hour or two earlier. Thanks to everyone who came out to support local live music at the Corner. Thanks to Eric and the staff for keeping the party going and keeping everyone "grinning, greased, and gassed".
Fri

|Sat

---
TricksBlog - September 2015
Sep 18 & 19 - Wayland Hotel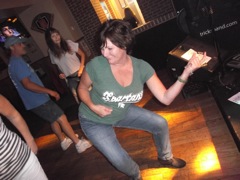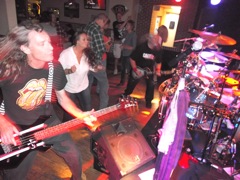 Friday was a small crowd, but lots of dancers ... Saturday started out slow, but got wild by night's end
Tricks had two decent nights at the Hotel this weekend. No crowds to brag about, but a good bunch of fun party people both Friday and Saturday. Lots of great dancing action; that always gets Tricks fired up. We are proud that we work hard enough on our repertoire to offer "no repeats" between our Fri & Sat setlists. The only repeats on Saturday were a couple requested tunes. We love working hard for you, and it pays off. So many people tell us with their words and dancing deeds that they love the good Tricks jams - whether for dancing or just sitting there watching the stage and dancefloor action.
Saturday started out real slow, with not many people there for dinner, which is unusual for the Wayland Hotel - they usually pack the place with diners on nearly every day of the week - we sometimes have a hard time setting up on Wednesday or Thursday because there are so many people jammed in there for dinner. Anyway, Saturday started very slow, with no dancers for the entire first set. How demoralizing. It drains our energy to play to an empty dancefloor. We figured the entire night would be that way. But by third set, a couple small groups of rowdy rockers came in, and the dance floor was pretty lively.
And the band responded to it. The last two sets were powerful and tight. It's like we got better and better up until the end.
Our last 3 songs were tight and heavy with Gel, The Zoo, and Hard to Handle, with a long crazy power-trio jam at the end of Hard to Handle. It was high-energy. Once we got home, it took forever to get to sleep with all that adrenaline. Thanks to everyone who came out to have fun with us this weekend, our friends from near and far, and both old and new fans. Thanks to Josh for having us. Thanks to the staff for your hard work keeping the party going through thick and thin.
Fri

|Sat

---
Sep 11 & 12 - Jake's Goodtime Bar & Grill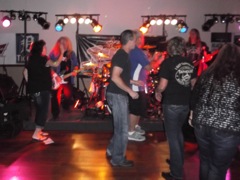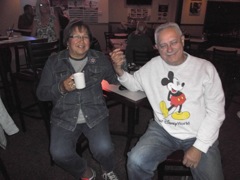 Tricks has fun with or without a big crowd ... But we have more fun with dancers ... and regulars like Fran & Tom
Tricks had a slow Friday night at Jake's. This was the first time we've played at Jake's without a real good room-full of party people, drinkers, and dancers. It was a beautiful night for a backyard campfire, and it was the first weekend of the Allegan County Fair. We forgot the camera on Friday, so there's not much proof of a slow night. One cool thing during first set; there were a couple families with kids there finishing up their dinner. The kids all came out and danced for several songs. Krystal got a few pics with her iPhone. I'll post those when I can get ahold of her phone. Another highlight of Friday was Rick's friend Doug who was celebrating his birthday. Doug always requests that Rick play his Les Paul, because he loves that good Les Paul sound. Rick is always happy to oblige, even though that Les Paul is a heavy chunk of wood. Saturday was more like it, although still a little slow. We had loyal friends and fans there to stir up some fun on the dance floor. A few even stopped in after the Carrie Underwood show at the Allegan Fair. Thanks to Jake's friendly staff, we love you guys.
Fri

|Sat

---
TricksBlog - August 2015
Aug 21 & 22 - AJ's in Dorr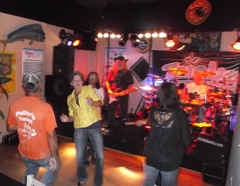 Shaking it loose with Tricks on Friday ... Saturday we were surprised by a fun bunch who came in for last set
AJ's was another venue that we booked too late last year. We ending up only getting 2 weekends here for 2015. Both Friday and Saturday had small dinner crowds remaining when we arrived to start at 9pm. But both nights picked up after 11pm, and we had a wild time during last set, on Fri and Sat. Seems like everyone wants to go down the AJ's for last call, after a long day of partying. I'm just guessing.
We celebrated Amanda the owner's birthday on Saturday with a rousing version of the Beatles' Birthday Song. It's been a while since we did that one. We have so many songs in our repertoire, we have to rotate our song lists to keep our performance fresh. This weekend we brought back a few faves that we haven't done in a while; "Brown Sugar", "Ballroom Blitz", "Hit Me With Your Best Shot", "Funk 49" by Joe Walsh, "Everything About You" by Ugly Kid Joe, "Swingtown" by Steve Miller, "What You Need" by INXS. Speaking of songs, we're so happy that everyone seems to love our latest obscure addition to the songlist, "Backstreet Love" by Trapeze from 1974. Krystal does a great job singing the crap out of that song. And it gives the Tricks Power Trio a chance to show off our tightest chops.
Here's a video of Dale Boysen singing that song back in 1981, in the living room in Hopkins.

(Yes, Steve used to have hair, and Rick used to be skinny.)
Saturday was extra fun for the last set. We had a wild and aggressive bunch of young rockers come in ready to party and ready to dance. We did some good head-banging with that bunch. Hope to see you again.
AJ's Fri

|Sat


Friends! Sign up for our Tricks Newsletter - keep in touch


---
Aug 14 & 15 -

Woody's at Spectrum Lanes in Wyoming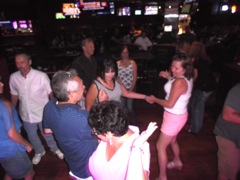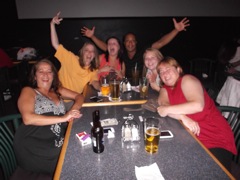 Friday's happy dancers on the floor ... Party girls meet up at Woody's ... Ozzy & Rick are bumping with dancers
While getting our 2015 calendar filled late last year, we called Tood the manager at Woody's a few times. He was juggling lots of bands, and promised to get back to us. By the time we finally hooked up, the only common opening we found was this one weekend. So, here was our only Tricks appearance at Woody's for 2015. Not sure if we had a good enough turn-out to earn us more than one weekend next year. I know that the local GR area bands have a much better "pull" for crowds here. We had fair crowds both Friday and Saturday, and we had a fun time. We always are treated very well by the staff, and we always seem to have a bunch of Tricks newbies coming up to tell us what a great time they are having. One girl talking to Rick said, "As soon as I came in the door, I said 'wow, what band is this'? I really liked the show you guys put on. You made my ears happy". We tried to make sure we passed out Tricks cards to these new fans, so they can keep in touch with our upcoming shows. Hope we see you again. We love making your rock and roll ears happy.
Rick had former Trendway co-workers from Holland area show up by surprise on both nights. On Friday, it was buddy-buddy Nanette with her brother Nate and wife. What a great surprise! Thanks for coming you guys. And on Saturday, Rick's co-worker Chan showed up with his wife. Thanks, Chan. It was good to see you. Thanks for helping pack up, and thanks for the pizza, yum!
Thanks so much to our friends who drove the distance to support Tricks here at Woody's. Thanks to Woody's excellent staff for doing a great job with a friendly attitude. Thanks to Tom and Fran for helping with pack-up and pictures. Thanks to Todd for the booking. Hope to see you again next year. We love this place.
Woody's

|

---
TricksBlog - July 2015
July 24 & 25 -

M-89 Sportsbar in Otsego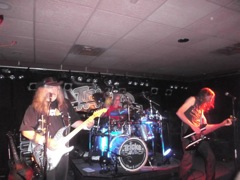 Krys had her dancing girlfriends on Friday ... Party people on Friday ... And just the boys played on Saturday
When Tim the owner called us for this gig, we told him that Krys was leaving for Oregon on Saturday afternoon of that weekend. Without any hesitation he replied, "can you do Saturday night without Krystal"? We said, "sure, but it's not the same without her". Tim wanted to book the weekend, and he didn't much care if Saturday was not the usual Tricks with Krystal show. So, we took the gig. As it turned out, we had a great Krystal crowd on Friday, because all her local friends knew that was the Krystal night. And then on Saturday we still had a pretty decent night, mostly with the usual M89 rock and roll crowd. Our soundman Dave has had health issues lately, so we were glad that he could make it out for Friday night, to get our sound tweaked in. It's a good sounding room, but needs a special touch on the soundboard because the room is so flat-sounding. The boys managed to plow through Saturday's set lists with Steve and Rick taking turns singing lead. Thanks to Tim and Linda for having us. Thanks to our fans and friends who traveled to Otsego to support us both nights. Thanks to the local Otsego rockers who were hanging and banging with Tricks.


Friday with Krystal


Saturday with just the boys

---
July 4 -

Dorr Independence Day Festival
INTRODUCING: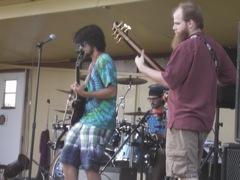 Dayne Carpenter guitar (great effects) ... Patrik Baney drums ... Zach Welch guitar, Nicolas Crozier Bass
Krystal & Rick heard Pushing Humanity a couple months ago at a backyard Kentucky Derby party. We were so impressed, we invited them to open for Tricks at the Dorr 4th Pre-Fireworks Show. Maybe some day they'll let Tricks open for them, when they get big and famous. They are well on their way. These guys work hard. They write most of their tunes, and their songs are funner than your average jam-band material. Everyone loved them. There were about a hundred people watching when PH started at 6pm. The crowd kept growing until there were almost 300 people for their last few songs.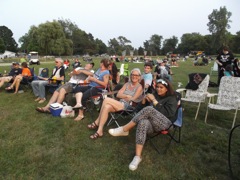 Rick makes a Strat attack . . . . Bunches of friends, fans, and family . . . Ozzy rocks the grass dance-floor
Tricks declined to play at the Dorr 4th last year in 2014. We've played about 7 of the past 9 years at Dorr on the 4th of July, and we wanted to give it a rest. So, we played at AJ's on July 4 last year, and we really thought we would pack the place after the fireworks ended. But no such luck. Everyone was tired after a long day, and they went home instead of coming to dance with Tricks at AJ's. Soooo, this year Tricks came back to the Dorr 4th of July celebration in the park. For a little variety, we asked Pushing Humanity to open for Tricks with a long set of mostly originals. And that went really well; all the Tricks fans that we talked to were loving Pushing Humanity's show.
We also brought back John Bosscher Jr. to play flute on "Kryptonite" by 3 Doors Down. And John Jr also played bass for Sultans of Swing by Dire Straits. Good job, and thanks John. John is son of our bass player John "Ozzy" Bosscher, and he just graduated from Hudsonville High School.
By our count, it looks like we had a better than average turn-out for the Fireworks at South Park. Lots and lots of Tricks friends showed up from all over West Michigan. We had a lively bunch of people dancing in the grass for the last set. We kept doing "one more" as we tried to guess when the fireworks would start. What a fun time! Thanks to everyone who drove a distance to celebrate Independence Day in Dorr with Tricks. Thank you grass dancers! Thanks to the Dorr 4th Planning Committee.
Official page for Dorr 4th -


Dorr 4th

|

---

to Early 2015

Tricksband.com website was started in March 2004.
Rick is webmaster, with graphics help from Krystal.

If you'd like to be informed of updates to the site, as well as any upcoming party information.


Tricks News Only! - No Spam!

Comments? Clichés? Conversation? Chatter? Cr-r-r-riticism?
Send Tricks an E-mail

Tricks is on

- Be a fan!
Share comments, messages, or pictures with the entire Tricks family.
Remember, Tricks loves you!
" There's Good Rockin' Tonight "