| Sat

---
Blog - November 2017
Nov 22, 24, & 25 - Wayland Hotel, Thanksgiving Weekend & Steve's 60th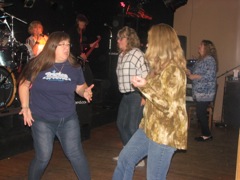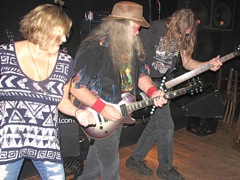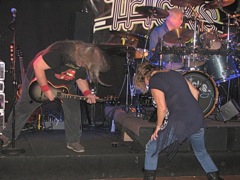 No big crowds to brag about this weekend. The only time it was really packed was when we walked in at 8:30 Turkey Eve night. Huge dinner crowd. By midnight that crowd fizzled down to about 15 people hanging and banging with the band. Friday and Saturday we only had a couple dozen people there to party with. One thing for sure; the band had a blast all three nights. In the past 3 months Tricks has only played about 7 shows, so that makes us hungry to rock. We were glad to see that our small group of loyal family, fans, and friends were also in the mood to dance with us. We appreciate the cheering and heckling that keeps us on our toes.
GUITAR NEWS! Rick had a new pick-up installed on his Les Paul, so you'll see Ricks 1974 Les Paul a lot more in upcoming shows. At the same time, guitar doctor Dale Boysen gave Rick one of his custom-made Stratocasters, and Rick will be test driving that for a while, deciding whether to buy it or not. The only electric guitar Rick ever bought new was the Les Paul, so this is a rare event; trying out this Dale Strat.
BIRTHDAY NEWS! Steve turns 60 on Tue, Nov 28. So, we had some major celebrating to do on Fri & Sat this weekend, involving getting the drummer drunk. That always makes for a fun ride for guitar players and dancers.
STEVE SAYS: What a fun extended weekend at The Hotel. Hope everyone enjoyed themselves as much as I did. Playing all our favorite songs and having dancers really getting into it makes the place so alive and full of fun!
Thank you for all the birthday greetings, cards, balloons, and countless shots.
Hope to see you all again next weekend at AJ's for one last time this year.
Thanksgiving Weekend, Wed

| Fri

| Sat

---
Blog - October 2017
Oct 28 - Halloween Tricks Party at Allegan Eagles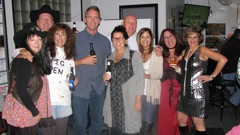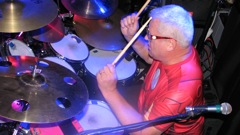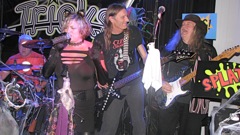 The Allegan Eagles is still a relatively new venue for Tricks. we've only played here about three times before. But, we're starting to know what to expect here in downtown Allegan. We always get a bunch of our Indian Shores / Lake Allegan party people who love to drink, dance, and socialize. We always get a bunch of old Krystal & Rick friends from the Allegan area. And we always have the regular Eagles crowd. And, I'm telling you, these people like their rock n roll. While we're setting up on weekday nights, they have their house music blaring the 80s hair-band music, like Def Leppard, Scorpions, Poison, Whitesnake, and all that heavy jamming. Probaby some Pandora or Sirius station. But, they also have some oldsters there who like their 60s and 70s rock. So, you know what that means? It means that Tricks doesn't have to keep one foot on the brake when we come to Allegan town. And the Southern Rock is especially popular.
Tricks dressed up like Super Heroes - Steve was Iron Man, Rick was Batman, Ozzy was Robin, Krystal was Catwoman, Dave was Soundman. The Costume contest was a big hit. Congrats to the winners. Not sure what the prizes were; I was busy changing a guitar string. Before we knew it, the costume contest was all wrapped up and the crowd was ready to do some more dancing. We got a request to do some Matchbox 20 from our neighbor buddies Tim and Sandy, so we pulled out "Real World", which I don't think we've done in two years. But, that song came together as tight as ever, lucky for us.
Thanks to the Eagles for having us. We are booked here for 3 very special nights in 2018; the "Election of Officers" party on June 2, the "Eagles 80th Anniversary" party on Sep 15, and New Years Eve party Dec 31, 2018. We are honored to be called upon to bring our Tricks show for the good folks at Allegan Eagles. Thanks also to our neighbors and friends. Thanks to Tom for taking pics. Special thanks to Eagles band helpers Mitch, Dave, and Stephanie. Thanks to the Eagles bar staff. Thanks to everyone who brought goodies to pass. Fun times in Allegan City.
Halloween Party Saturday

---
Oct 6 & 7 - AJ's Grill in Dorr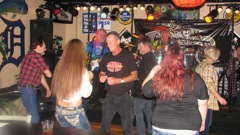 Meanwhile, back at home base in Dorr... it was a really rainy weekend. And pretty strange at AJ's in downtown Dorr. It sure seemed like a lot of people were in the mood to get wasted this weekend. I think it's a kind of reverse Cabin Fever, i.e., I think people are seeing the end of summer now, and they want to get in a few good party nights before they're stuck at home in the cold and snow. Just my Rick theory. Friday was mostly Tricks Insiders, so we had a blast with that small crowd - plenty of fun dancers to get wild with. Saturday was the Michigan / State game (State won 14 to 10). Well, the band played for 20 minutes during halftime, but we were told to not play during the game, unless the score got really lopsided. So, Tricks didn't start rocking until about 10:30. By then, some of our best fans were getting tired from the inactivity. But, everybody woke up when we started. Since we only played two long sets, it was no problem keedping the small dancefloor packed. Very fun night. Thanks to Amanda for keeping the the live rock music scene alive in Dorr. Lots of people appreciate the good rocking times we have at AJ's. Thanks to the hard-working and good-looking staff for keeping the party rolling - we know it's not always an easy job. Thanks to Tom for some of the photos. Thanks to those friends who drove a long distance to get together with the Tricks family - you know who you are. Tricks loves you!
Fri

| Sat

---
Blog - September 2017

Sept 22 & 23 - Wayland Hotel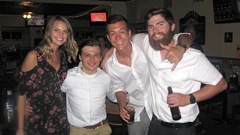 This was the party weekend here at the Wayland Hotel. We had multiple bachelorette parties on both Friday and Saturday. Even though both nights were pretty slow otherwise, we were treated to a few bar-hopping busloads of dancing girls on both nights. The girls were all wild and enthusiastic, but each group only stayed with us for about one set. Then they were off to some other place to raise a little hell. The band was out of practice, but sometimes that makes for an exciting night. We were pulling off tunes that we haven't done in many months, and you know Tricks doesn't have a bunch of simple 3-chord tunes in our repertoire. Most of our songs require a great deal of memory power, for example Golden Earring "Radar Love", Third Eye Blind "Semi-Charmed Life", Lynyrd Skynyrd "I Know A Little", The Knack "My Sharona", Grace Potter "Paris Oo La La", Pink Floyd "Money", Garth Brooks "Ain't Goin Down"... All of these songs are not the everyday tunes you hear from every bar band around. The point is; when we go several weeks without playing these massive songs, things start fading from memory. "What key do we switch to here"? "Is this where the chorus repeats"? "How did that strange riff go"? And the all-important "How the hell do we end this thing"? We take these songs and add our own touches, and that's the first thing that gets forgotten when we're out of practice. The song glitches caused by forgetting something are usually only a fraction of a second, but it makes for an exciting ride. Thanks to everyone for coming out for our "Back To The Bars" start to autumn.

---
Sept 16 - Cowboy Weekend in Irons


This was a milestone for Tricks. It was the first time we ever played a concert at noon. And it was the first time we played with Steve in Irons (Okay, not counting 1977, because that was a lifetime ago

). We've been playing live music in Irons for over 10 years now, and we practically feel like Irons is our 2nd hometown. We play four or five times in Irons each summer, usually with Ozzy playing bass with Krys & Rick. We do parties out in the backwoods at the Phelps cabins, we do parties at Duane's party barn in downtown Irons, we've played a couple backwoods parties in nearby Kaleva. In addition to those annual parties, the Tricks Trio (Krystal, Rick, & Ozzzy) has been playing a few times each summer at the Oak Grove Tavern in Irons. The Oak Grove owners Rick & Wayne host and sponsor the annual Irons Cowboy Weekend. Every year, every Irons party, every Irons bar gig, we beg Steve to come up and join in the fun. 2017 was finally the year that Steve brought his drums to Irons. And it was a great time, even though we had start set-up around 9am, so we could be ready for our noon to 3 show. The Cowboy Weekend (see horse photos on their FB event page

) is nearly a week-long afair, starting with horse trailers, Cowboys, and Cowgirls arriving on Wed night, with rodeo contests, rides, and dinners all day Thu, Fri, Sat, & Sun. On Monday morning the Oak Grove hosts a free "Survivors Breakfast" for anyone who made it the entire long weekend. Last year, Rick the owner at Oak Grove asked Krys, Rick, & Ozzy if we could get the big band to play at the Saturday luncheon, at the halfway point of the Saturday wagon ride. Steve surprisingly said yes, even though it involved taking a busy Saturday off from his store business. Krys, Rick, & Ozzy played the Friday night dinner at the Oak Grove, and after a night of rocking on the patio, we got up early to head out to the halfway point party place, which ended up being our Dorr friends, the Fifelski family. The Fifelski name is well-known in the Dorr area because they own three gas stations, and their grandpa Floyd owned the Sunoco station in Dorr while Steve & Rick were growing up.
Friday Trio on Oak Grove Patio


Sat Halfway Luncheon, Tricks at Fifelski's

---
Sept 9 - Pig Roast for AT Children's Project "Care About Rare" benefit, Monterey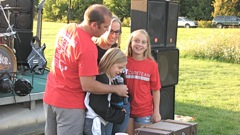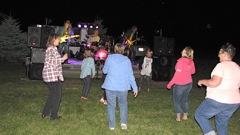 Tara and Charlie Stark put on an annual fundraising pig roast for rare children diseases. They are involved with the "AT Children's Project"

, a non-profit group that raises funds and awareness about Ataxia Telangiectasia. This childhood disease is so rare, our politicians do not share any of the funding, research, or attention that the "big name" diseases get. The AT Children's Project was started in 1993 to raise awareness, money, and hope for a cure. They pound the drum "Care about Rare". Not that the big name diseases don't need our attention, but the lesser known diseases need support because they are never heard of in the mass media. Ever hear of Ataxia Telangiectasia? I know right? Me neither.
That Tricks band had all of August off, so we were really ready to rock. All we did in August were duo shows with KaR Tunes, and trio shows with Ozzy added. But no Steve. It changes everything when we get the real-deal drummer onstage with us.
Tara and Charlie had a raffle for a muzzle-loader, silent auction, 50/50, lots of great food and beverages (3 kegs of beer, including Founders IPA). And they like to have a band. They were still looking for a band at the beginning of August. We got that call from Charlie in the middle of August. Krystal already had train and plane tickets for her annual trip out west to visit gal-pals and do some mountain hiking. Rick told Charlie the situation: "we can do your pig roast benefit with the Tricks Trio, with boys only, but our drummer Steve can't be there until at least 7, because he is busy at Dick's Market on Saturday afternoons." Since Charlie wanted music to start around 6, we told him that we could do some acoustic music with the Ozzy & Rick Show. Charlie said that would be fine; we could have acoustic music for dinner hour, then the Stark family did their speeches, raffles, and all that. That all worked out just great. Rick got there around 1pm to set up, Ozzy came for the 6pm Rick & Ozzy show, Dave and Steve also showed up around 6pm, and Steve was ready to go by 7pm. That was just in time to wait around for the raffles and stuff. We kicked the "Boys Only" Tricks band in gear around 7:45, and ended up playing until just past 11pm.
There were over a hundred people there, but in the pics most people are hanging around the garage area, where the food and kegs were. After the raffles, the crowd dwindled down to the hardcore party people, probably about 30 souls. Still, with half the people hanging out by the kegs, and another 20 hanging with the band and dancing in the grass.
What a great family event. Thanks so much to the Stark family for letting us be party of this worthy cause. We are honored. Thanks to all the friends who donated items for the silent auction and raffle. Thanks to Tom Pratt for taking photos. Maybe next year we'll do this party with Krystal onboard. Too soon to tell.
Here is the wrap-up report from Tara Stark:
"We were able to raise about $4,000 to find a cure for AT. Of the money we were able to raise $.85 on the dollar will go to research and funding. Only $.15 on the dollar goes to administration costs. Steve and Marcia Call donated the Pig. Steve Car, my dad was also the man in charge of roasting the pig. Nora Stark flew up the week before the pig roast to help with preparations. Steve Johnson was a major contributor and set up preparations, tear-down work and many silent auction items. Todd and Kelly Vanvolkenburg were the pig shredding extraordinaires. Each year they arrive a couple hours early to help with getting the food ready. Todd also donated the big ticket item of the grill for the silent auction. Several family and friends were consistent in asking if any help was needed, always willing to lend a hand. Leading up to the event I received countless messages of items people generously donated.
Joe Beaudoin won $190 in the 50/50 and promptly donated it back. Neal Downer One the muzzleloader gun in the card raffle drawing.
It truly takes a village to put on an event like this. We are truly blessed to be surrounded with such amazing people!! We are humbled by the love that was shown!"


---
Blog - July 2017
July 30 - Tricks Wedding Reception for Andrea & Dave, Cheney Place, Grand Rapids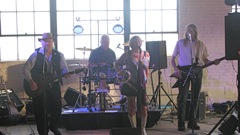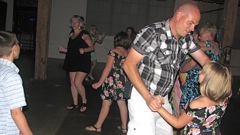 Tricks doesn't play at many weddings. We've done lots of weddings in our long history, but usually only one or two per year. When we get asked to do a wedding we say, "we are not a good wedding band, we are a loud rock band". Then comes the story about how the soon-to-be-wed couple actually met at a Tricks show. Or sometimes they say how many of their earliest dates were at bars where Tricks was playing. Or, sometimes we hear, "our friends are all rockers, so we want a rock band for a wedding". We usually try to talk them out of it by explaining, "your wedding is not just for you and your friends, it's for your family. You need a DeeJay who can play songs that your Aunts and Grandmas can dance to. If the couple is adamant enough about having a Tricks wedding reception, we finally have to say "yes". We won't absolutely refuse, but we do like to explain the shortcomings of having a Tricks wedding. Although, in recent years it has gotten easier for us to bring along mp3 recordings of that DeeJay kind of music. We put that on during our breaks, and everyone can dance to the "Cupid Shuffle", or some other modern version of the "Hokey Pokey" where everyone knows the dance steps.
Andrea works with Krystal, and she was the type to insist on having Tricks for her and Dave's wedding reception. Krystal and Rick also sang for the wedding ceremony which was inside a great old refurbished cabinet factory called "Cheney Place", just north of downtown Grand Rapids. Krystal & Rick had to learn a new song requested by Andrea for the bridal procession - "A Thousand Years" by Christina Perry. Krystal was happy to work on that song, since it is a key song in the Twilight movies. It's the song played during Bella and Edward's wedding. Whether you consider vampire weddings romantic or not, that song is a keeper; we've added it to our KaR Tunes repertoire for good. It really fits our vocal range and acoustic style. We've played "A Thousand Years" at several of our acoustic shows this summer, and the song is extremely popular.
Sunday Wedding Dancing

---
July 29 - Sandy Pines Annual Color Run / Brat Cookout / Tricks Concert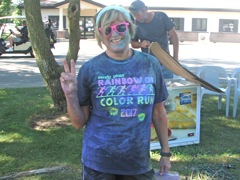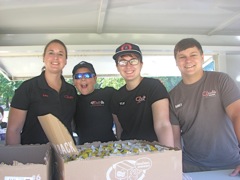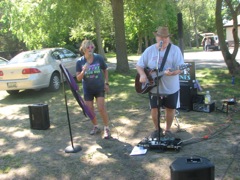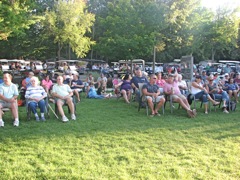 Talk about "Work hard, Play hard"! What a day this was. Almost as busy as the Dorr 4th. At least at Dorr we can partially set up the night before, because their stage can be locked up. Here at Sandy Pines, it's set up, play three hours of Krystal & Rick music, tear down, go home to rest for an hour, come back with the trailer, set up Tricks, play two and half hours, tear down and pack it up. We don't need to belong to a gym; we get some pretty good workouts power-lifting speakers, amps, and so on. The playing and singing in itself are a great aerobics work-out, involving lots of heavy breathing. I read somewhere that lifespan is above average for singers and swimmers - people who get good breathing work-outs. Did I mention that Krystal needed to pack one more thing into her busy day, so she ran the 5K in the morning? That lady is an inspiration to anyone whose motto is "Go, Girl, Go".
Perfect weather this time around. Last year it drizzled rain most of the day and we still had lots of fun. This time the weather was not too hot and no rain. A perfect summer day for the three big events: the annual "Sandy Pines Rainbow of Color Run", Dick's Market Brat Cook-Out with Steve in Charge, and a concert in the park with Tricks. Sandy Pines really does a top-notch job setting up events and activities for all ages, all summer long. Tricks and Dick's Market are glad to be associated with a class act like Sandy Pines Resort. They got it going on there. Such a chill atmosphere. Kids and families enjoying their summer vacation. We love being a small part of it all.
Brat Cookout

|Tricks Show

---
July 4 - Dorr Independence Day Festival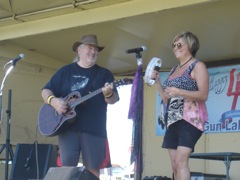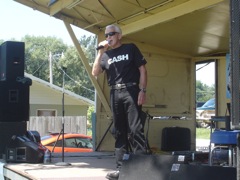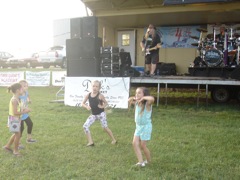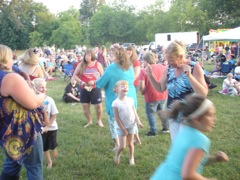 It doesn't get more fun than this. Tricks was just a small part of the Dorr 4th, topping off several days of outdoor festivities. Dorr has always been the place to gather for the 4th of July. Their July 4th celebration was always bigger and better than many of the larger neighboring towns. The dwindling number of volunteer-minded people nowadays have made it a struggle to keep the tradition alive year after year. Deserving huge thanks is the Dorr 4th planning committee, which is made up of members from the Dorr Business Owners Association, The Dorr Moose, and Dorr Recreation Association. The core team is Bob Wagner, Melodie Niemczyk, Mike Devries, and Steve Dutkiewicz. Those four have been pounding the pavement, begging for volunteers and sponors, and organizing all the details since April. For the last two years, Rick Dutkiewicz joined to help with the webpage and facebook. See the Dorr4th.com page

. That eventually led to Krystal helping this year with the Poster design.
Back when Steve & Rick were growing up, we can remember the days when the parade was lots of horses, lots of bicycles, and lots of antique cars. All the local farm boys would saddle up their favorite quarter horse and come to hang out in Dorr all day on the 4th of July. The town organizers had to have a couple guys going around all day with a shovel and barrel, cleaning up the horse poop from the streets. The Dorr parade has always been the longest parade with the shortest route. The length of the parade is probably three miles, yet the route is only a mile and half. So, the first part of the parade is reaching the finish point while the end of the parade isn't even under way. All the joys of small town life.
Part of the fun is the food. The Dorr 4th Ox Roast is legendary. Back in the 60s, on the evening of July 3rd several guys would hoist a few big rounds of beef on a motorized rotating spit. They would stay up all night drinking beer and making sure the beef was turning over the fire properly. Each year there was a demand for more beef rounds to feed the crowds. The July 3rd evening turned into a bigger and bigger party, with live music to accompany the crowd that turned out to watch the meat cooking. Usually there was a Little League baseball tournament during the day. There were game booths set up by local churches and other groups to make money. Most were games of chance, with all ages participating. Of course, there was a beer tent and eventually bingo entered the picture. The food offerings had to expand to feed the growing crowds each year. The Knights of Columbus did a big chicken barbecue, but there were also lemonade stands, and all kinds of fair-type food. Food vendors got into the act, and what used to be just a pony ride merry-go-round for the kids expanded into carnival rides and inflatable bounce-houses for the little ones. All of this has slowed down in the best couple decades. People have so many more choices for entertainment these days, and the bigger problem is finding volunteers willing to donate some of their time and energy to the cause. What cause? Well, the fun time for everyone, of course. But all the proceeds end up going toward the Dorr Youth Sports Teams that are organized by Dorr Recreation Association.
All we can say about this year is that the perfect weather made this 2017 Dorr 4th one of the best we've had in over a decade. One helpful windfall was a last-minute addition of Family Fun Tymes Amusements, who came in with several carnical rides and food booths. You can see other details on the Dorr4th.com website. For now, thanks to all the workers, thanks to the crowds, thanks to our Tricks friends, fans, and families. Thanks to our friend Cal Klokkert from bringing us his Johnny Cash tribute show - Cal, you were a huge hit with the crowd, all ages. Thanks to our friend John Frederick for EmCeeing the Karaoke contest. Thanks to John, Rachael Pasma, and Rick for judging the Karaoke contest. Congratulation to 1st Place $100 winner Alicia Nulty. The call for 2nd place was so close, we had to make it a tie, and we scraped up an extra $50 to pay those 2nd place prizes. Congrats to Mike and Michelle for tying 2nd Place for $50 each. Sorry to Niki, who was excellent, but we didn't have a 3rd place prize. Also sorry to a few other really excellent singers in the Karaoke contest, you know who you are. We had a very hard time judging because there were probably six or seven (out of fifteen entrants) who could have been 1st place.
Thanks to the Founding Fathers who risked their lives to declare independence from British politicians and soldiers. Despite the fact that US politicians and US military try to make July 4 all about them, this is a holiday that is about Freedom from politicians, taxes, and wars. This holiday is not about the founding of the USA, the USA wasn't created until 13 years after the Declaration of Independence. This holiday is about family, friends, community, businesses, individuals, churches, civic groups, etc... How they can come together and have a family-oriented day full of fun and memories. (Rick's words, not Tricks band. My website, I can spout off once in a while.)


|Tom Pratt

---
July 1 - Jam N The Cove, Lake Allegan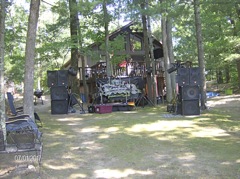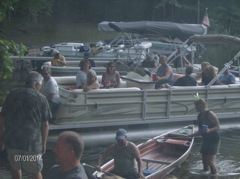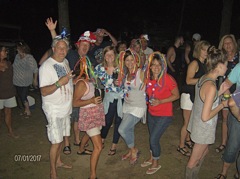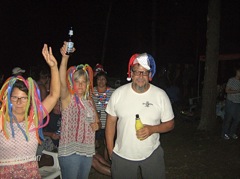 Tricks "Party of the Year 2017" Contender
This one has a long story behind it. Hmm, where do I begin? I'll go to where all the good stories start; in the Tricks history pages. On Dec 5 of 2015, Tricks played a basement Christmas party for Keith & Sheila Dawson, including all of Keith's workers who help him in his contracting work

. That party was such a blast, Keith declared, "we're gonna have to do this two or three times every year, at the very least a summer Tricks party and a winter Tricks party". A year passed, and in Feb of this year, 2017, Rick was at a neighborhood party (we do that a lot here on the lake), and Tim Miller said to Rick, "Keith Dawson says you're teaching him guitar". Rick's answer was, "yes, but Keith and I are so busy, we rarely get together for a guitar lesson". Tim said, "Keith is remodelling my house here on the lake". Rick said, "you tell Keith next time you see him that Rick says he's all talk. It's been over a year since Keith was shooting his mouth off about having two or three Tricks parties every year. And there's no party in sight". With his fingers punching his iPhone, Tim said, "okay, I'm texting Keith right now to tell him Rick says he's a liar". The next morning, Keith called and plans were made for this July 1 party on the cove. Once again, everyone had such a blast, now Keith is making plans for more Tricks parties. We'll see what happens.
Anyway, for this July 1 2017 party, the afternoon featured live music at the favorite get-together spot for Lake Allegan boaters. It's a small patch of sandy beach. Keith invited some acoustic players for the sandbar afternoon festivities, starring the legendary Allegan guit-picker Jack Dailey, along with guitarists John and his son Keith, with Djembe drum accompaniment by Rick's son Jeremy.
The Tricks part of the day started at 8pm. It was balls-to-the-walls, only without the walls. Great job, band! We made sure to do all six of our Rolling Stones songs for Keith, since Keith Dawson is the master party organizer, and one of the biggest Stones fans around - it helps that Keith was born and raised in London, right around the time that the Stones were becoming the big thing in town. Thanks so much to Keith and Tim, and wives Sheila and Sandy, property owner Joe, and all the friends of Keith, Joe, and Tim who helped us lug our gear from the road down to the cove. Thanks to those who were there on Sunday while Krystal and Rick were packing a lugging back up to the road. Thanks to soundman Dave and drummer Steve. And Ozzy, you're the best. Thanks to our regular Tricks fans who came out to our Lake Allegan party. Thanks to our party neighbors from Indian Shores and Nethercutt Pointe, as well as those mysterious people from "across the lake". Thanks to all the Tricks virgins who got a great first taste of Tricks "Premium Rock". We are already talking plans for next year's Jam N The Cove.
Fun on Lake Allegan

---

to Early 2017


to Early 2018
Tricksband.com website was started in March 2004.
Rick is webmaster, with graphics help from Krystal.

If you'd like to be informed of updates to the site, as well as any upcoming party information.


Tricks News Only! - No Spam!

Comments? Clichés? Conversation? Chatter? Cr-r-r-riticism?
Send Tricks an E-mail

Tricks is on

- Be a fan!
Share comments, messages, or pictures with the entire Tricks family.
Remember, Tricks loves you!
" There's Good Rockin' Tonight "