---
TricksBlog - May 2017
May 19 & 20 - AJ's in Dorr


This weekend was a good illustration of the principle of dualism. Opposite extremes. We had about 15 people at AJ's on Friday, and we had a good 50 people on Saturday. Friday's small crowd seemed to be trying harder just because they knew they were the die-hard party people. Saturday we had a full bar right from the start, and no drummer for first set. Steve was at the hospital dealing with the birth of his fifth grandchild. It's a boy!. Steve showed up after the Tricks Trio did an all-acoustic set without him, not knowing exactly when he would walk in the door. We kept apoligizing to the full house, "sorry, our drummer is helping his daughter have a baby" and so on. When Steve finally walked in the door around 10pm, the place eruprted into applause. Steve said, "it made me feel bad and good at the same time". He knew he was sorely missed. So, we spent the next 3 hours making up for lost time, and the dance floor showed it. Very awesome night. Possibly best bar night of the year. Thanks to Amanda and Ernie and the AJ's staff for the great work taking care of our rowdy Tricks crowds.
Fri

| Sat

---
May 5 & 6 - Wayland Hotel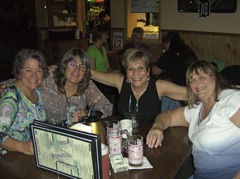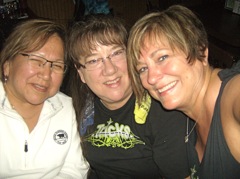 Our camera is getting worse for the wear, lots of rock n roll miles on that thing. We couldn't get the camera working on Friday night. So, we only have pics from Saturday. If you were there Friday, sorry there's no evidence. Both Friday and Saturday were good nights at the good old Wayland Hotel - our "best sounding drum room" - we can't say it enough. The only bar I can think of that comes close to sounding this good is the Otsego M89 bar, and we haven't been there in over a year because they get great crowds with the country bands - more power to 'em. Thanks to everyone who came out to party with us at Wayland. See you in the fall. No bands here during the summer months. Thanks to Josh for keeping up the live music. Thanks to the good-looking staff for your hard work.
Hotel

---
TricksBlog - Mar 2017
Mar 31 & Apr 1 - AJ's in Dorr


Meanwhile, back at home base. This is our hometown bar, and it was a wild & crazy Tricks crowd both Friday and Saturday. We thought that Friday had such a head-banging dance floor, there was no way that Saturday would reach that level, even if there was a bigger crowd. Well, the old saying is "you can't figure people". It turns out that most of the dancers from Friday night returned for Saturday night's show, and that added up to a mostly full bar on Saturday night. And a mostly full dance floor - all night long! We knew that Friday would be a good dancing night, because our favorite "formal" dancers, Lance & Beverly were there to show how it's done. I love seeing that trained dancing. It's a special thing. And then, much to our surprise and wondering eyes, here comes another surprise for Saturday. I never heard the story, but I'm guessing that April Fools Day inspired a bunch of our friends to dress up, almost Halloween style. It looked like a mock wedding, with everyone in faux formal wear. Thanks to Debbie & Art, Rhonda & Todd, and the entire gang for making our April Fool's Day! What a hoot! I'm still smiling.
Thanks to the Owners, Amanda & Ernie for keeping live rock n roll alive in downtown Dorr. Great food as well. Thanks to the AJ's staff. Thanks to Tom for photos. Thanks to everyone who drove a distance to bring their party to our Tricks show. Last but not least, THANK YOU DANCERS! It's a thing of beautry when the band is bouncing and banging, and the dance floor is right in sync with us, matching head-bang for head-bang. We love you guys.
Fri

| Sat

---
Mar 10 & 11 - Wayland Hotel, Coming Out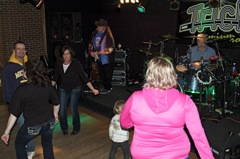 And we're off! Out of the basement and ready for our musical adventures in 2017. Steve says: "... ringing ears and sore muscles from a totally satisfying weekend at the Hotel. Friday night was great to see all our old friends come down. Sat.- so cool to connect with strangers that really had a good time with us all night long. Best ever coming out weekend!"
It was a Tricks insider crowd on Friday, and Saturday was mostly people we don't know. Surprisingly, we had better dance floor action on Saturday. Our new song material also was better on Saturday, after a good warm-up on Friday. That Spirit song "I Got A Line On You" is really kick-ass. We really like the few new songs we added this winter break, but the big thing is the neglected songs we brought back into action. Steve really kicked out the jams on Metallica "King Nothing". And we were all happy with the way Krystal's Adele song is turning out - "One And Only" - a real dramatic love song. Almost like a rock anthem.
Fri

| Sat

---

to Late 2016


to Late 2017

Tricksband.com website was started in March 2004.
Rick is webmaster, with graphics help from Krystal.

If you'd like to be informed of updates to the site, as well as any upcoming party information.


Tricks News Only! - No Spam!

Comments? Clichés? Conversation? Chatter? Cr-r-r-riticism?
Send Tricks an E-mail

Tricks is on

- Be a fan!
Share comments, messages, or pictures with the entire Tricks family.
Remember, Tricks loves you!
" There's Good Rockin' Tonight "