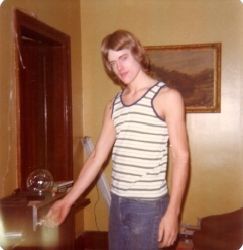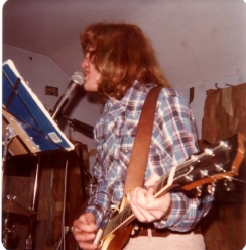 Steve at his Hopkins house, 1980 ...Vico plays bass & sings in Steve's Attic ... Rick works with Vico, Romiro, & Steve
January, 1979 - (Vico and Romiro in the Attic)
We are working on some great material for the new band. We've got "Hotel California" by The Eagles, "The Cowboy Song" by Thin Lizzy, and lots of fun and popular songs. But by the third week of January our happy little musical world is turned upside down; Vico announces that he's sick of the weather here in Michigan, and he wants to go back and live in Brownsville, Texas. Romiro doesn't sound too anxious to go on with Steve and Rick, so it's back to square one. We need a bass player.
(Vico's move to Brownville never worked out, and Vico & Romiro went on to form the "Quarter Band", "Bad Neighbors", and more recently, "All In")
February, 1979 - (Songwriting in the attic)
Steve and Rick have gone back to writing original material while searching for a bass player. Bill seems to be out of the picture, now that he's a dad and all that. We finally have a whole song, with a beginning, middle and end. It's called "So Simple". It is designed to be a good dance song, with fun words and good rockin' beat. We have 2 other whole instrumentals that are in need of words; "Can't Stop Dancing" and "Later That Night".
Still searching for a bass player.
April 9,, 1979 - (Yes Concert)
All the Tricks gang goes to the Yes concert. One of our favorite progressive rock bands.
May, 1979 - (Bob Bliss)
Steve and Rick have been doing a little jamming with a bass player named Jerry Mickam. We also have found a very talented guitarist / keyboardist / singer named Bob Bliss. It seems almost too good to be true.
June 2, 1979 - Rick, "The Wedding Singer"
Rick sings at Rob's wedding. Rick's "Wedding Singer" tradition will continue for many years.
June 9, 1979 - Rick, "The Wedding Singer"
Rick sings at Janine's wedding.
June 16, 1979 - (Swan Creek Party, Krystal's 19th B-Day)
Good news! Krystal is having a NORML party, for her 19th birthday, at her and Nancy's place, just west of Allegan. It's a huge party, with the Swan Creek band as the main event. Bob Bliss and Rick and Steve all take turns jamming with the Swan Creek Band.
Bad News! Bob Bliss is joining Straight Light, Bill Roelof's and Brent McDonald's awesome band.
More bad news! Jerry's bass is stolen, so he's out of commission until he gets a new ax.
June 22, 1979 - Rick, "The Wedding Singer"
Rick sings at Annie Modreski's wedding.
June 23, 1979 - Rick, "The Wedding Singer"
Rick sings at Rob & Karen's wedding.
June 30, 1979 - Rick, "The Wedding Singer"
Rick sings at somebody's wedding.
August, 1979 - (On and on it goes)
Jerry Machan is discontinued.
Rick makes an abortive attempt at replacing Kurt as Swan Creek's 2nd guitarist, with Greg Howard as lead guitar. There are too many differences in musical taste.
August 4, 1979 - (Swan Creek party)
Swan Creek has a big jam party in the woods just east of Fennville. It's a great wild party in the middle of nowhere. Someone just mowed down a clearing in the middle of the woods, and everyone has to drive back on an improvised 2-track path. Rick helps with equipment and running sound, and he gets up to play in place of Kurt for a few songs.
August 11, 1979 - Rick, "The Wedding Singer"
Rick sings at Sam's wedding.
August 31, 1979 - Rick, "The Wedding Singer"
Rick sings at Mike's wedding.
September, 1979 - (More with the Swan Creek stuff)
After their drummer gets busted and leaves town, running from the law, Rick tries again to get it together with Tom Huitt and Greg Howard.
This time we are jamming with Steve on the drumkit. Once again, Steve and Rick are more into the English Rock and progressive rock, while the Swan Creek boys are into blues, southern rock, and original songs.
Swan Creek members Greg Howard and Tom Huitt will have a future stint with the Tricks band. Tom is Tricks' bassist/vocalist 1991 thru 1993. Greg is guitarist/vocalist with Tricks for all of 1999.
October, 1979 - (Dale . . . who?)
Jamming in Steve's attic with Steve Foster and Gary Penoche.
We had hopes about contacting Dale Boysen about joining with Rick and Steve. Dale is one of the 2 great guitarists (along with Darl Lane) in the legendary Allegan band, recently dissolved, "Opus".
Krystal knows Dales wife, Peggy, and is trying to help Rick and Steve hook up with Dale. But we've just heard that Dale will be forming a new band with Tom Huitt, Greg Howard, and ex-Opus drummer Greg Goodsel. Dang the luck! Curses!
October 20, 1979 - Rick, "The Wedding Singer"
Rick sings at Mary's wedding.
November, 1979 - (Bill is back)
Tom Huitt has moved to Cincinnati, Ohio. Ah ha! That might make Dale available again. We're trying to arrange a meeting with Dale.
Bill Romanowski is back, playing bass with Steve and Rick in the attic. We are working on mostly obscure songs that are fun to play. Steve buys a Pearl "Vari-Pitch" Drumset, with drumheads that turn like roto-tom heads to change the pitch of the drum in mid-stream. Cool!
November 20, 1979 - Rick, "The Wedding Singer"
Rick sings at Mary's wedding.
November 24, 1979 - (Rick's first Nightwind gig, Meyer Banquet Room in Walker)
Rick is hired by Wayland music teacher Jan Evans, to play guitar for her gradeschool's 1st and 2nd grade music show.
Jan and her husband Forrest have a wedding band named Nightwind, and they need a guitar player who can sing. Rick joins Nightwind to make money, but keeps working on the Tricks band project with Bill and Steve.
Nightwind is a 6-piece band formed around the Evans brothers, bassist Steve and Keyboardist Forrest, who also plays trombone, flute and trumpet. Their father Bob plays trumpet. Jan doubles on keyboards when Forrest doesn't have enough hands, and she also plays French Horn, and the drummer is Vito (the only non-Evans other than Rick). Rick plays guitar of course, and everyone sings.
Nightwind plays everything: big-band standards like "In The Mood", "Mac The Knife", and "Misty", Motown hits like "I'm A Soul Man" (a huge favorite, with 3-piece horn section in cheap sunglasses), and modern songs by Alan Parsons, Chicago, Doobie Brothers, REO Speedwagon, Pat Benatar, Jackson Brown, and Genesis. And, yes, a few polkas. Nightwind is always a big hit with young and old because of their vast crowd-pleasing repertoire.
December 23, 1979 - Todd Rundgren's Utopia in Lansing
The whole gang goes to see Utopia in Lansing. A huge favorite of Rick, Steve, and Bill Romanowski. Utopia's perfomance consists mostly of songs from the "Oops, Wrong Planet" and "Ra" albums.
December 29, 1979 - Todd Rundgren's Utopia at Granada Auditorium in Chicago
Did I mention that Todd is an important influence on the Tricks band?
On to 1980
Back to 1978
Back to Timeline