Tricks History 1989
January 6, 7, 1989 - Tricks at Stan's in Dorr
January 13, 14, 1989 - Tricks at Stan's in Dorr
January 20, 21, 1989 - Tricks at Stan's in Dorr
January 24, 1989 - Kansas concert with Steve Morse on guitar
March 9, 10, 11, 1989 - Tricks at the Family Tavern in Caledonia
April 7, 8, 1989 - Tricks at Stan's in Dorr
April 14, 15, 1989 - Tricks at Stan's in Dorr
April 21, 22, 1989 - Tricks at Stan's in Dorr
April 28, 1989 - Tricks Billings Party in Dorr??
May12, 13 , 1989 - Tricks at the Family Tavern in Caledonia
May 19, 20, 1989 - Tricks at the Family Tavern in Caledonia
June 10, 1989 - Tricks plays for a wedding reception in Paw Paw, for Eric and Nyan
August 15, 1989 - Todd Rundgren concert at Club Eastbrook
September 10, 1989 - Rick sings in a quartet
Rick sings in tuxedo, with nice short hair thanks to Marsha Halloran, for the Miss Allegan County Pageant. Marsha is the Deli manager at Dick's Market, where Rick is working since losing his job at Dean Foods in Wayland.
RICK COMMENTS: Marsha came back into the meat room one day and said, "Rick, can you sing". "Yes I can sing". "No, I mean sing a part, like in a quartet". "Yes, I can sing harmony parts. I sang in the St. Joseph's Seminary choir for 4 years, and I sang in the St. Mary's New Salem choir for about 4 years". Marsha went on, "will you cut your hair"? "Um, I already got it cut to work in Steve's meat department". "No, I mean a real haircut". I answered, "sure, I can get a real haircut". The funny thing is, after going for my second hair cut in a month's time, Marsha is not satisfied because my hair is still half covering my ears. She then paid me to go to "her" hair sylist in the upscale Gaslight Village in Grand Rapids. Only then was Marsha finally satisfied, and I was allowed to sing for free at the beauty pageant. It was really fun, but I hate having short hair. It feels so unnatural.
September 23, 1989 - Tricks has a jam party at Steve's, for Tammy's birthday.
We invite all the Opus friends and Science Project friends to come and jam in Steve's basement on a Saturday night. Very small party, but very fun. Fred Gibson was there with Darl Lane, a.k.a. "Brillo And Benny" - very good musicians and fun people.
October 2, 1989 - Rick starts his new job at Trendway in Holland.

October 6, 7, 1989 - Tricks at Stan's in Dorr
October 13, 14, 1989 - Tricks at Stan's in Dorr
October 20, 21, 1989 - Tricks at Stan's in Dorr
October 27, 28, 1989 - Tricks at Stan's in Dorr
Big Halloween party on Saturday night, the 28th
|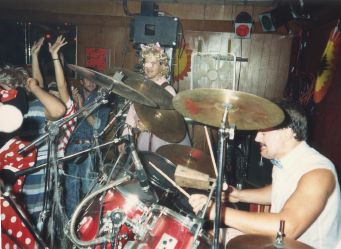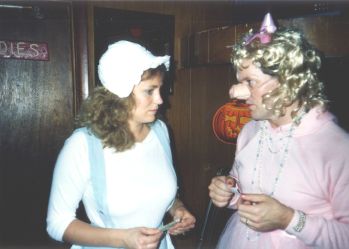 |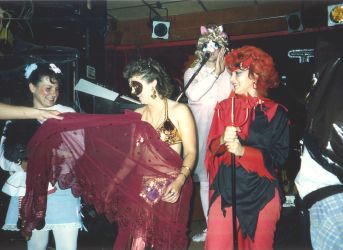 |
|
|
|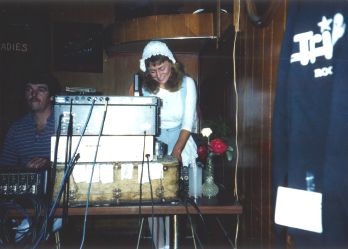 |
|
|
November 13, 1989 - It Bites concert in Grand Rapids
On to 1990