Tricks History 2001
Tricks 2001 was Rick, Steve, Rich, Krys (with Dave Lopez on sound)
Jan 3 thru Feb 26 - TRICKS in Steve & Tammy's Basement
Jan 13 - Rick & Krys & Rich Jamming with the Weideman Family Band at the Morning Star Breakfast Cafe in Grand Haven. Here's the songs we had to offer:

Operator
Save Tonight
Closer To Fine
Wild Night
Mr. Jones
Landslide
Romeo & Juliet
I'm Just A Girl
Fire & Rain
With Richie:
It's Your Love
Lack Of Water
Why Pt. II
Espresso
Mar 2 & 3 - Stan's in Dorr
Mar 9 & 10 - Stan's in Dorr
Mar 16 & 17 - Stan's in Dorr

April 7 - TRICKS Party - Surprise Birthday Party at Craig's Barn for Liz Weidner

April 13 & 14 - Daisy Mae's, Gun Lake
April 20 & 21 - Daisy Mae's, Gun Lake
April 27 & 28 - Daisy Mae's, Gun Lake
May 4 & 5 - Daisy Mae's, Gun Lake
May 12 - TRICKS-LITE Todd Langley Wedding Reception / Barn Party
June 3, Sunday - TRICKS-LITE plays Steve's backyard for Erica's Grad Party

June 9 - Rick & Krys sing for Lisa's outdoor Wedding ceremony / Fennville
June 16 - TRICKS-LITE plays for Stacy & Eric at St. Mary's / Visitation Hall in New Salem.
Krys, Ann, and Rick sing for the outdoor ceremony in Lain's backyard, under the big willow tree.
June 29 & 30 - Stan's in Dorr
July 4, Wed - Stan's in Dorr
July 6 & 7 - Stan's in Dorr
July 13 & 14 - Stan's in Dorr
July - Les Paul paint job #3. When Rick bought his Les Paul in 1976 it was brand new and it was gold metal-flake. In 1980 Dale stripped the gold paint off and clear-coated it for a natural wood look. After 20 years of love and abuse, the wood look was looking pretty chipped up, so Rick took his Les Paul to Dale with an idea for a paint job. - The idea was to have a unique look - a black to white sunburst, with white on the inside bursting to black on the edges. Dale said that grey would work better than white, so Dale ordered the paint. After the paint was dry and Dale was about to begin applying several layers of clearcoat over several days, Dale called Rick over to his house for a look. See photo below for what the freshly-painted Les Paul looked like. Rick was nothing but happy, and Dale was relieved because neither of us realized that the deep indigo pigment contained in the black paint would show up as the "burst" faded more and more lightly into the grey color. Actually, it was the other way around; Dale painted the entire thing grey, and then did the tricky black paint all around the edges. Whatever, it turned out beautifully. The border areas between the dark and light paint showed up radically different in different lighting. Anyway, here's the 2001 Les Paul paint job:


Below are several views showing the different faces of Rick's 1974 Les Paul.
The silver paint is like a mirror, reflecting the blue sky;
but the colors are intriguing under man-made lights as well!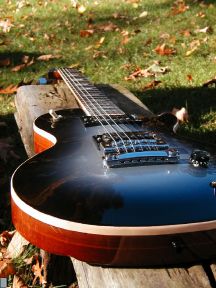 Aug 11 - Rick & Richie go to see Eric Burdon and the New Animals at the South Haven Blueberry Festival - the band features Dave Meros, bassist from Spock's Beard. They also had the INXS guitarist, keyboardist from Meatloaf, and drummer from Edgar Winter Group. Great time; Eric Burdon is a great singer / songwriter, blues man.
Aug 25 - Rick, Krys, & Rich play for Sue and Jim's deck party at their lake cottage on Pine Lake.
Sep 7 & 8 - Daisy Mae's, Gun Lake
Sep 14 & 15 - Daisy Mae's, Gun Lake

Sep 22 - American Legion / Tammy Birthday Party
Sep 28 - Huge Dutkiewicz family party at St. Stan's Hall in honor of Dick & Rusty's 50th Wedding anniversary.
No Tricks, just lots of kudos to the progenitors of the Dutkiewicz empire.
Oct 5 - Tricks plays at James & Joanne's wedding reception at St. Mary's/Visitation Hall in New Salem. Tricks manages to pull off the "Wedding Band" gig by bringing CD's to play the Hokey Pokey, The Macarena, and slow songs for the dollar dance. It was a huge, huge party!!
Here's the set list from that night (the ?? songs were songs that were alternates because they weren't bride and groom favorites):

SET 1
Save Tonight
Wild Night
I'm Outta Here
It's Yo Love
Honky??
Little Miss
Gel
Talk Too Much
Hey Baby
SET 2
Fire&Rain
Semi-Charmed
Rock Me Right
Don't Impress Me Much
Play Guitar>
Sweet Emotion>
Train Kept Rollin
I'm Only One
Authority>
Domino
Allright??

SET 3
Sugar Mice ??
Mas ??
We Will Rock>
Fat Bottom>
Tie ??
Brown Sugar??>
Ballroom>
Hit Me
Low Rider
Why Pt. II >
Lips and Hips
SET4
Everything
Swingtown ?? >
EverybodyWants>
She Goes Down
Magic Carpet>
Play Funky
Crazy Train
Rock Candy
Won't Get Fooled
Romeo
Smoke
Oct 26 & 27 - Stan's in Dorr - Halloween Party on Saturday, the 27th. Halloween parties are never as good when Halloween falls in the middle of the week like this year.
Nov 2 & 3 - Stan's in Dorr
Nov 9 & 10 - Stan's in Dorr
Nov 16 & 17 - Stan's in Dorr
Nov 21, Wed - Stan's in Dorr
Nov 23 & 24 - Stan's in Dorr
Nov 30 & Dec 1 - Stan's in Dorr
Dec 7 & 8 - Stan's in Dorr
Rick comment: "It breaks all of our Tricks rules to play so many weekends in a row at one place. But there were a couple band cancellations, and the crowds were awesome, so we just kept going. This string of weekends at Stan's goes in the Tricks record books as the "most consecutive weekends in a row at one venue, ever". 7 weekends in a row, and the crowds just kept packing in. So much for that theory about wearing out your welcome".
Dec 31 - TRICKS New Year's Party at the Bowling Alley in Dorr
On to 2002
Back to 2000
Back to Timeline