December 2005
Dec 30 & 31 - BYE BYE 2005 - Hello 2006
Sidetrack Bar & Grill - Fennville, Michigan -Weekend 1 of 2 -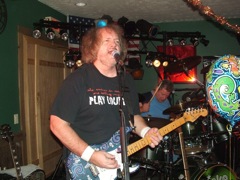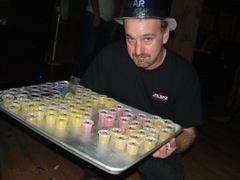 Friday night was "Get the Guitar Player Drunk" night. Rick was celebrating his birthday. And it was a rare thing to see: Rick getting plastered, while on the job. Extremely unprofessional! It's a sight you're unlikely to see again in this lifetime. 'Nuff said about that.
Saturday was Sue and Dan's great New Year's Eve 2006 Party. A Good Time was had by all! Thanks to Side Track's friendly staff. Great food, great drinks, sober guitar player, lots of friends and family to ring in New Year 2006.
Thanks for being there everybody!
We have lots of great pictures: -
Fri

Sat NEW YEAR'S EVE

---
December 16 & 17 - C&C Country Lanes in Dorr, Michigan - Weekend 2 of 2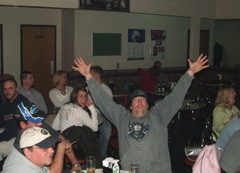 Tricks braved the ice and snow to rock hard at the Country Lanes in Dorr. This is why we don't play much during the winter time. It's just too dang cold to be hauling musical instruments, speakers, and electronics over snowbanks and ice. On both Friday night and Saturday night, the band was hot and the crowd was very fun. It's good to be back in Dorr, . . . Tricks Country! We had some snowmobilers, some bowlers, some crazy dancers, some head-banging rockers, - all friendly partyin' people. Lots of fun. You had to be here.
Check out these pictures!


---
December 9 & 10 - C&C Country Lanes in Dorr, Michigan - Weekend 1 of 2


Tricks is back in town - Dorr town that is. In the middle of snow and ice and cold, we found a way to keep nice a cozy warm: drinking & dancing with Tricks while partying with friends at the Lanes. Thanks to Boyd and his staff for doing a great job. We appreciate the home-town fun atmosphere. Steve and Rick are Dorr natives, and it's good to see lots of good old Tricks friends from way back. As you'll see from the pictures, there were plenty of young, new Tricks fans having a great time as well. Thanks for coming! See you again soon! Special thanks to Tricks' family and friends - Tricks wouldn't have much fun without you making the effort to get off the couch to travel a little to party a lot, and have fun with Tricks. You know who you are. Thanks!!
We love ya, man!


---
December 4 - Darbor's in Mason, Michigan - Christmas Party


Tricks Lite gig in Mason, just south of Lansing. Rick, Krystal, and Tim with his new Fretless Bass.
Harold and Marge Darbor really know how to throw a party. This was their annual Christmas Bash for employees at the two bars that they own. The people came ready to party on a Sunday night, since that's their night off. There was Tricks Lite for live music, hired bartenders for mixing it up, hired "exotic" servers, tons of fabulous food, and "Secret Santa" presents for all. Marge and John's special decorating talents created a festive mood. A good time was had by all. Thanks to Harold and Marge for having Tricks Lite as part of their special event. Check out the pictures to see the hot happenings from a cold December Sunday night in Mason.


---
November 2005
November 25 & 26 - Wayland Hotel - Weekend 3 of 3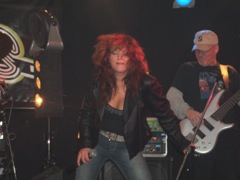 Tricks had one final fling at the Wayland Hotel for 2005. It's been fun getting Tim back up to speed for the past 3 weekends. Good job, Tim! Way to go! And what a bunch of fun party people at the Hotel! Miles of smiles all around. Just go and check out the pictures to see what I mean. And we can't say enough good things about Mary Kay and her crew - These gals know how to serve it up properly - Great food, great drinks, great fun! Thanks so much. Our best nights of 2005 have been at the Wayland Hotel.
Saturday was a special night: it was Kari's birthday, so we partied extra hardy in Kari's honor.
It was also Tricks drummer Steve's birthday, so it was "get the drummer drunk" night:
See the empty shot glasses scattered around his drums at the end of the night on Saturday.


---
November 23, Thanksgiving Eve - Wayland Hotel Special Holiday Party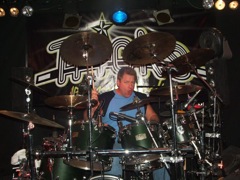 We shoulda known better. The Wayland Hotel came through with another extraordinary night: Fantastic Crowd, the food is always great, the band was full of holiday cheer, the service from Mary Kay and her friendly, hardworking staff is something to be Thankful for. Tricks started early because Mary Kay predicted the crowd would be going home early, but I guess The Boss isn't always right. The party people wanted to drink and dance all night long; they stayed until closing time. Tricks is Thankful for all of our special friends and fans who come out on a regular basis to party with Tricks. We also give thanks for all those Tricks fans from way back who come up and tell us their memories of Tricks Parties from the past. Last, but certainly not least, Tricks Thanks the guys and gals who are new to the whole Tricks Party scene. Welcome to the Tricks Gang, we love you all. Thank You Dancers!!!


---
November 18 & 19 - Wayland Hotel - Weekend 2 of 3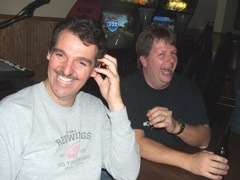 I have two words for this Saturday night: "Extraordinary" and "Holy Crap".
Okay, "Holy Crap" isn't really one word, but that's what we were all thinking, crowd and band alike. Saturday was an extraordinary night for everyone at the Wayland Hotel. What a good time we all had. Thanks to all from Tricks. It's really good to have an amazing night once in a while. Thanks to Mary Kay and her hard-working staff. Thanks girls!
Friday was actually a great night. The band was in the pocket - Tight. The big Friday crowd was dancing all night. But then came Saturday to blow us all away with wall-to-wall fun. The crowd outperformed the band. Tricks could barely keep up with the dancers packing the dance floor, screaming and head-banging. I mean, Holy Crap! Saturday gets our "Best Night of Year" award, hands down. Thanks for being there. Tricks has one more big Thanksgiving Weekend; We'll see what happens. Don't forget The Big Wednesday night, Thanksgiving Eve. See ya, Love ya!
See the Pictures -

---
November 11 & 12 - Wayland Hotel - Weekend 1 of 3


Tricks is glad to be back to normal with the return of the great and infamous Tim Clifford to his bass playing duties. Tim has been recuperating from heart surgery for the past 5 weeks. As part of his rehabilitation, the doctors and nurses insist that Tim should get a good dose of Rockin' and Rollin' on the weekends. Tricks friends and fans came out this weekend to welcome Tim back to Action - Thump That Bad Bass! (See pictures for verification - I only speak the truth, honest!) Friday was wild and Saturday was wilderest! Talk about lots of dancers and head bangers having a great time, let me tell ya, . . . well, . . . see for yourself. Great nights at the Wayland Hotel. Thanks dancers!
-

---
November 5 - Dorr American Legion Harvest Party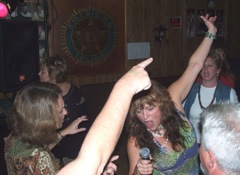 It's the 7th Annual Dorr American Legion Pig-Roast/Dance - a tradition for the first Saturday of every November. Eat! Drink! Be Merry! That was the theme of the festive night with Tricks and friends. The food was great. The drinks were just right. The band was having fun with Richie driving the Bass Guitar. The crowd was in a dancing mood - that makes it fun for all. Tricks thanks the Legion workers for putting on a great party. You're the best! We're honored and happy to help out such a great group of people. Special Thanks to Richie for stepping up to help out when we needed him most. We love ya!
-

---
October 2005
October 2005 - Tim's Heart Hiatus
While Bass Man Tim is recovering from heart surgery,
Tricks stayed completely away from making music.
RIGHT! Like you believe that line.

October 8 in Atlanta -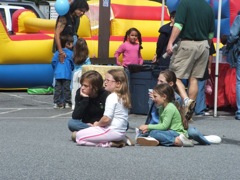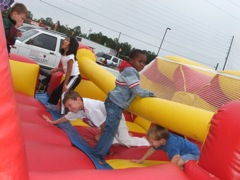 Rick & Krys played at a Street Fair in Atlanta -
Rick's daughter Stacy lives near Atlanta with her husband and two boys.
This street fair was put on by the mini-mall where Stacy works as office manager at an Chiropractic clinic.


October 22 - Tom Huitt -


Musical Friends of Tom Huitt gathered for a Memorial Party/Jam -
We all joined in mourning for our friend Tom Huitt, one of the best bass player to ever come out of Allegan. Among others, there were many former Tricks members and people who had played in bands with Tom.
Tom was a member of Tricks in 1992 & 1993, the years we fondly remember as "Tricks - The Next Generation" -
we thought of it as the next generation of Tricks because we were taking on a keyboard player, and we thought that, in Steve's words, "we'll be able to do any song we want". It didn't really turn out that way, but we had some great fun with Tom with Tom as Tricks bass man.
Tom actually was Krystal's boyfriend back in her highschool years. And Tom was a member of the great Allegan band "Swan Creek" back in the 70's. After Swan Creek's drummer left town in the late 70's, Rick & Steve did a couple auditions with Swan Creek alumni Greg Howard and Tom Huitt. I don't exactly recall why that didn't take off.
But, regardless, we had a fantastic memorial party for Tom with dozens of great musicians, Tom would have wanted it that way, for sure.


October 29 - Darbs Halloween, Mason, Michigan-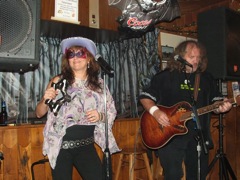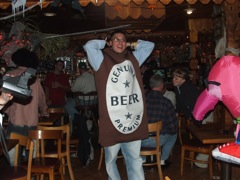 Rick & Krys played for a Halloween Party at Darbs Tavern in Mason.
Our friend Marge runs this tavern with her husband. It's just 10 miles south of Lansing.
What a blast - check out the pics.


---
September 2005
September 23 & 24 - Stan's in Dorr, Michigan - Weekend 2 of 2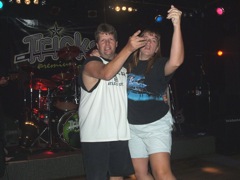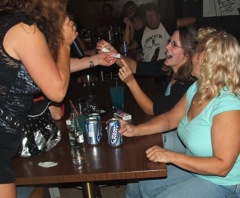 Tricks played host to a few birthday parties. Happy Birthday to you, Happy Birthday to you! There were plenty of smiles going around. The dancers were keeping pace with Tricks, hair was flying, feet were hopping - lots of fancy dancers letting it loose. Thanks to everyone for joining in the big fun time at Stan's. Special thanks to our close friends and family - Tricks Inner Circle and all that - you know who you are!

---
September 16 & 17 - Stan's in Dorr, Michigan - Weekend 1 of 2


With another nice September weekend on tap, Tricks gets back into the Stan's scene. The original "In-Dorr Rock And Roll Bar", with the proper attitude for letting your hair down and head-banging until the cows come home. Like usual, Tricks had some loyal friends and fans show up for serious drinking and dancing activities. We were happy to see sister Margi along with Dave and Jacob. It was also an extra special treat to have Tricks veteran and guitar-doctor Dale Boysen drop in to see us - obviously making a house call to see how Rick is treating his 6-stringed patients. We also had some young Tricks virgins who told us that they "haven't heard such a great cover band in a long, long time". That's why we do the hard work. Thanks for coming out y'all. Hope to see you again soon.


---
to Mid 2005

to Early 2006
Tricksband.com website was started in March 2004.
Rick is webmaster, with graphics help from Krystal.

If you'd like to be informed of updates to the site, as well as any upcoming party information.
Sign up for Tricks e-mail News - No Spam, we promise.



Comments? Clichés? Conversation? Chatter? Cr-r-r-riticism?
Send Tricks an E-mail

Tricks is on - Be a fan!
Share comments, messages, or pictures with the entire Tricks family.
Remember, Tricks loves you!
" There's Good Rockin' Tonight "