TricksBlog - April 2012
Apr 13 & 14 - Hilliards Corner Lounge - Weekend 2 of 2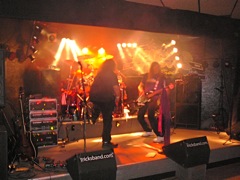 Tricks blow-out weekend was a roller coaster ride. Friday was very slow, with only about a dozen die-hard Tricks fans there to keep us on our toes. I thought the band was better on Friday night. We seem to get more focused without a bunch of fun distractions on the dance floor. Not that I'm complaining. Saturday had a very good crowd and a packed dance floor all night long. We had travelers from Holland, Allegan, Hudsonville, and Grandville. Both nights were fun, that's for sure. We had no Roger this weekend, so not lots of pictures. Roger is in Florida right now. We miss Roger's assistance. Some times you don't know what you got until it's gone.
This weekend's highlight was special birthdays in da house. Eric the owner turned 30. Yes, 30! What a pup. I'm sure he feels older now that he went over that 3-0 hill. We always like to say that Eric is the best-looking bar owner that Tricks works for. That won't last forever. But remember; You're only as young as you ROCK!
This week was also Ozzy's birthday. We tried to make him drink, but he likes to "party responsibly" while he's driving the bass. So we had to get high on the music. And that was a good time for all. Lots of great dancing action. I hear some people wore out their new shoes, or at least broke them in well.
Thanks to the wait staff. Thanks to Eric. We love you guys. Hilliards is the heart of Tricks Country. And you really get that feeling from the crowd, young and old alike. Many youngsters at the Hilliards Corner Lounge come up and tell us that their folks were big Tricks fans from way back. Now THAT really makes me feel old. Thanks a lot! Seriously, we appreciate your support for local LIVE music. It's always better when it's live. Thanks to everyone who drove from far away to party with Tricks. But most of all: Thanks Dancers!! We pick and choose our song lists with you dancers in mind. I hope you know that. We love to see you dancing with us.
Fri

|Sat

---
Apr 6 & 7 - Hilliards Corner Lounge - Weekend 1 of 2


Tricks had an unusually lively Friday night at the Corner. I don't know what got into people, but we had some people here on a mission to have some fun on a Friday night. There were actually more people there on Friday and on Saturday, which doesn't happen very often. But, both nights had a lively and responsive bunch of party people, with plenty of dancers all night long. It seems like people have as much fun dancing and head-banging on the dance floor as we have dancing and head-banging on the stage. We had some serious rug-cutting moves going on down at the corner in Hilliards. I also think the band was better on Friday, but maybe it depends where you were sitting or standing. Sometimes it sounds great out front, but unbalanced on stage. And sometimes vice versa. That's the intrigue of live music. It has power that enhances the dynamics of loud parts and soft parts. I like it.
Thanks to everyone for coming out, especiall those who drove all the way from Allegan, Hudsonville, or GR. You know who you are. Good to see a few long-lost friends who showed up to party with the Tricks band. We appreciate your suppport for local music. We try harder! And special thanks to Eric and his staff. Thanks for putting up with us. Thanks for keeping the party going no matter what strange Tricks fans show up with their rock and roll attitudes.
Fri

|Sat

---
TricksBlog - March 2012
Mar 16 & 17 - Wayland Hotel in Wayland - Weekend 3 of 3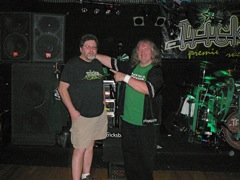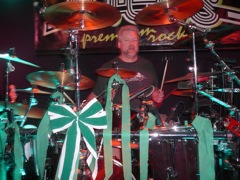 Tricks closed out our 3rd weekend of 3-in-a-row with a bang. Saturday was St Patty's Day, and the crowds came out in green, drinking green beer and green shots. Friday was very slow, as everyone stayed home to save their strength for the big blow-out on Saturday. You might notice that the Friday pictures are mostly of the band, because that's mostly who was there at the bar. Thanks to Char & Carol and friends for coming out to party with Tricks on both Friday and Saturday (and also Sunday with Rick at Hilliards for dinner time acoustic jams) - now that's dedication! We appreciate that kind of support for your local starving musicians.
But then came Saturday night. The St Patty's Day party people were really decked out and ready to drink and dance the night away. I'm not sure how much corned beef and green beer we went through at the Hotel, but there was plenty of eating, drinking, and being merry - in the grand Irish tradition. If you weren't Irish, you were at least "Irish for a Day".
Thanks to our regular Tricks friends who came from far and wide to support us in Wayland. Thanks to those who traveled from Holland, Allegan, Grand Rapids, and Hudsonville. You made it a wild and fun night. Lots of great dancing action. And the Tricks band had fun trying to keep up with the dance floor crowd.
Special thanks to Mary Kay who might not be the owner of the Hotel for much longer. We will miss you, and we appreciate all the friendship you've given to Tricks over the years. You are like family to us. We hope to see you around after you retire from the Wayland Hotel biz. Thanks to Josh, the owner-in-waiting. Tricks is looking forward to many more years of entertaining the crowds in downtown Wayland. Thanks to the wait staff; we know you gals were working hard on Saturday night, and we appreciate your hard work to keep the party going. Thanks as usual to our Tricks helpers, Deb for taking photos, Roger for recording video and so much more. Our job would be much more tedious without some occasional help from our friends.
Fri

|Sat (St Patty's Day)

---
Mar 9 & 10 - Wayland Hotel in Wayland - Weekend 2 of 3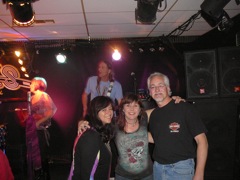 Now that's more like it. Last weekend the roads were scary slippery, and we had a slow Friday, and Saturday was okay but nothing to brag about. But this 2nd weekend we have bragging rights. What great crowds at the Wayland Hotel. We knew you could do it! Seems like the nice weather brought people out to shake off that cabin fever on the Wayland Hotel dance floor. Or was it Josh's new marquee on the side of the building? I'm sure that marquee doesn't hurt. People finally can see at a glance who is playing at the Wayland. I can't tell you how many times people have said to me, "I never knew this place was here" or "I never knew they had bands here".
Last weekend, we tried to tell Josh the new owner-in-waiting that Tricks normally has a lot better crowds. I'm glad the 2nd weekend proved that we weren't lying. Saturday was a full house, with 2 birthdays being celebrated, and lots of dinner crowd staying to check out the band and dance with us. Happy birthday to long-time Tricks fan and friend, Sherry. And Happy Birthday to our honorary Tricks member Roger. We had lots of cake to go with our drinks. Did I mention that the dancefloor was full of action All Night Long? Well, it was. See the photos for proof.
Thanks so much to Mary Kay for all the love over these years. We love you right back. We wish you the best of luck and all happiness in your new life beyond the Wayland Hotel. You deserve a break and a nice vacation. Thanks also to the good-looking and friendly wait staff for keeping the party rolling smoothly. We never can thank you enough. Thanks to Josh the new owner-to-be. We look forward to many more years of providing high quality entertainment at the Wayland Hotel. Thanks to the people who came for dinner Saturday, and stayed to dance and rock with Tricks. Thanks to Roger & Sherry for celebrating your birthday with Tricks. It means a lot to us.
Next weekend is St Patty's Day weekend. And you know what that means; stay away from the Wayland Hotel if you don't like big fun party crowds.
Fri

|Sat

---
Mar 2 & 3 - Wayland Hotel in Wayland - Weekend 1 of 3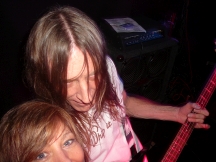 Tricks snuck back into downtown Wayland this weekend, under heavy weather conditions. The roads were terribly slippery on both Fri & Sat. On Friday, the band had fun jamming after 3 weekends off. We are still fine-tuning 23 songs that have been freshly added to our active repertoire. With 88 songs in our active song list, we now have reached our goal of "No Repeat" set lists for Fri & Sat. We have completely different song lists for two nights, with no repeats. We like to call that "Dual-Quad" Set Lists. It's a fun challenge for the band, but a strain on the memory banks. This weekend had a few small bloopers on each night, as we worked our way through that massive list of songs. We even added a couple more songs in the past 3 weeks; Krystal is singing "Rock You Like A Hurricane" by Scorpions, and Rick is singing "Know Your Enemy" by Green Day. We wanted to add a couple heavier songs, just in case we get a gig at a bar that expects the live music to be hard and heavy. We're looking for new venues, and want to be prepared for anything.
Friday night was quite slow, and we even went home 20 minutes early when the weather continued to look scarier and scarier. The big highlight of Friday was meeting the soon-to-be new owner of the Hotel, Josh. He is working behind the bar to get acquainted with the entire Wayland Hotel scene. Josh says that the Wayland Hotel is getting a marquee for the north side of the building. To be installed this week. That is a major improvement, since people driving through downtown Wayland will now see announcements for what is happening at the Wayland Hotel.
Saturday was about a half-full bar (or half-empty if you're a pessimist). Thanks so much to our friends and family who came out to support Tricks ,despite those slippery roads.
Check out these pictures.
Fri

|Sat

---
TricksBlog - February 2012
Feb 3 & 4 - AJ's Grill & Cocktailz in Dorr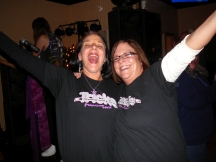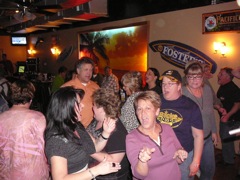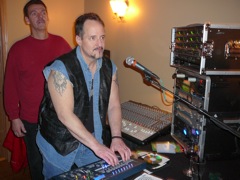 Two fantastic fun nights in downtown Dorr. Friday was fun and Saturday was funnerest.
Tricks returns to ground zero, and the home of the founders, Rick & Steve. This place is literally one block away from where Steve & Rick grew up. These are the streets that we terrorized as kids on bicycles. These fields are where we played baseball and swam in the creek. We explored these woods and wandered many miles down the railroad tracks that are gone now. During winter, we hauled our sleds out into the hills just west of Dorr. We didn't have no Internet or Video Games, so we sometimes just hung around at the feed mill, or one of the gas stations, watching the men working. Dorr is our Hometown

.
It's been about 6 years since Stan's closed down, just shortly after the Dorr Country Lanes also closed their rock & roll bar. It's good to be part of the resurgence of live rock music in Dorr. You may not realize this, but Dorr is the largest population center in Allegan County, bigger than Wayland, bigger than Allegan, and bigger than Plainwell or Otsego. Look it up. But, Dorr is sadly lacking Live Music venues. AJ's is correcting that fault. (Like AJ's on

)
Amanda & Ernie Gills bought the old Stan's last year, and they took on the daunting task of remodeling the old place. Ernie says that if he had it to do over again, he'd tear down the building and build a new one, instead of going through the pain of all that remodeling. But, you can see the beautiful results of Ernie and Amanda's hard work. Check out our pictures from this weekend.
Tricks is fresh out of the basement with 21 songs added - bringing our total song repertoire to a "Quality & Quantity" level where we can finally get back to our goal of Dual Quad "No Repeats". This is our Tricks policy of trying to avoid repeating the same songs on Fridays and Saturdays. Back in the late 90's we decided that since we liked learning new classics, but we didn't like dropping our favorite songs, we would try to have separate set lists for Fri & Sat. Then we could have twice as many songs in active rotation, keeping them hot and tight. Rick started creating Sets labelled "Set A" and "Set B". Steve dubbed them "Dual Quad" set lists, since we have 2 lists with 4 sets of songs. Dual. Quad. Get it?
Anyway, what about this weekend? Friday started a bit slow, so we were scared of a dead night. But we shouldn't have been scared. The place filled up, and was still hopping when we packed our guitars and headed for home. And then Saturday? Sheesh!! You had to be there. It was just like the good old days. It's like that place has a life of its own. We've seen our share of slow nights at the old Stan's, but this wasn't one of those. It only brought back memories of crazy nights of that packed little dance floor, with way too many people trying to dance and get in the band's face. It was happening - Déjà vu all over again. The crowd was actually better than the band. The band was good, but the crowd blew us away, in my eyes (and ears). Happy b-day Sam. Great to see Debbie & Dave Bassbeast. Dave even helped run some lights, and sang harmonies with the Queen songs from back at Krystal's light board. All kinds of old Dorr Tricks fans who could tell you their own Tricks Party stories. Thanks for coming out. Same to you people from the so-called Hudsonville Tricks Fan Club, who came out to celebrate with Sam. Thanks to Amanda & Ernie and the great staff. We'll be back at AJ's sometime in June. Stay tuned!


---
TricksBlog - January 2012
Jan 28 - Maribel's Black & White / Mariachi / Tricks / VFW Party / 40th Birthday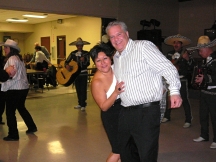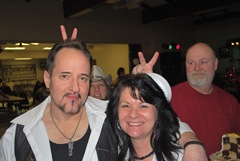 Tricks was honored to be part of the big event put together by Maribel & Rodney to celebrate Maribel's 40th Birthday with family & friends. Most everyone was dressed up in Black & White, as requested by the birthday girl. (Hey, I just remembered; Tricks didn't do the Beatles "You Say It's Your Birthday" song for Maribel. Dang! And we do a great version of that. Talk about dropping the ball.) For an hour and a half before Tricks started their show, we were treated to a fantastic Mariachi band. Wow! Very cool! When the Mariachi band did a special song for Maribel, and her grandpa said a special prayer for her, Maribel had very wet eyes, and it was a super special moment for everyone there.
Plenty of food was on hand, with many people bringing party food to pass. (Krystal brought her famous jerk chicken wings.) There was also free draft beer provided by Maribel & Rodney. So we all got pretty toasted and were filled with the spirit of the occasion. Besides the main event of Maribel's b-day, this was a special gig for Tricks, because it was our first "Coming Out" gig of 2012. We learned 21 new songs listed below, and we test drove all of them at Maribel's party. I'd say all the new songs were a rousing success with the dancers. Very adrenalized crowd, and the band did a fine job. We had a blast! This was a classy party.
Roger sold a bunch of Tricks t-shirts, and we also raffled off 3 shirts. Maribel won the first drawing. Cool!
We really love the sound of the VFW hall, and the stage is very comfortable. Hopefully we'll make the Holland VFW a regular venue for Tricks parties from now on. Thanks so much to the VFW volunteers. Thanks to all the people who helped us load in and out. Thanks to everyone who brought food. Thanks especially to Maribel & Rod for all the hard work they did getting this Party of the Year put together. Happy Birthday to Marible from Tricks, and we wish you many more, and many more Tricks Parties.
Here are photos from Maribel's party -


Our friend Fred brought his nice SLR camera to capture the event -

---
Tricks Newsletter Report from the Basement is right here

.
Go read what Krys & Steve have to say about the current status of the Tricks band.
And here is what Ozzy has to say on the subject:
"It has been a great first year with an amazing band. Met a lot of great Tricks Fans, learned a lot from 3 great musicians, and looking forward to another great year, it has been a lot of fun for me as well. Several new experiences such as playing on New Years Eve, doing duets with Rick, and trios with Rick and Krys, the 4th of July in Dorr, and many other great practice sessions! Rock on in 2012 and lets
"Bring It"!!!!!
"
---
January 9 thru 25 - 8 Grueling rehearsal nights in the basement


This was the shortest and most action-packed Tricks Winter Break ever.
Rick sings 8 new songs for 2012
Semi-Charmed Life - - - Third Eye Blind
7 Nation Army - White Stripes
Run Around - - - Blues Traveler
And She Was - - - Talking Heads
Real World - - - Matchbox 20
Why Pt. II - - - Collective Soul
American Idiot - - - Green Day
Lady - - - Little River Band
Krystal sings 6 new songs for 2012
Black Horse & Cherry Tree - - - K.T. Tunstal
You & Your Hand - - - Pink
Limelight - - - Rush
I'm Outta Here - - - Shania Twain
What U Need - - - INXS
Tie Your Mother Down - - - Queen
Steve sings 7 new songs for 2012
Fat Bottom Girls- - - Queen
Black Betty - - - Ram Jam
Bad Motor Scooter - - - Montrose
Lips And Hips - - - Electric Boyz
Low Rider - - - War
Shakin' - - - Eddie Money
Rock n Roll All Night - - - Kiss

Nearly all of these songs are from the Tricks Graveyard


We brought back the most-requested songs. Every time someone said "hey, why don't you do this song any more?" We made a mental note. And in November the band members voted on what songs to bring back, and here you see the result. We didn't have a whole lot of time, so we put off learning any actual "new" songs until later this year. We might have a few weeks off in June, so send in your requests for new Tricks material

.
Here's some fun photos of Tricks hard at work in the basement.


---
Jan 6 & 7 - Final Weekend of "Tricks Fiscal 2011 Calendar" - Hilliard Corner Lounge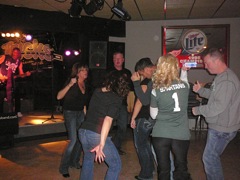 The Tricks band has just about seen it all, as far as great crowds and warm receptions. But this weekend was a big surprise for us. We brought our 2011 calendar to a close with an extra special group of people. It seems that a big group of our pals from Sue's Sidetrack in Fennville conspired to surprise us on our final "2011" weekend. They traveled all the way through the backwoods of Allegan County to come over to little old Hilliards and party with Tricks - All Night Long! What a beautiful surprise for us. There were more Sidetrack people in the bar than Hilliards people. They had two long tables full of Fennville and Pullman area people, with most of the former staff from Sue's Sidetrack, including Sue herself. All the great rockers who I've mentioned so many times in my descriptions of our Sidetrack nights over the past 7 years that Tricks played music there.
Like I've always said; those people love their rock and roll. We are so sad that Sue had to close the Sidetrack back in June of 2011. It's a big empty hole in our life. They had so many fun parties and charity events there at Sue's ... see my history pages.
We often talked about the Sidetrack gang, and wondered if we would ever see any of these nice folks again. Sure, we might bump into one or two of them at some party or bar. But we never expected this massive conspiracy to surprise Tricks at the Hilliards Corner Lounge. They said that this whole plan came together on Wednesday, when a few phone calls turned into a whole bunch of phone calls.
What a cool way to top off our Tricks 2011 calendar.
It was Auld Land Syne all over again.What a warm feeling. Thanks so much for making the trip out, you guys. We love you so much. Hopefully we'll get an outdoor party together or something, where we can meet up again and drink and dance the night away like old times.
We had surprisingly great crowds on both Fri & Sat. We expected that everyone would stay home after such a big New Year's weekend last week. Lots of local young folks were hanging out both nights. Maybe "Generation Next" is picking up the ball where the X-ers and Boomers have slacked off a bit. Whatever, we appreciate the 20-somethings who like that good "Premium" classic rock that Tricks works hard to serve up hot and "the way it was meant to be". Special shout out to Kaitlyn & Joey for bringing out their birthday parties to the Corner. Happy Birthday to you from Tricks!
Thanks to Sue and her gang for coming out. Thanks especially to Joe and Gary who were the prime movers who started the ball rolling for this Sidetrack reunion party. Thanks to Eric and his fine wait-staff girls. We couldn't do this without you, and we appreciate your hard work to keep the party going. Thanks to Roger for his great work for Tricks all year long in 2011; the t-shirts, the finances, the break-room motorhome, the Limo, the camera and recording work . . . the chocolate.
Now Tricks says "Amen" to 2011, and we go into Steve & Tammy's basement for a short 3 week so-called "break". We will emerge with new repertoire under our belts, mostly old favorites that keep getting requested - we'll be bringing some favorite head-bangers and dance songs back to life with our bassman Ozzy.
Fri

| Sat

You Tube video from Saturday Night at Hilliards Corner Lounge:


---

to Late 2011


to Mid 2012