TricksBlog - August 2012
Aug 10 & 11 - Tricks at AJ's Grill & Cocktailz in Dorr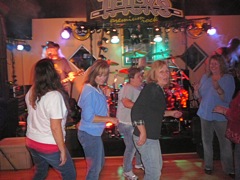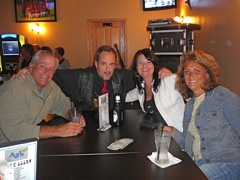 Tricks brings it for the dancers . . . The Dancers bring it right back at us . . . Mr & Mrs Bassbeast with Cap'n Craig & Jane
Tricks is back at home base in Dorr. Not in Steve's basement at Tricks International HQ, but right down the road from there. AJ's is still the hot new place around these parts. Everyone always wants to check out the new place, and this place is worth checking out. Amanda & Ernie and their crew have done a fantastic job renovating the old Stan's Tavern building. They still are working on getting the kitchen up and running. Hopefully, they'll have food by some time in the Fall. For now AJ's is a great party place for drinking and dancing, especially on Friday and Saturday nights. Especially when Tricks is back in town. Tricks usually doesn't play many gigs during summer, because Steve is too busy making Brats and other good stuff for your grilling pleasure. But, after a week of filling in for his head meat cutter, and during a Fresh Meat Sale at Dick's, Steve still had to muster up the energy to rock out for 4 hours on Friday and 4 hours on Saturday. And we got pushed hard by the demanding dance floor. We gave away some Tricks t-shirts again. Thanks a lot to you Tricks regulars. We were happy to see Dave & Debbie, and plenty of other Tricks Insiders. Most notably, we had a visitor from Germany on Fri night; Deb & Willie Peck have their daughter visiting from Germany, and they took her out to see the West Michigan hot spots. Fun times in Dorr. Hopefully we can keep it up. There's no predicting people, but maybe AJ's will remain a hot spot for years to come. You never know. For now, things are going great for Amanda and Ernie. They know what they're doing, and they have done a great job so far. Thanks to Amanda & Ernie for bringing live music back to Dorr. The great crowds are sign of appreciation for your efforts.
Fri

Sat

---
Aug 1 - Tricks at Roadhouse Bike Night, Paw Paw


Lotsa Great Bikes . . . . . . . . . . . . . . . Lotsa Cold Drinks and Bar-B-Q . . . . . Lotsa Hot Jamming - Tricks Power Trio
Tricks got a last-minute call from Rich the owner at Paw Paw Roadhouse. Seems the band for his Wednesday Bike Night was disabled because of an arm injurty to one member. We managed to pull together on very short notice (about 24 hours), except for one important missing piece; Krystal had a previous commitment and couldn't be there. So, we decided to do a "boys only" Tricks Power Trio. Guitar, Bass, Drums = The Standard Rock Band for Classic Rock, especially 70's. How many great rock bands were just 3-piece? The Who, Thin Lizzy, Led Zep, Cream, Montrose, Grand Funk, Hendrix, The Police, Robin Trower, James Gang, ZZ Top, ... and on and on it goes. We had a late start because we had a thrown-together sound system (Half our sound system is at our soundman Dave's house in GR). But, Rich the owner said it was okay to start "a little after 5", because the bikers don't start coming in until almost 6. Then they leave early, because they don't like riding after dark, especially since many have a passenger on the back of their bike. We only took two very short breaks between 5:30 and 9pm when we stopped. We ended up with "Smoke On The Water", playing to only about 25 people left at the picnic tables and out by the bikes. Lots of people gave us high compliments for our song selections. I heard more than once, "you don't ever hear bands do that song".
A great time was had by all. We had help taking pictures from Dave and Debbie. The best pictures here are from Fred Patchet our neighbor. Special thanks to Fred for coming out to take pictures with your SLR. Thanks also to those Tricks friends who made a special effort to come support us in Paw Paw. You know who you are. Thanks. Thanks to Rich the owner for having us, We hope to get Tricks into the Roadhouse to play on weekends starting next year. A great party place. Thanks also to the wait staff, bartenders, and barbecue cook. Great job! Thanks for keeping the party going so smoothly.

---
TricksBlog - July 2012
July 4 - Tricks outdoor show at Dorr Festival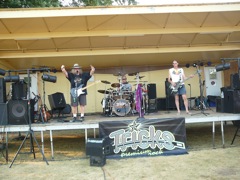 Hot and Sticky 4th of July weather . . . Heat index over 100º . . . Great crowd for Tricks & Fireworks
Tricks is back by popular demand I guess. This is getting to be quite a habit. This is the 5th time in 7 years that Tricks has played at the Pre-Fireworks concert for Dorr's big Independence Day Celebration. We only missed a year because they cancelled the festival in 2010 because the town was torn up for sewer and road construction. History: Tricks has played for the Dorr 4th a few times in the distant past. In 1977 we played an impromtu concert by the creek. No stage, we just set up in the grass. No pay, we just asked permission from the Dorr Recreation Association, and they said it was okay. No pictures, but we had a load of fun with about 300 young people hanging and banging with Tricks in the park. Later in 1981 we debuted "Tricks II" at the newly constructed tennis courts in the North Park. Steve was in the band "Asult", and Rick & Steve were building on a new version of Tricks with Dale Boysen and Tom Hudson from the Opus band from Allegan. and we only knew a dozen songs. Read more in the Tricks history pages for 1977 and 1981

.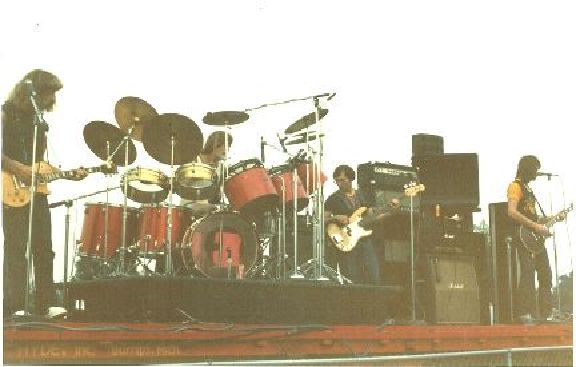 Blast From The Past - Tricks II first public show, July 3, 1981 at the Dorr north park tennis courts.
(Skinny Rick on the left)
Afternoon Events: This year we had a heat index over 100ºF. Although hundreds of people came down to have lunch after the parade, the park got pretty empty within a couple hours after the parade's end. By 2pm there were only a few dozen people wandering around, with all the food vendors, and carnival ride people wondering how big of a $$ loss they were gonna have for all their work and investment.
Rick was running sound at the stage, and we had 1pm Dorr Dance Academy start earlier than their 1pm scheduled time, because all those little dancers were tired and hot from being in the parade since 10am. Then the Zumba dancers only did one dance, so they were done before their scheduled Zumba Demonstration at 2pm. The Gun Lake Tribal dancers and drummers showed up in full regalia for their show at 3pm. And some of them were wearing over 50 pounds of beautiful decorated traditional dance clothing. Right after the tribal dancing, we had 20 entries competing in the Beautiful Baby / Terrific Toddler contest at 4pm. At 5pm the schedule said that Rick Doogie was supposed to sing some acoustic songs. . . but the park had emptied out again after the baby contest, so Rick helped with the finishing touches setting up the Tricks band. Rick & Krys performed some acoustic songs starting around 6:45pm, when the park started filling up again in anticipation of the Tricks Show and the Fireworks. Tricks started playing at 7:30pm.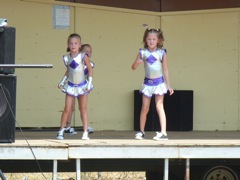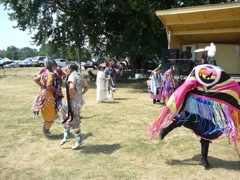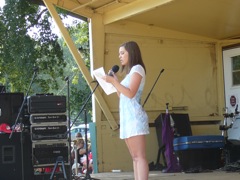 The hot entertainment for the afternoon was dancing, more dancing, and the Baby Contest.
Tricks On Stage: Tricks charged into their setlist with high energy. The field was filling up more quickly than in the past years. Everyone jockied for a good spot to put down their blankets and chairs for watching Tricks and Fireworks. This year, thanks to the relaxed laws, there were quite a few people in the park and surrounding neighborhood who were shooting off their own fireworks. We played a long first set, and then took a break to cool off and change into dry shirts. Thankfully, the sun was going down behind the trees, so it was plenty hot and humid, but at least the direct sunlight wasn't baking us. It was a struggle to keep the energy level up for song after song. But somehow we toughed it out. We played a 2nd set from 9 until 10, and had to stop again to catch our breath. We planned on coming back on for a big final blast of our most popular songs, but the fireworks crew must have heard us stop and took that as a cue to start their fireworks. Usually they wait until it's good and dark, around 10pm, but they started a bit early, cutting us right when we stopped for our short break at 10pm. Oh well, everyone was hot and the entire crowd was probably ready to get the show over and get back to their air-conditioning. The band was very tight and energetic, especially considering the sweltering heat. No glitches, no hitches, the show went more smoothly than we could have hoped for. Everyone was happy and satisfied. Lots of friendly people came up after the fireworks, and praised up the Tricks show, while we started the pack-up process.
Thanks so much to Dorr Recreation, all sponsors listed here on the Flyer

. Tricks appreciates the hard work from all the volunteers. Thanks for having us one more time. It was a blast! A good time was had by all!


---
TricksBlog - June 2012
June 30 - Tricks debuts at the Butler Deck in Saugatuck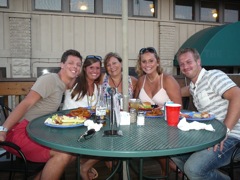 Hard working dancers, . . . trying to keep up with the Tricks band rocking it hard . . . Enthusiastic Party People
Rick & Krys have played several Sundays here on the Butler Deck, overlooking the Saugatuck channel, with all the boat and yacht activities. But, this was the first time for the entire Tricks band. So, it was a learning experience. I say that because we expected to keep our volume a bit low, so we only brought minimal equipment for the tiny corner of the deck. After about 45 minutes, we were told that we needed to "bring it". Our bosses said "there are no neighbors here to complain about loud music, and if they hear you down the street, that will bring in more people". Okay, we can do that, but we were wishing that we knew ahead of time. We would have brought some more power amps. But, with the help of Dave Lopez our sound man, we gradually tweaked up the volume knobs and sliders until we were comfortably cranking out the classic tunes and having a great time jamming along dancers and drinkers. Talk about sweating! Check out the pics for some sweaty action from the band and dancers. We hope to get over here to Saugatuck again, and next time we'll load up a few more speakers and power amps. We have no problem being loud and proud, but we were trying to make a "nice" first impression. We sure had a great time. Thanks so much to all our friends who came from Allegan, Hudsonville, and Holland to hang and bang with Tricks. So sorry about the few friends that brought kids along; we should have warned everyone that it's 18 and older after the band starts. Thanks so much to Steve Phelps and his fast-moving and good-looking staff. We were really feeling the love. You gotta love Saugatuck.
Sat

---
June 22 & 23 - AJ's Grill & Cocktailz in Dorr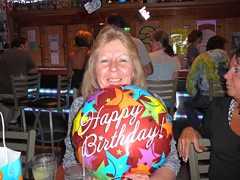 Party Time! - Tricks back at our old stomping grounds in downtown Dorr. We had lots of birthdays and family reunions; too many to list them all. Friday was our bartender Gail's birhtday, and she danced the night away with all her friends. Saturday was our Tricks pal Jane Post's Birthday. We also had some birthdays in our so-called "Hudsonville Fan Club" on Saturday night. Happy birthday Donna and Deb. Hope it was a fun night for you. It was kinda hard to keep track of everyone, because the place was hopping. Almost like the old days at Stan's, only a lot cleaner and nicer.
We had a charity 50/50 raffle both nights for the benefit of our beloved Freddy who lives right behind the Colonial Kitchen. His only transportation was a moped that someone recently stole right off his front porch!
Freddy received around $500 towards a new moped because the pot actually never was split 50/50.
Friday the winner generously donated his winnings back for the benefit. Saturday's drawing was such a fiasco due to the huge crowd - a winner never came forward after several drawings and the party rolled on as Freddy accepted all the cash towards a down payment on his new wheels.
We also had drawings on both Friday and Saturday to give away Tricks T-shirts. That was fun. Lots of people who didn't win a t-shirt ended up buying one. We sold and gave away at least 15 Tricks t-shirts this weekend. I'm sure we'll be giving away and selling lots of shirts at the Dorr 4th of July Festival.
It seemed like people were in a dancing mood despite the hot weather this weekend, because the dance floor was packed all night long on both nights. Saturday was extra special because Rick's daughter Stacy is visiting from Atlanta. Stacy had a whole bunch of friends meet up at AJ's, including many of the Merren family. When those Merrens left for home during last break, the bar was suddenly only half full.
Thanks so much to everyone for coming out for a wild and crazy fun night. Thanks to Ernie and Amanda for bringing live music back to Dorr. Ernie is building a kitchen, and they should have food within a couple months.
Fri

|Sat

---

to Early 2012