---
TricksBlog - May 2016
May 6 & 7

- Wayland Hotel


Friday's crowd was kinda young . . . Saturday was Dale's birthday and everyone had a wild time dancing.
Tricks is always happy to get back to our favorite-sounding room, the Wayland Hotel. This weekend we were competing with lots of family parties for graduations and weddings. It's that time of year. But we had two great night. Neither Fri or Sat was a packed house, but we had a few dozen party people on both nights. And they were interested in having some crazy fun with the Tricks band. Saturday was our friend Dale's birthday party, and Tricks rose to the occasion, delivering an extra tight and aggressive performance. The band had 3 weekends off, so we really had the itch to play. The only problem with 3 weeks off is that we start to forget parts and pieces of our massive songlist of challenging songs. So, Friday was some shaky fun, with everyone making their share of boners - not much that anyone offstage would notice, though. On Saturday we were fine-tuned and the dance-floor action kept us motivated to "bring it".
Thanks to everyone who came out for a great weekend at the Wayland Hotel. Thanks to Dale and his posse for making your party a Tricks Party. Thanks to the Hotel wait-staff, cooks, and bartenders. Thanks to Josh the owner for having us. Tricks will be back at the Hotel in Sept, and then we're here for the big Thanksgiving weekend party, including Thanksgiving Eve on Wednesday.
Fri

|Sat

---
TricksBlog - April 2016
Apr 8 & 9

- AJ's in Dorr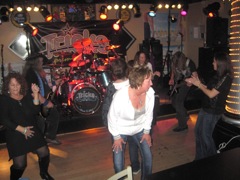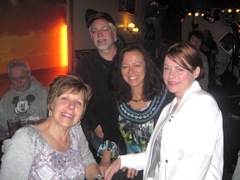 Friday fun on the dance floor . . . . . . . . . Allegan Tricks friends . . . . . . . . . Yes, Ozzy is getting older
We have a contender for "Party of the Year 2016". Saturday night's party for Tricks bassman John "Ozzy" Bosscher.
We kept hearing the comment, "this is a lot like the old Stan's Tavern nights". The place was full of wild party people who were loud and proud. Tricks had to sweat our butts off to keep up with the demanding head-banging drinkers and dancers. Our little Canon camera finally gave up the ghost when it took a dive off the bass amp; a casualty from all that onstage commotion. We thank our friend Tom Pratt for taking Saturday pics with the camera that he had on hand for just such an emergency.
Late after midnight on Saturday we had a special appearance from Rick & Steve's mom, Rusty Dutkiewicz - Friday was her 78th birthday. Rusty had Rick make the announcement, "if you want to know the secret of living a long life, you've got to stay active and you need to have a purpose in your life; your friends, your family, your church, your community". And then the entire bar joined in to sing "Happy Birthday To Rusty". Now you know where Rick & Steve got all that ambition and work ethic from.
Not to leave Friday out. I gotta tell you that Friday was pretty slow for the first set or two, then we had a bunch of 20 and 30-somethings come in with partying on their mind. Lots of shots went down and there was lots of hooting and hollering and dancing action.
Thanks so much to Amanda and her crew. Amanda, sorry they had to call you in to help on Saturday because of the packed house. Thanks to our friends who ventured out on the icy roads Friday. And thanks to the gang of wild ones who came out on Saturday. Since Jakes and Hilliards bars are closing, AJ's is going to be "party central" for a while, because it's going to be the only game in town for Friday and Saturday night entertainment in Dorr. See you again at AJ's in August this summer.
Fri

|Sat

---
TricksBlog - March 2016
Mar 25 & 26

- Woody's at Spectrum Lanes, Wyoming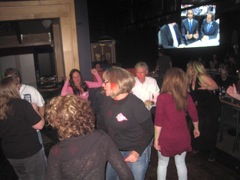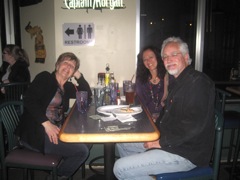 Woody's hopping & happening . . . Lance & Beverly came to dance . . . Surprise appearance by B-day boy Rob
Woody's is right on the southern border of the Grand Rapids metro area, just a few miles north of the Allegan County line. So, we're in a good location here for seeing any number of our fans & friends show up either from the rural areas or from the city. It's always fun to see who surprises us. This weekend at Woody's, we had a full house both Fri & Sat. We had friends show up from all over; Grandville, Hudsonville, Allegan, Middleville, Wayland, Fennville, Dorr, Holland, Borculo, ... and that's not counting the Woody's regulars. Everyone seemed to be out shaking off that cabin fever this Easter weekend. Great party crowds, great dancing action. The small Woody's stage is always a challenge, as we bump into each other a lot and don't have room to boogie.
Tricks is getting tighter and tighter with our ambitious setlist of "new and renewed" songs. In our Jan & Feb basement sessions, we added new songs from past decades spanning our 40 years: From the 70s we added Stones, Fleetwood Mac, John Cougar, and Ted Nugent. From the 80s we added Nazareth, Extreme, and Bonnie Raitt. From the 90s we added Alison Krauss, Dwight Yoakam, Metallica, and No Doubt. From the 00s we added Sheryl Crow, Howie Day, and Barenaked Ladies. For shits and giggles we coerced Steve into doing In-A-Gadda-Da-Vida from 1968, a "must learn" song for all young drummers of that era. The song turned out to be a crowd favorite. The drum solo keeps getting better each night as Steve re-lives his teens.
Tricks is grateful to manager Todd and the friendly staff at Woody's - great job keeping the big party scene rolling along nicely. And thanks for having us. Thanks to all of our Tricks friends who came out to drink, dance, and celebrate Springtime with us this Easter weekend. See you again soon. We're back at Woody's in just a couple months. Nice.
Fri

|Sat

---
Mar 18 & 19

- Wayland Hotel


Get your Irish on this weekend . . . . . Festive weekend fun . . . . . . . . . Fri & Sat great crowds great
In the spirit of our 40th anniversary, let's look back at the Tricks history pages to see when Tricks first started playing at the Wayland Hotel. Here's the clip from the 2002 history page:


See more on Tricks History page 2002

.
We recall the last time that St Patty's Day was on a Thursday. It was six years ago, and it was one of Ozzy's first gigs with Tricks. We were bragging to Ozzy about how packed the Hotel would be. After all, Wayland is an Irish town, that's why they have a Dahlia festival and their high school colors are Green & White. But, as it turned out, the St Patty's weekend crowds back in 2009 were very small on Friday and worse on Saturday. I think Mary Kay might have even sent the band home an hour early on Saturday, because there were only 3 or 4 people in the bar. Who can predict crowds?
Not so fast! This "crowd prediction" thing goes both ways. Sometimes we expect little and get a lot.
This St Patty's Weekend 2016 was a smashing success as far as quality and quantity crowds, both nights. Friday was hopping from the get-go. Dancers for just about every song. And we had a mostly full house until closing time. We had a birthday group and the New Salem party bus stopped in around midnight.
On Saturday, it started out slow and lazy. Full enough, but not much dancing action the first set or so. They were letting the band do all the work. Let's watch grandpa rock and roll up there. But, by about third set, things got a bit crazy with some party groups showing up. A Pasma birthday group. And also some young party people. Lots of strangely dressed young ladies - not sure if it was because of St Patty's or 80s night, or a bachelorette party. We never found out what the occasion was. But, we got a big blast of dancing action during last set.
Lots of parties at the Hotel, lots of fun. The Tricks band is still juggling and working with our "New and Renewed" 2016 song list in honor of our 40 years. We work hard so you can play hard. Thanks to Josh and the Hotel crew for working hard to keep the party running smoothly. Thanks to our friends, fans, and family for coming out to support us here in downtown Wayland.
We had several special pals show up this weekend - you know who you are. Thanks for coming! Hope to see you again soon. Tricks will be back in Wayland soon enough. But keep an eye on our schedule and we might show up closer to your home.
Fri

|Sat

---
Mar 11 & 12 - Family Tavern in Caledonia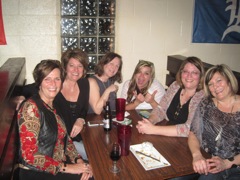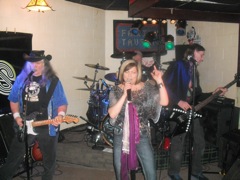 First Tricks bar gig of 2016 . . . . . . Cozy but good-sounding corner . . . . John & Peggy got Tricks this gig
If you look at Tricks history, which I highly recommend for a smile or two

, you'll see in 1983 ...


Well, a lot has changed since 1983. Where do I begin?
In Jan 1983, the 2nd big incarnation of Tricks was just in it's 2nd year. This new version of Tricks consisted of 2 guys from the Allegan Opus band, and 2 guys from the first version of Tricks. Brothers Steve and Rick partnered with Dale Boysen on guitar and Tom Hudson on bass. We played a lot of 2-guitar Southern Rock style songs by Lynyrd Skynyrd, Pat Travers, 38 Special, etc. The drinking age was still 18. The Family Tavern had no upstairs stage; the upstairs was a conventional bar / restaurant. Downstairs was a big dance floor and a decent stage, with lots more seating room downstairs than upstairs. The Family Tavern was a big party place, drawing lots of young party people from Grand Rapids and the surrounding communities.
Now in 2016 there is still a stage and bar downstairs, but they only use that when the bar is packed, which means when they have "special" entertainment, like Comedy Night. This Tricks weekend, we played upstairs in the cramped corner. Owner Jodi said, "you guys have a lot of stuff". She must not realize that nearly every other "weekend bar band" venue has a good-sized stage for bands that have big drum sets, keyboards, sound mixers, and multiple guitars and singers onstage. Tricks has "lots of stuff" because we usually need it, especially if we play outdoors, or in a large room like the Hilliards Corner Lounge. Most bars have 5 or 6 separate circuits near the stage area.
Setting up at the Family Tavern was a challenge, especially because they only have two AC circuits to power all of our lights and amplifiers. Usually we run extension chords down the sides of the room if we need extra circuits, but there were no other outlets available. We cut down our light show and made it through Fri & Sat only popping a breaker right during the end of our last song of last set.
Did I mention that the upstairs is a great-sounding room? That made it a happy time for our first 2016 bar gig. The down-side was that we had very small crowds both nights. A good half of those crowds were people that Tricks invited. So, our vision of a new hopping party place was tempered by reality. Tricks isn't well-known enough in these parts to bring in very much of a party crowd. It also doesn't help that the Family Tavern doesn't have any kind of marquee to advertise rock and roll bands. I gotta say that we had a great time with everyone who showed up to support us. Many of the locals made a point of giving us friendly compliments. Thanks so much to the new fans. Come and see us in Wayland, Dorr, and at Woody's. Thanks to Jodi and the staff at the Family Tavern. Thanks to our friends who came out to Caledonia to have fun with our new song-list for 2016. Special thanks to John & Peggy for helping Tricks get this gig.
Fri

|Sat

---
Mar 5 - AAAC Sock Hop at Griswold in Allegan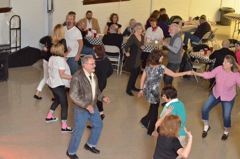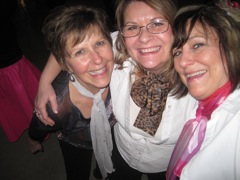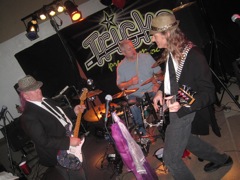 We were reelin and a rockin . . . . friends came from far and wide . . . . Tricks is Out Of The Basement
Each year around this time we see signs of spring. One of those signs is when Tricks has their "Coming Out" party. We spend the weeks of January and February adding to our repertoire with winter rehearsals. After about 7 or 8 weeks of that basement action, we long for some fresh air and a bunch of dancers joining in our musical fun. This year the Coming Out was twice the fun; the Allegan Area Arts Council hired Tricks for a Sock Hop benefit party in the Griwold Auditorium's lower level. Tricks spent some of our precious basement hours getting nine 50s songs up and running for this party. It was a 50s theme party, so we worked out some Chuck Berry, Bill Haley, and Elvis tunes that were great for dancing action.
Rick & Krystal are long-time AAAC members, with Rick currently serving on the board of directors. (Rick also administers the AAAC website and e-mail newsletter.) The last few years the AAAC had been throwing a springtime party. Once is was a Mardi Gras party and last year is was a Roaring Twenties party theme. This year they wanted a 50s style Sock Hop. We had about 60 people attend this year's party, and that was just enough to break even and have a few dollars left over. Not a huge success as a benefit. But everyone had such a blast that the AAAC board is already talking about doing it again next year.
One of the best parts of the night was the dance contest. We actually had two contests, one "50s freestyle" and another "Twist contest". Tricks played "Rock Around The Clock" for the freestyle, and we played Beatles "Twist and Shout" for the twist contest. Sorry, I don't have the names of the winners. We handed out cash prizes to the top three in each of the two contests. $50 to 1st place, $30 to 2nd place, and $20 to 3rd place. You can really pick out the pictures that show the dance contests, because people are really swinging it.
Thanks to the Allegan Area Arts Council board for having Tricks. Thanks to our friends who traveled to Allegan for our Coming Out party. Thanks to all the board members and volunteers who made treats and helped with decorations, serving, and clean-up. Lots of work and lots of fun.
Here's the photo album -

---
TricksBlog - January 2016
Dec 31 - New Year's Eve at Jake's in Dorr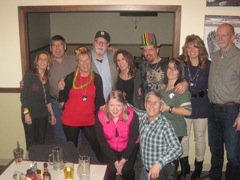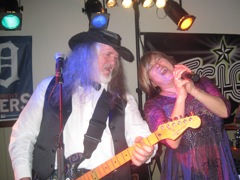 It was a Tricks crowd at Jake's for NYE . . . Friends & family, just like it should be . . . High energy onstage & off
Looking at the pictures from our NYE will put a smile on your face. The parking lot was pretty full; they had a party going on for the bowlers and a Tricks party in the bar. One of the best NYE parties we've done. It was high energy on the dancefloor and onstage for the entire night. These people were in the mood. We really appreciate playing to a busy dance floor full of smiling faces.
Steve says, "Like I told several people last night. It was one of those explosive nights when the band played exceptionally well, the crowd was definitely ready to party and the drinks were flowing. You could feel the energy in the building as the noise from the packed bowling lanes while sometimes was a distraction but also added to the total party atmosphere. I have to once again congratulate second year owners Jon & Lynda VanSingel for their stick-to-it work ethic that seems to be paying off at Jake's and the Highmark Lanes".
Ozzy says: "As for 2015, we missed Dave a lot and sure glad to see him back behind the sound board! After 5 years with the band, I met so many wonderful people and made so many new friends, You all make me feel so much a part of this band, and not just a replacement. Looking forward to another great year with Tricks!
Rockin' it in the USA!"
There are a few things Rick has to say about 2015:
2015 was Tricks' 39th year in the weekend rock and roll band business. In 2016 we'll be celebrating our 40th year.
We all remember in the 70s and 80s when there were at least a dozen bars within driving distance that had live rock bands 5 or 6 nights a week. The past couple decades we've seen live music choices shrink ever so slowly, with the advent of so many gadgets to entertain at home, with the heightened police enforcement of strict DUI laws, and with the no-smoking laws (not to mention the growth of Casinos). All these things have shrunk the local live music business, but it's still out there for those who like dancing and drinking with live music.
We had so many fun moments in 2015, all I can say is - go look through our history pages

to see all the fun moments. Some nights were very slow, but some of our best fun memories have been nights with a very small crowd of fun people. We always say, "it isn't quantity that makes a good crowd, it's quality".
Tricks had 15 new songs that were added at the beginning of 2015, and it was fun to see those songs get tighter and better as the year progressed. We've been worried about our soundman Dave's health for the past few years. Dave has been with Tricks all of our 39 years. The last few months of 2015 Dave has improved dramatically, and we are happy about that. 2015 was John "Ozzy" Bosscher's 5th year with Tricks, and with Ozzy we have a "match made in heaven", if I may speak so boldly. Ozzy's thumping "no picks allowed" bass sound is perfect for our power trio approach of guitar / bass / drums. And his soft-spoken and charitable nature has helped us keep the peace in a band with two hard-headed brothers and a married couple - often a recipe for disaster in many bands.
We extend our sincere appreciation to owners, managers, and staff of the venues we played at in 2015 - Jake's, Woody's, Wayland Hotel, Otsego M89, Hilliards Corners, Grand Haven Eagles, AJ's, - we appreciate your work. We appreciate the effort to keep live music going in this small corner of West Michigan. Thanks also to the party-planners for two over-the-top excellent Tricks parties - Rachel's backyard party

, and Keith & Sheila's basement party

. And thanks to Dorr Recreation for having Tricks at the Dorr 4th of July Festival

.
Last but not least, we have the warmest thanks to our friends, family, and fans. We appreciate the times you drove through crappy weather to come and party with Tricks. We need that lively support to give us the energy to do our best. Thank you dancers! We love you guys. We look forward to celebrating our 40th Tricks anniversary throughout 2016. Our schedule is filling up nicely and it looks like another year full of life's happy and sad moments. Nothing worthwhile is ever easy, so we'll take the ups and downs as they come along. Tricks is here whenever you need to get together with friends to celebrate, mourn, and toast "Auld Lang Syne", i.e., "Times Long Past".


---

to Late 2015


to Late 2016

Tricksband.com website was started in March 2004.
Rick is webmaster, with graphics help from Krystal.

If you'd like to be informed of updates to the site, as well as any upcoming party information.


Tricks News Only! - No Spam!

Comments? Clichés? Conversation? Chatter? Cr-r-r-riticism?
Send Tricks an E-mail

Tricks is on

- Be a fan!
Share comments, messages, or pictures with the entire Tricks family.
Remember, Tricks loves you!
" There's Good Rockin' Tonight "