---
TricksBlog - November 2016
Nov 23, 25 & 26 - Wayland Hotel, Thanksgiving Weekend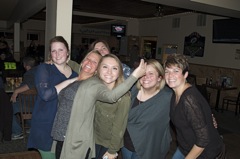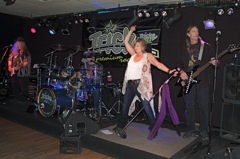 Here we are - last bar weekend of our anniversary year, 2016. It's only fitting that we finish up at a venue where we've played nearly every Thanksgiving Eve for the past 13 years. Yes, I had to look that up in the Tricks history pages.

2003 was the first year that Wayland Hotel started having rock & roll bands. Tricks played here for Thanksgiving Eve twelve times since then. This Wednesday, our Thanksgiving Eve had a full bar, but mostly "a chit-chat crowd" as Steve says. Lots of younger 20 & 30-somethings visiting and tapping their toes to the "background music". Hardly any dancers for the first two sets. Then a few people decided it was time to dance, and we had a blast with them for the last two sets.
Friday - "Black Friday" - not sure if people were tired from shopping or from eating too much, but it was a tired crowd. A half-full bar and mostly people who wanted to watch the band do most of the work. We'll take what we can get though, so we had a good time with the small crowd of friends and fans.
Saturday? I'm glad you asked. I say we have another contender for "Best Bar Night of 2016". It was definitely a Tricks Crowd. They knew how to push our buttons and get that energy level up. You didn't hear this from me, but both Steve and Ozzy texted Rick & Krys around 4pm to say that they did not feel good. Rick & Krys were mentally prepared to carry the slack from the two sickies. But, when the crowd lit a fire under out butts, Steve and Ozzy rose to the occasion. We were celebrating Steve's birthday, along with a couple other guys. So, it was party, party, party! Lots of shots went to the drummer, and he was feeling no pain, taking the band out on a limb or two before the night was over. What a ride! The wild crowd didn't let up for a minute. Check out these pictures for lots of smiling faces and wild action on the dance floor. Thanks to everyone who traveled to see us. Thanks to Josh the owner and the Hotel staff for doing such an excellent job - good food, good drinks, great dance floor. Thank you dancers! Thanks to all the birthday boys; thanks for bringing your party to the Wayland Hotel with Tricks.
Fri

| Sat

---
Nov 18 & 19 - AJ's in Dorr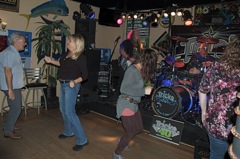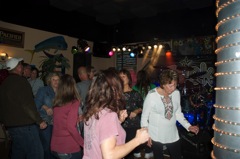 Last Saturday's 40th anniversary party included our storyboard map of SW Michigan, with pins in every location that Tricks ever played - bars, halls, fields, backyards, you-name-it. This weekend we are at one of those "most played" locations in the heart of Tricks country. Formerly Stan's Tavern for many many years, featuring local country bands during the 50s and 60s, and changing to rock bands in the 70s, 80s, and 90s. Stan's closed its doors in 2005, and most people thought that was the end of that place. But, ... in 2011 the old Stan's building was bought by Amanda & Ernie Gills, owners of more than one successful restaurant in Grand Rapids and Hopkins. Ernie & Amanda poured lots of blood, sweat, tear, and Money into fixing up the place to give Dorr a decent restaurant. Once they got the food business going, they took the step of bringing back weekend Rock and Roll bands. AJ's already was doing very well with the food business, but the live band thing took a while to catch on with locals. The dance floor is tiny, but bands like playing here because of the hometown "let your hair down" atmosphere. After a couple of nearby bars (Jake's and Hilliards Corners) closed last year, it looks like the local party people have discovered AJ's.
Tricks had a nice little crowd even for our set-up and sound check on Thursday. It's like Party Central here. Friday was a busier-than-average night for Friday's, which are usually the slower night. And then Saturday was wall-to-wall fun, with lots of dancers and head-bangers making noise to compete with the band. Tricks rose to the occasion with some very tight and dynamic playing. High Energy was the name of the game. We really had a blast these two nights. Thanks so much to everyone for coming out to party with Tricks. Thanks to Amanda and the AJ's staff for putting up with our rowdy crowd. See y'all next year right here in downtown Dorr. "Indoor Rock in Dorr", as the sign used to say. We'll keep making memories here with our friends and fans.
Fri

| Sat

---
Nov 12 - Tricks 40th Anniversary Party at Dorr Legion Hall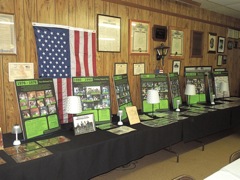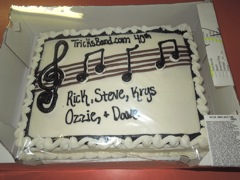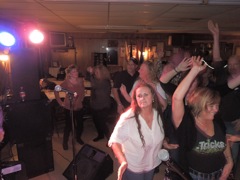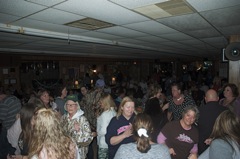 As the end of our 40th year approaches, Tricks decided to throw a free party for our fans and friends. When Steve and Tammy presented the idea to the Legion ladies, they were enthused. It's been a couple years since they gave up doing an annual Harvest-Fest party, simply because support for such a Legion event has fizzled over the years. Attendance got a little less each year, understandably because people like new exciting events, not just the same-ol' same ol'. But, the great turn-out on Saturday night proves that sometimes the "same ol'" is how we connect as a community and a family of friends.
After a week of taking his meat-cutter's place at Dick's Market, Steve played drums with remarkable energy. The rest of the band can't do anything but answer that energy with more of the same tightness and dynamics. The real surprise of the night was the dancing energy. No one had to beg people to dance. In fact, Tricks had to hit the ground running in order to keep up with the demands of the dancing party crowd. Thanks to everyone for coming out, especially those who traveled some distance to show support for the Tricks family. Thanks to the Legion workers. Thanks for the cake from the Legion ladies, and thanks for the cake from Tom & Fran. Thanks for all the kudos and well-wishers. THANKS EVERYONE! WORKERS, ATTENDEES, and DANCERS.
Steve had words and thanks to add:
Post 127 Super-Volunteers that made it happen: sorry about the ones I missed.
Bonnie Berghorst - kitchen
Pudding Shot Creations - Edna & Gale
Bartenders - Wendell, Carrie, & Pustays
Guena - Sold a third of all raffle tickets himself
Tammy, Deb, & Gale 50/50 tix
Joe & Vern - cleaned up the big mess after.
Legion officers Lyle, Barb, & Ruthie thank Tricks and everyone who came for such a wonderful event.
50/50 winner - Mindy (formerly Hansen)
50/50 winner - Brenda Gensler
Grand Prize Shotgun winner - Terry Minton (member Dorr Legion Sons)
The party was everything I'd hoped for. What a great bunch of party people!
Our friend Fran had these words for us:
It was what everyone needed. The community, friends, fans to appreciate what the music has brought to them and they were a big part of it. In fact they probably didn't realize how they grew up w/ this local Band. I believe this was great for the community and surrounding areas. Everyone loved seeing the actual visibility of the timeline.
I, we had a great time, enjoying the excitement it brought to everyone there, especially u the Tricks Band.
I feel like I've known u forever, funny! (Fran and her husband Tom have only known Tricks for about 3 years, but they are our most loyal fans. Thanks to Tom for taking pictures at our anniversary event.)
Saturday Party Pics

---
TricksBlog - October 2016
Oct 28 - Woody's, One-nighter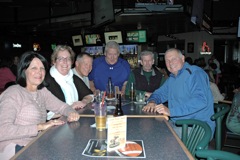 After expecting zero gigs in October, we got a last-minute call from Woody's, for a one-nighter on Friday of Halloween weekend. We didn't expect much of a crowd, since we figured everyone would be going out to Halloween parties on Saturday night. But, you can't figure people. The parking lot was pretty full when we pulled in at 9pm. Perhaps it helped that the World Series was going on the big screens. The best part was all our Tricks friends who showed up to dance and party with us. About half the room was filled with Tricks fans who haven't seen much Tricks action in the past few months. Lots of fun dancing action and crowd banter. The band is a little rusty right now, but we cheated by picking a setlist filled with our simpler tunes - which also happen to be some of the better dance tunes. Sometimes simple is good. Thanks to everyone who came out to support our one-nighter. I'm happy to report that we packed up in record time, and got outta there by 2:10am.
Friday

---
TricksBlog - September 2016
Sep 16 & 17 - Wayland Hotel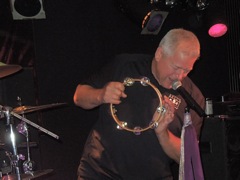 From looking at the number of people in the room, you would never realize what a fun time we had at the Wayland Hotel. Both Fri and Sat were half-full or less, but what a great time everyone had dancing and drinking, and drinking and dancing. Friday there were about 25 people in the bar all night long, but just about every one of those party people were on the dance floor most of the time. We always say, "you work hard, now you deserve to play hard". And that's exactly what was going on this weekend. The band was exceptionally tight on Friday, especially considering that Tricks has only played 4 gigs in the past two months. Steve has been extra busy with the store

and Brat business this year. As he ran out the door after last set, he said to me, "best Friday of this year". The band was firing on all 8 cylinders, and we had crazy dancers to cheer us on.
When we walked into the Hotel on Saturday at 8:30, it was nearly a ghost-town. We know that Saturday crowds come in late. Every is spending all that time at home putting on their best face for the night out, unlike Friday when most people are in party mode as soon as work lets out (we have this stuff figured out after all these years). We expected the empty bar to start filling with bodies, and we weren't disappointed. It wasn't a packed house, but it was another fun crowd, a lot like Friday. Must be something in the air. Maybe people feel winter coming on, and they want to get out and party while the traveling is easy.
Thanks so much to everyone who came out and gave us a party crowd and dancers to play for. Where you lacked in numbers, you made up for it in quality. We appreciate your support for live local music. You gotta "use it or lose it". Thanks so much to Josh and the Hotel staff for putting up with our noise and our wild dancers. You know we love you and appreciate your hard work to keep the party going smoothly.Thanks!
Fri

| Sat

---
TricksBlog - August 2016
Aug 19 & 20 - AJ's in Dorr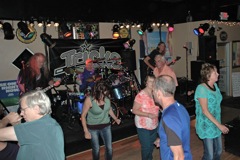 Back to home base. Steve is always so busy with Dick's Market during summertime, Tricks does very few bar gigs during summer. Maybe a party or two, like the Ugly Muthers or Sandy Pines, but that's about it. We can hardly say no when we get the call from AJ's for a gig in downtown Dorr. It's only a couple miles from Steve's home, and a couple miles from Dick's Market, ... so Steve can keep an eye on everything as he juggles his busy life. The band was really itching to play, so we had a fun time Friday night. There was a good dinner crowd when we started at 9, and most of the people hung around for a couple sets. But, by midnight there were only about ten people watching the band. We didn't let that slow us down, we were too busy having fun kicking out the jams with songs from our 40 year Tricks history. The few people there were having fun drinking and dancing with us, so we plowed forward on our merry way.
On Saturday, we learned a lesson in contrasts. Unlike the laid-back Friday crowd, this bunch of party people were out to make some noise and create a scene. It was dance, dance, dance - all night long. The band responded to that dancing action by hitting it hard on all 8 cylinders. This is our Dorr hometown party crowd.
Thanks so much to Amanda for having us. Thanks to the wait staff and bartenders for keeping the party running smoothly.
Fri

| Sat

---
TricksBlog - July 2016
July 30 - Sandy Pines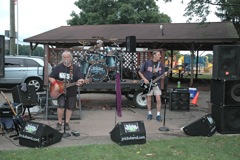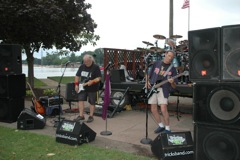 Sandy Pines is a big family resort a few miles southwest of Dorr. In fact, just across the street from the Ubly Muthers clubhouse property where we played last weekend. Steve sells his Dick's Market grilling meats to a couple Sandy Pines vendors, and he used to have a small party store across the street from Sandy Pines. (Sandy Pines has a big man-made lake and thousands of mostly permanent campsites, where people get away for family weekends. Sandy Pines does a good job organizing events for the kids as well as adults. Plenty of activities, especially on weekends.) Sandy Pines held their annual benefit "Color Run", and Steve agreed to provide his award-winning "Dick's Brats" for the after party, 11am to 2pm. Somehow, Tricks got added to the mix, for an evening "concert in the park" 7pm to 9pm. The brat cook-out was a big success and the Tricks show was a big success. Both have been asked back for next year's Color Run (it's like a 5k or 10k benefit run, but onlookers get to throw colored powder on the runners as they pass - not sure who came up with that popular idea).
Notice in brat cook-out pics all the young and old participants with colored streaked all over their clothes and bodies.
Notice in the Tricks pics all the golf carts clustered around the park area, watching the Tricks show. Sandy Pines people come from various SW Michigan cities to get away from the traffic jams and bustle of their suburbs, and they create a constant traffic jam of golf carts and plenty of bustle on and off the lake. Anyway, you can't see it much in the pics, but there were more people sitting in golf carts watching than there were sitting on the grass. There was a threat of rain as we set up, but we crossed our fingers and pushed on with the show. It never rained until just as we finished tearing down around 10:30. It was a real festive atmosphere, with kids dancing and rolling around in the grass, with amused adults looking on.
I guess we'll be doing this again next year.


---
July 23 - Ugly Muthers Motorcycle Club 39th annual Rodeo & Party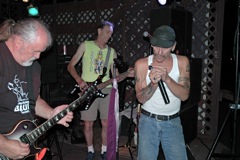 Tricks played this annual party in 2000 and 2002, so we were happy to get back to the UMMC stomping grounds. Actually, they have a beautiful site for their clubhouse, just southwest of the Sandy Pines resort. A perfect place for relaxing and camping, or maybe for a big rock and roll Tricks party with motorcycle contests to amuse the biker crowd. Actually, the party wasn't that big, because it was the hottest day or the year, with humidity to match. The forecast of rain showers around midnight had most of the visiting bikers heading for the highway right after the rodeo contests were finished. Just like the rainy party in 2002, we ended up entertaining the Ugly Muthers faithful, around 40 or 50 people. Hard to count, because many were kicking back at the campers that dotted the property. No wet t-shirt contest like in the good old days, ... sob! Tricks played a set around 6pm, and then they played the games; Slow Race, Hot Dog Bite, Billiard Ball Drain Pipe, Greased Plank, Balloon Pop, ... you had to be there. Then Tricks did another set from around 8:30 until 9:30. Just as we started our final set, the rain started to drizzle. All the Ugly Muthers party people took shelter, sipping beers and watching the band from the shelter of the campers or clubhouse. We finally finished a little before midnight and we packed up in the dark drizzling rain. Lots of work / lots of fun. The Uglies couldn't have been nicer. Several biker people came up after the show and apologized for the small turn-out and the lack of dancers - "it was just too hot", they said.
A big musical highlght of the night was when Colby got up and blew harp for a few numbers. Tricks doesn't normally allow sit-in musicians, but we made an exception for the Ugly Muthers special request.
Great food, by the way. I also have to mention another entertaining highlight of the night - Toad announcing the raffle winners. You had to be there, it was a hoot. Funny as hell. Thanks to all the Ugly Muthers for having us, especially all the workers who set up the party and kept it rolling.
There are more pictures and some video tidbits at the Facebook event page. Thanks to John Frederick for camera work.


|

---
July 9 - Tricks Party at Fran & Tom's home on Selkirk Lake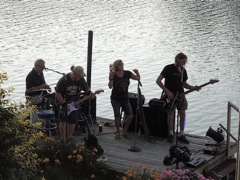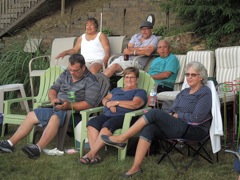 Tom & Fran have been our undisputed biggest and best Tricks fans since summer of 2013, when Krys & Rick played for Fran's birthday party on Memorial Day weekend. Since that time, Fran & Tom have participated in nearly every single Tricks show, K&R show, and Doogie solo show. They go to plenty of other live music shows, but they have nearly become part of the family for the Tricks band. They are the biggest Willie Nelson fans you can imagine (actually, much more than you can imagine; they have stories). So, Rick learned a couple Willie songs for that very first party on Selkirk Lake, and "On The Road Again" and "Always On My Mind" are now part of Rick's regular repertoire.
Fran & Tom haven't had a big bash at their lake home. They sold their main home in Wyoming, and they have been working for the last couple years to make their lake get-away into their main residence. Even though they still have plans to remodel their deck and other parts of the lake house, they finally decided to stop waiting and just have a Tricks party. Fran is very active in Indian tribal activities, and this week was a big Pow-Wow over at the tribe's Hopkins property. Since lots of friends and family are in town this weekend, Fran picked this weekend for the Tricks party at the lake. A few dozen "music lovers only" were invited and Tom got to work sprucing up the yard and deck. Really hot days for yard work. Fran was mostly busy working on Pow Wow business, so Tom & Fran had some late nights this past week since they decided to go forward with the party plan.
Rick brought a couple carloads of band gear over to Selkirk Lake during the week, since it was a long trek from the car to the lake dock. We stored the Tricks gear in Tom's lakeside shed near the dock which would be our stage on Saturday night.
Saturday night! Let's get to that part. The guests were two or three dozen of Tom & Fran's closest friends and family. And they also graciously invited some of our closest Tricks fans. Some of the guests hung out up on the upper deck, near the food and drinks. But we had about twenty sitting around near the lake side, checking out the band action. And what action! It was a challenge playing with Steve's electronic drums, and through a smaller sound system. But what a blast we had playing on the dock, just inches from a disasterous spill into the lake. We all made sure to keep our balance while we danced, played, and sang on that little dock, especially after it got dark. We played from 7 until a little past 11. Besides the guests, we had plenty of Selkirk lake neighbors joining our fun from their decks and pontoon boats.
Thanks to all the friends, family, and neighbors who made this a special night to remember for Tom & Fran. Thanks to our Tricks pals who showed up in honor of Tom & Fran. Thanks to Ben for the use of his Fender amp. Thanks to Tom, Krys, & Dick for taking pictures. As Steve said near the end of our night, "in our 40 years with Tricks, we've done a lot of things, but this was something new to add to our Tricks resumé."
Tom & Fran Lake Party

|
---
July 4 - Tricks Trio plus Tom Northrup at Dorr Independence Day Festival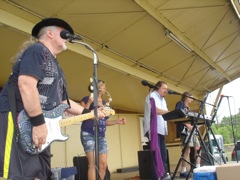 Dorr has always had one of the biggest and best small-town Independence Day celebrations around. Usually spanning three or four days, including Sunday activities by local churches. Big parade, carnival rides, food booths, car shows, eating contests, beer tent (in the old days), live music, face-painting, balloons, kiddie games, volleyball tournaments, fireworks, and on and on. The line-up of events changes a bit each year, and the festival has been limited in recent years by a lack of volunteers. It isn't quite the mob scene that it was sixty years ago (when everyone rode their horses into town for the parade - imagine that), but it's still a very respectable family fun day. And the live music remains as one of the most popular parts of the celebration.
Tricks has been playing for the Dorr 4th Festival forever. We did Tricks shows for the Dorr 4th back in the 70s, 80s, and 90s. But most notably, we've played about 9 out of the past 11 years. This year we changed things up a bit. After Tricks said no to doing another pre-fireworks concert this year, the country-rock band "Stolen Horses" was hired for the evening entertainment. The new idea was to provide music for the hundreds of people who come to the park after the parade for a noon-time lunch of Ox Roast sandwiches and Chicken Barbecue dinners. Last year, we tested the waters by having Krystal and Rick do some acoustic tunes from noon until 2pm. That was such a success, the planning committee decided to bump it up a notch for 2016's noon-time entertainment. They hired the Tricks trio of Krystal, Rick & Ozzy. Plus they brought in PianoMan Tom Northrup.
Rick and Tom have been doing solo Sunday entertainment at Hilliards Corner Lounge for the past 6 years, trading off every other Sunday. Now they have moved to AJ's in the heart of Dorr, so it seemed only natural to have a hometown jam session with Tom, Rick, Krystal, and Ozzy. It was an eclectic mix of tunes, starting off with some lighter dinner music, but moving quickly into some rockers that had the crowd hooting and hollering. There was a big line for the Famous Dorr Ox-Roast sandwiches, and lots of activity at the other food vendors, as well as plenty of foot-traffic at the Flea Market at the south edge of the park. We mixed up the song list with tunes from our Tricks repertoire, Tom's piano repertoire, as well as some acoustic tunes from the Krys & Rick show, "KaR Tunes". Although we only had a drum machine for the rock tunes, it really helped to have our Tricks bassist, John "Ozzy" Bosscher thumping bass to really fill out the sound.
I could go on and on, but just take a look at the photos. A picture is worth a thousand of my rambling words. Thanks to Steve for suggesting this live music idea to the Dorr 4th Planning Committee. Thanks to the committee, especially Bob, Mike, and Melodie. Thanks to Tom, Krystal, and the other Tom for taking pictures. Thanks to the good people of Dorr who are the core of our Tricks fanbase.

You've been putting up with our noise for a long long time, since the olden days when we did band parties in the hayfields and keggers at the local halls - and since the pre-Trick days when Steve and Rick had their various bands playing in the streets and backyards of Dorr. Thanks to our families and friends for showing up with your fun attitude. What a fun beautiful day!
Steve's comments, in absentia: Bob Wagner & Mike Devries single-handedly ran the entire 3 days. When one of them goes away the festival will also since no one else has stepped forward in the 5 years that I've been involved. Honorable mentions go to: Amber Snyder, Melodie Niemczyk, Mark DeYoung, & myself for all the preparation work the months leading up to Celebration. Scot Otis' Crosswinds Church and the Knights of Columbus and Dorr Rec volunteers were MVP's. Special thanks to the Hooligans Flight Team that made a surprise appearance at our parade. Their flyover stunts were the talk of the town these last few days.
Dorr 4th, 2016

| Dorr 4th Page

---
July 1 & 2 - Tricks at Woody's in Wyoming


Tricks loves playing at Woody's. They have a very cramped stage, but this is a multi-purpose facility. They have a lot going on; bowling alley, dining, banquets, and rock bar. Woody's always has lots of groups coming in for various parties and get-togethers. We see lots of family and friends getting together for birthdays and wedding events. But there are also lots of business luncheons earlier in the evening. These groups all get an added bonus of live music, so they can let it loose and do some dancing, screaming, and head-banging.
This weekend was unusual because we had a bigger crowd on Friday than we had on Saturday. But even Saturday had several party groups. This must be the place to meet up with friends. Several birthday parties were happening, plus we had a wedding group come in near the end of Saturday night. Saturday was the big Grand Rapids fireworks and 4th of July festival downtown. So it wasn't very crowded, compared to Friday's crowd. On Friday we were happy to celebrate with some of our closest Tricks friends, who got together for Deb's birthday. On Saturday, we expected an after-fireworks surge around midnight, but that never really materialized. We were happy to see Debbie & Art, who just got hitched last weekend. Best wishes to you two, we love you. And most amazing of all, we had an appearance by Rich Heintzelman, founding (1976) bassist of Tricks.
Thanks to all our pals and party groups for two fun-tastic nights at Woody's. Thanks to Tom and Deb for helping with camera work. Thanks to Todd the manager for booking Tricks. Special thanks to the Woody's staff for your excellent and professional attitude.
Fri

|Sat

---

to Early 2016


to Early 2017

Tricksband.com website was started in March 2004.
Rick is webmaster, with graphics help from Krystal.

If you'd like to be informed of updates to the site, as well as any upcoming party information.


Tricks News Only! - No Spam!

Comments? Clichés? Conversation? Chatter? Cr-r-r-riticism?
Send Tricks an E-mail

Tricks is on

- Be a fan!
Share comments, messages, or pictures with the entire Tricks family.
Remember, Tricks loves you!
" There's Good Rockin' Tonight "